Late Night Gimp Fight interview
Boybands and sketch troupes: they may seem like massively different kettles of fish, but there are similarities, when you think about it. A bunch of unsung talents get together, discover a bit of chemistry, acquire a decent following, then one of them usually goes and messes it up by leaving to pursue a solo career, before that eventually fizzles and they all get back together again.
Now, the big solo-career awkwardness hasn't happened to Late Night Gimp Fight, yet, unless you count taking time out to continue being a lawyer (as Richard Campbell has done over the last few years). But as Gimp veteran David Moon admits below, they've enthusiastically embraced the dubious honour of looking like "a washed-up boyband who are way too old to be doing this."
In reality, this quintet/quartet (depending on Campbell's whereabouts) are more like The Fall, or The Flaming Lips, or one of those other much-loved indie bands who are hugely admired for doing what the hell they like. You never really know what's going to happen at a Gimp show: almost certainly some attempts at singing, dancing, maybe rapping; quite probably some bare flesh, but otherwise anything goes.
And those weird indie bands sometimes hit the big time. Always a hugely popular Edinburgh Fringe and Soho Theatre attraction, LNGF have puts cats among pigeons over the last couple of years by leaping out of their hard-won niche and securing a high-profile TV gig, taking over the UK version of the hit US stunt show Impractical Jokers. That TV experience hasn't been entirely positive though, as Moon explains below.
But now Late Night Gimp Fight are back; throwing off the TV shackles, free to do whatever they darn-well fancy at the Soho Theatre. And they have big plans. We got Moon to spill the beans.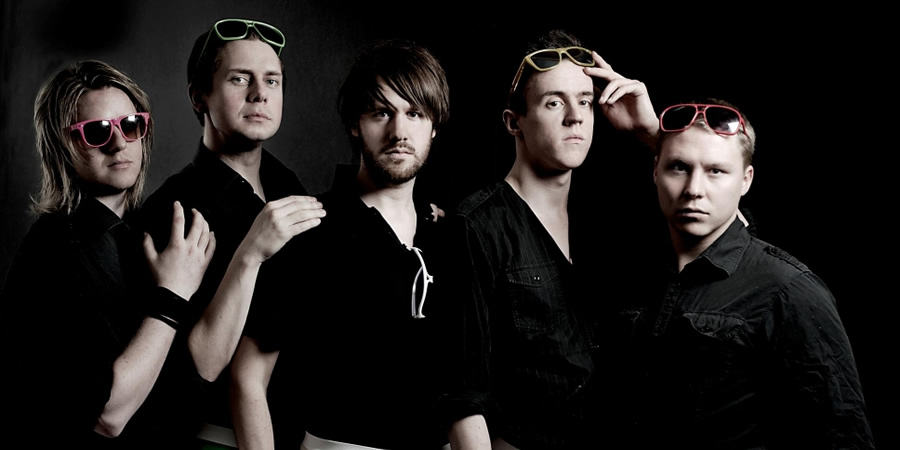 How did you all meet up originally?
Lee, Paul and Matt went to the same drama college and Rich and myself went to school together. We met about ten years ago doing different shows in Edinburgh, and we all had lifelong ambitions to wear gimp masks and embarrass ourselves in front of strangers.
Did you all have different goals beforehand: acting, music, dance...?
No, we all knew we wanted to make comedy, and when some nights became available at The Hen & Chickens pub in Islington we got a show together for a couple of nights. Then it went so well we decided to make a new show every month for the next seven months - then took a 45 minute show to Edinburgh in 2009 and that's how LNGF became established. More by chance than design.
Could you give us a few pointers about the new live material; any novel new directions?
Well this is definitely bigger scale, and more theatrical than anything we've done before. We're only doing weekends in Edinburgh this year, and it's a large venue so we wanted to create what felt like an 'arena' type show, something that would work as well in a theatre as at a festival on a large scale. Think big dance routines, a large set and maybe even pyrotechnics.
We're directed by Steve Marmion who is the Artistic Director at Soho Theatre. Usually Steve gets involved quite late on in the process of creating a show, but this time he's been involved right from the word go. His vision for the scale and size of the show is very ambitious (and expensive!) so if it comes off it should be quite spectacular.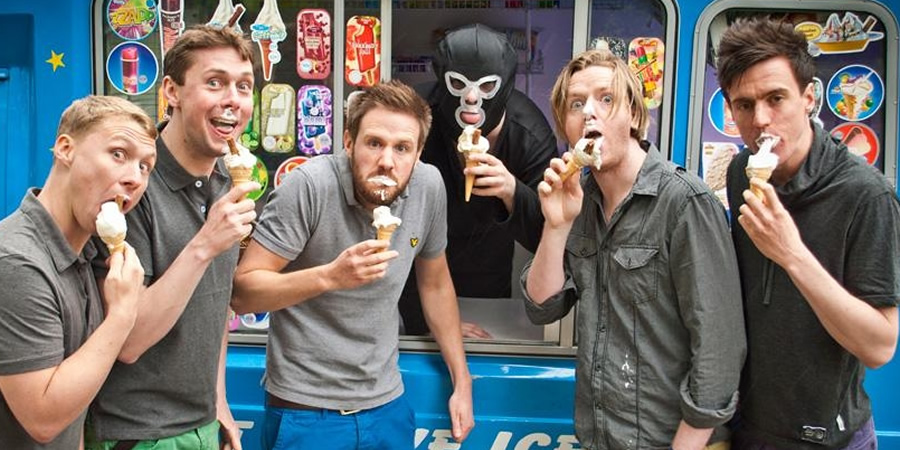 There's some proper choreography in your stuff - do certain Gimps go a bit Sadlers Wells in rehearsal? Can we expect a LNGF ballet?
It helps that Matt is a dancer. It doesn't help that the rest of us are not.
Luckily our director working at Soho Theatre means he gets in some proper choreographers to beat us into shape. But be under no illusions - learning dance moves is a reluctant, loathsome and exhausting exercise and as we get older it's only getting harder. Usually after about five minutes with us there's a slow-dawning look of horrified realisation on the choreographer's face as they realise what they've got to work with.
That said, a Gimp ballet is a great idea. The Gimpcracker, coming soon...
What's your favourite sketch, of all the stuff you've ever done?
I think Bestiality is our favourite song, and Craig is my favourite sketch we've done. I like it even more after all these years, partly because Paul now absolutely hates doing it, as it means he has to wear that thong (which has never been washed, by the way) for the duration of the gig. He physically shudders when he takes it out.
And is there a sketch that (most of) you loved, that just never quite took off for some reason?
There are sketches that we have long and sometimes quite heated discussions about that never see the light of day. Usually because they're deemed 'too far', or we just can't justify the subject matter, even if the sketch has the potential to be very funny, as the risk of offence is just too great, or the 'victim' of the joke isn't right. We're quite strict about that stuff these days, probably more than we used to be.
It's a shame though, as some of the funniest stuff happens in the rehearsal room, but if we were ever to put it on stage it would potentially cause a Lars von Trier-style mass walk-out.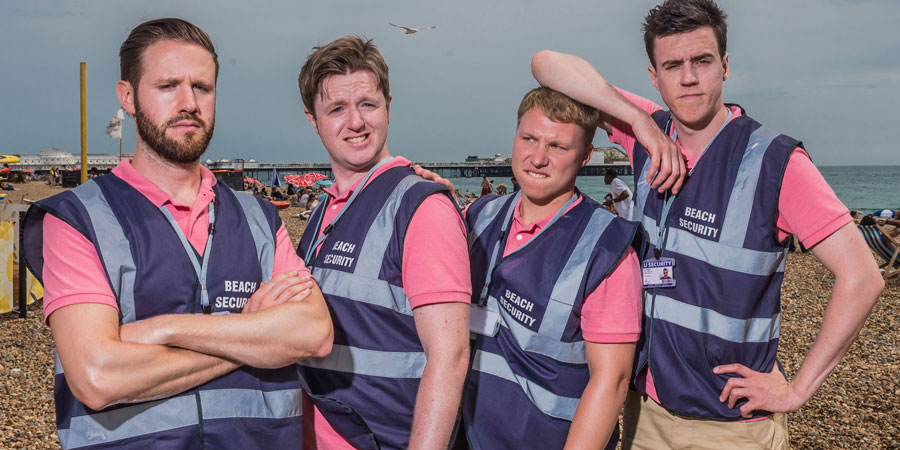 You've done some interesting TV stuff recently - how do you find that experience, compared to doing your own shows?
The process of making the TV shows is a lot of fun. It's a bit more indulged than making our own stuff and clearly the budgets and production values are higher so you can play around a lot more, coming up with material. We enjoy it a lot, but I think we've learned a valuable lesson about the lack of control you have when doing TV.
With our live stuff, we decide what we put on stage, we write all the material and we decide on the best punchlines until we're happy with it. With TV, you're at the mercy of so many different people, each with their own input.
That isn't to say their input is unhelpful or wrong, as often it's quite the opposite, but not having the final say about how a sketch or a gag should work, or having no control over the final edit of something you've worked on, was an unusual experience for us.
Any dramatic crowd responses to your stuff over the years? Has anyone taken offence at the One Direction bit?
I love it when an audience member we pull up for the One Direction bit is really self-confident and loving their moment in the limelight... until we get to the chorus. Then you see their confidence drain away as they realise five guys are singing at the top of their lungs, in front of their friends, accusing them of being a paedophile. It's the little things.
We once had someone walk out whilst Lee was, well... how to put this... furiously pleasuring himself to the point of climax in a When Harry Met Sally sketch. Paul, in one of his better ad-libs, announced that Lee was no longer the biggest wanker in the room, and we got on with the rest of the sketch.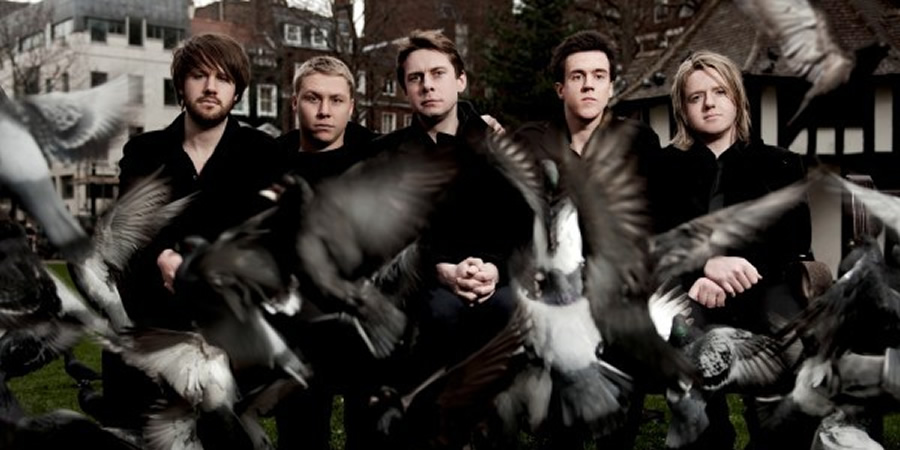 It can get pretty energetic up there. What's the worst Gimp Fight injury?
Let's see... Paul and Lee's already-meagre abs are tested to the limit when we do our Hoodie Foot Puppets sketch. I bruised my ribs on a stag do for our technician Matt, then had to do most of our Soho Theatre run that week on codeine which meant I didn't really know where I was for most of the time. We all almost put our backs out trying to create a giant spider for a sketch that never even made it onto stage. That wasn't worth it.
Oh, and one year we had the idiotic idea of starting the show in laundry bags on stage while the audience were coming in. In The Beside [room] in the Pleasance Courtyard that was just about ok as the venue only took a couple of minutes to fill (although if you've been in The Beside and know how hot it gets... just imagine that heat multiplied by ten, and you get a picture of what those laundry bags felt like).
But in Melbourne they put us in a 250+ seater venue which often meant we'd be in those bags for up to 20 minutes and on the verge of passing out before we had to jump out and do a high-energy routine based on Journey's Don't Stop Believin'. Yeah... that was a long month.
Finally: any advice, for sketch groups just starting out?
Find what makes you unique and embrace it. For us it's the fact we look like a washed-up boyband who are way too old to be doing this... but that hopefully just adds to the charm. Oh, and in the words of a review we once had: "getting your cock out must always be a means to an end, not an end in itself."