Johannes Dullin interview
Johannes Dullin is a Swiss-German clown-character-sincere-prop-existentialist-dancer-comic who, after his first full Edinburgh Festival last year, is about to set off on a little UK tour. He'll be performing his five-star rated 2018 show, Come Along and Bring a Friend, up and down the country, as well as a one-off of The Best Piece of This Season, which is the only show ever nominated for the Swiss Comedy Award and Swiss Theater Encounter in 2018.
It's a rarity to see an act so immediately clutched to the bosom of alternative comics as Johannes has been - Paul Currie was effusive with praise after seeing him, and myself and Sean Morley were compelled enough to organise this little British sojourn for the stellar fella. Why? Well, let's ask him.
You're doing a mini UK tour! How exciting. Why the hell have you done that?
I love the UK and I'm very influenced by British comedy, especially Tommy Cooper, Peter Sellers and the Pythons. It has always been a wish of mine to perform in the UK and when I finally get the chance, I bloody do it!
I saw you every day in Edinburgh this year and you seemed to have a fruitful time up there. Ignore me though, how would you describe your time in Scotland?
The beginning was very tough, but I was ready for that. I mean, who wants to see a random guy from Germany in the afternoon in the backroom of an empty cocktail bar, while there are 250 other comedy shows at the same time? I would be the first one to skip that dude.
In the first week I had twice nobody, once two people and twice five. Then it slowly started to fill. In the last week it got really crowded, I got a five star review by Broadway Baby and a lot of wonderful comedians responded extremely positively to my show. I was very happy, and now I'm totally addicted to Edinburgh.
I count the days to come back this summer and premiere - tada - Dullin Plays the Devil in the backroom of a small cocktail bar!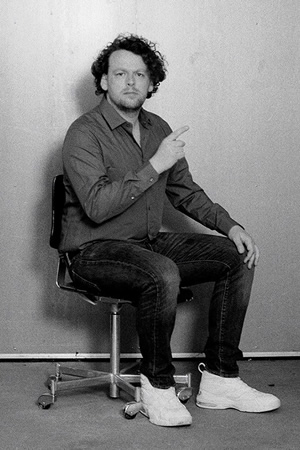 Your comic sensibilities seem borne of early 20th century pan-European art and poetry movement 'dada'. All the while though, it fits in very snugly with the ever-breaking waves of British alternative comedy. Why is that, do you think?
Dada dared to be silly and the Brits still do. I am very influenced by dada and also the fluxus movement. Last year I finished my masters in Bern in 'Expanded Theatre' and one of my main projects was called 'Silliness Studies'. I am a gourmet of silliness. Silliness has a great power; it is a place where the freedom of the mind can be explored without restrictions.
Having performed in Switzerland, Germany and now the UK, what do you make of our audiences?
In the UK I felt at home with my material for the first time. But I have almost never performed comedy in Germany actually, so I don't know how that would be. I only performed in Switzerland and Austria. I'm still very new in the business.
I wanted to become a comedian since I was eight years-old, but I actually only started performing four years ago, when I already lived in Switzerland. Before that I directed theatre, worked in fine arts and as a performer in Berlin for ten years. Now, finally, I'm focusing on being a comedian.
Is there, indeed, a place in the world that best seems to understand your very unique brand of idiocy?
Until now, you, the Brits!
Watching you, it's apparent that you've got a very silly streak. I like to think of it as 'serio-clowning', as you deliver everything from prop-stacking to little dances with the deepest sincerity. Did you train in the art of serious silliness or does it just come naturally to you?
It is the kind of comedy I enjoy and it comes quite naturally. I am interested in a very liquid border between the banal and the profound, that's where I discover the biggest freedom. I went to a physical theatre school in Switzerland for three years that was founded by a clown, back in 2000. That was a very technical school and very good for me. I also went to Philippe Gaulier in France, but only for a month.
Indeed, between very silly set pieces you tap in to some rather meaty philosophical notions in your show, notably ideas of death and existentialism. Yummy. How would you like to be remembered, when you're just dust?
People shall juggle with my quotes "reality is a movement", "when we laugh our wounds can start to dance" and "silliness is the most brombotic* thing in the universe."