Stand-up comedy is getting more global. With online streaming helping to raise the profile of comedians in countries they've not even set foot in yet, stand-ups are now realistically able to travel to cities all around the world to deliver their jokes.
Jak Knight, a stand-up from Los Angeles, is one of those spreading out from his home country now to play in front of new audiences. The comic, writer and actor got his comedy career off to a strong start - he was named a Comedy Central Comic to Watch in 2014 and a year later was heralded at the Montreal Just For Laughs Festival too. TV appearances soon followed; he has popped up on shows such as The Meltdown with Jonah and Kumail, @Midnight and Adam Devine's House Party.
Time Out LA wrote of him: "Knight brings so much joy and energy to the stage, he might not even need to be funny - but of course he is."
Meanwhile, away from stand-up, Jak is currently a writer/voiceover actor for the Netflix animated series Big Mouth.
Knight recently filmed his most high-profile gig yet - performing in The Comedy Lineup for Netflix, the format that has also featured Phil Wang and Aisling Bea.
With Knight now preparing to travel to London to perform in the capital for the first time, British Comedy Guide caught up with him via email to find out more...
Hi Jak. Have you had a good summer?
I'VE HAD A FANTASTIC SUMMER! My stomach hurts right now... Wok To Walk is the devil.
You grew up in Seattle but now live in Los Angeles. Is there much difference between the cities?
It's different... LA hipsters are a fad. Seattle hipsters are birthed from the moldy latte spilled on a Nirvana shirt. Seattle is different now... Jeff Bezos [Amazon CEO] can get these hands.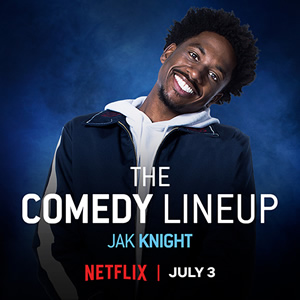 You recently appeared in The Comedy Lineup on Netflix. That must have been a nice way of bringing your comedy to new audiences?
I've gotten a ton of great feedback from The Comedy Lineup! I just want to continue putting out work and material on Netflix. Want to do a 30 [minute set] BAD! Putting it in the air now.
You'll be flying into London soon. Have you been to the UK before?
Never been to UK. NEVER EVEN BEEN TO EUROPE! So excited.
What sort of topics will you be touching upon in your show?
What topics? I have no idea? London, pussy, classism. You know, funny stuff.
How well do you know the British comedy scene and culture in general?
I know a few comics here and there. I just want to experience the whole scene. LOVE TOP SECRET.
What are you planning to do in your time off?
Between gigs I'll be out and about doing the lame tourist things. Trying to find what London really is, not just the surface level of a beautiful city.
These questions were weird... please just come to my show!