Gregg Turkington interview
The man. The myth. The music. The mid-to-late-June run at the Soho Theatre. Yes, Neil Hamburger is back in town, although for many comedy nerds that may well be a name that rings a massive bell but still retains an air of intriguing mystery.
Who is Neil Hamburger? For the uninitiated he may look like a cross between Dean Martin and your dodgy uncle, but this lounge singer/loud shouter has worked with a remarkable roll call of top-notch musicians, on record and on stage.
His 2011 album Live at Third Man was produced in Nashville by Jack White, and Jack Black is on the new one, Still Dwelling for Drag City, alongside a proper orchestra and a bunch of musicians who've previously played with the likes of The Beach Boys and The Who. They're decent warm-up acts.
Hamburger's own live history features gigs at Madison Square Garden, the Reading Festival, and as a tour support for the mighty Faith No More. Most bands would kill a non-dodgy uncle for that kind of exposure.
Meanwhile Hamburger's 2015 movie Entertainment garnered some high-profile fans too, as we'll find out below. Will these Soho shows be entertaining? Yes. Could absolutely anything happen? Also yes. Let's talk to the man behind the Hamburger then: Australian-American comedian Gregg Turkington.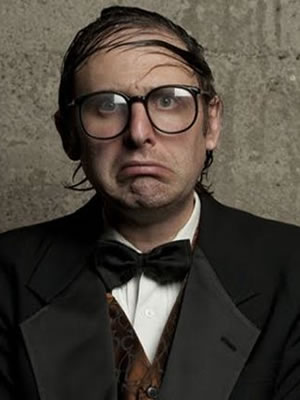 Neil is one of our great enigmas - how did he originally come about?
It all started off as a one-off sad-sack character in a prank phone call - on the 1992 Great Phone Calls LP - and has gone into endless unexpected directions since.
Can you remember much about Neil's debut show?
The first live appearance was at a Drag City showcase in New York City in 1997. As at that point I envisioned the thing as a 'recording project' only, and not as an actual live entity, for this show 'Neil Hamburger' strictly MC'd, and told jokes unseen from behind a curtain.
Did you have any concept about how the character would catch on? Any particularly unlikely fans?
No. It was just something interesting and fun to do. The weirdest moment was definitely performing at Madison Square Garden, opening for Tenacious D. A far cry from the original concept!
For me, I think the most thrilling and unexpected 'fan' situation was when Steve Martin recommended our movie Entertainment to his students in his comedy masterclass.
You've worked with some amazing musicians - how does that studio dynamic work? Is Neil in full auteur mode?
I have to pinch myself sometimes when I realise how many of my musical heroes I have been lucky enough to work with, on Neil's forays into music. For the latest album, it was producer Erik Paparozzi who did all the heavy lifting, and who had my jaw constantly on the floor with the arrangements and performances he was coming up with, and how closely they nailed my peculiar personal tastes.
What would you say was the most memorable onstage Hamburger moment, ever?
Some of the worst moments are the most memorable. Within a couple months of the Madison Square Garden show, I found myself in almost the polar-opposite situation: performing to a crowd of TWO PEOPLE in a disastrous gig in Launceston, Tasmania.
Interestingly enough, that was much harder and more stressful than the sold-out MSG show, in that the smaller the audience, the more weight each audience member's reaction seems to carry!
Those rock gigs and festivals - did audiences ever violently take against him?
Yes. Some bad, bad moments at those fests. I've done a lot of them. The Reading Festival appearance was particularly brutal - they removed me from the stage for safety's sake after I almost instantly elicited a rainstorm of shoes and bottles...
More satisfying was taking the stage at Coachella as an unannounced guest of Ty Segall, and using my time to say rotten, disparaging things about the EDM assholes on the other stages that day.
Tricky question, but what are your three favourite covers from the Hamburger album history?
It IS tricky, in that I am not sure if you're asking about the actual record covers, or covers of songs.
Good point. Final question: is there much crossover between the Gregg and Neil personalities, or is it a full-on Hulk-like transformation?
Well, you know, anything that takes place on a stage should rightfully be considered a SHOW, regardless of whether or not certain performers pretend that they are bastions of honesty. I'd say that a more fair comparison is the Clark Kent/Superman one.