Garrett Millerick interview
Garrett Millerick had one of the most talked about shows at the Edinburgh Festival in 2018. As he prepares to bring Sunflower to the Soho Theatre for a new run, we chat to him to find out more...
Hi Garrett. What's the show about?
Well it started as a very different beast this time last year. But essentially, whilst I was writing the show, my family was struck with a bit of tragedy. I had two thirds of a show and a few weeks to finish and deliver something. It ended up being quite a cathartic process and became a show about comedy and its ability to pull you through dark times.
There is a great routine about Chesney Hawkes too.
It went rather well. Do you have a favourite performance so far?
The night [my wife] Sarah came to see Sunflower in Edinburgh was pretty great. She'd lived it and helped me put the show together, she'd heard about it and read reviews and stuff but couldn't actually see it till midway through the festival. That was one to remember - I dragged her onstage to take a bow at the end.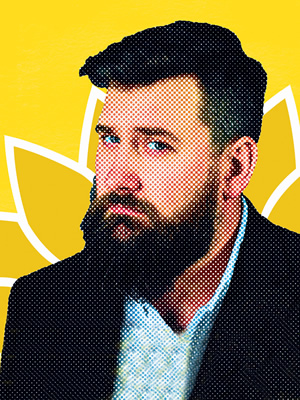 Any odd reactions to it?
Somebody asked me if I'd made the story up to have a satisfying Edinburgh narrative. I couldn't work out who that reflected poorly on me, her, or the state of the Edinburgh Festival.
Van Gogh created his famous painting Sunflowers during a rare period of excited optimism. Should all comedians embrace sunflowers?
It was just a throw away naming it that. It's the title of my favourite Beach Boys album so I thought I'd call it that and see what happened. It worked out rather well. And the colour scheme that's naturally dictated by having a show called that is nice.
I've come to embrace sunflowers to an extent I didn't expect. And I hope I've helped to introduce some people to the underrated gem of an album, Sunflower.
You originally wanted a show free from a theme and any lectures and politics; why was that?
Just the challenge of it. I like theme shows and story shows, I've done a couple. It's not particularly fashionable to do it anymore, especially at Edinburgh, but an hour of pure stand-up comedy is a very difficult thing to pull off. I fancied having a bash at it.
Can you remember back to your first gig?
I was in a rubbish sketch troupe for a bit in 2009. Our first gig was at a mixed bill night at The Hen and Chickens in London. It was utterly abysmal. We had written a ten minute sketch about Andrew Ridgley being a music teacher at a school. The only joke in the sketch was Andrew Ridgley being a bit bitter about George Michael being a pop star. It was an object lesson in flogging a dead horse. We followed it up with a sketch about a farmer which involved me learning and listing every seaside town in the UK. I forget why. Utterly abysmal. We should have stopped performing sketch comedy that very evening, but we didn't.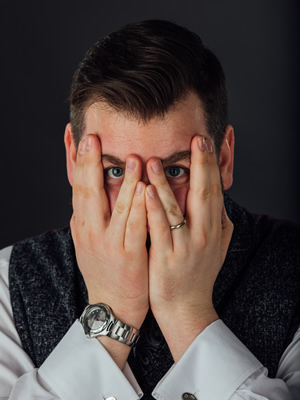 What about your worst gig?
I did a gig once to UN peace keeping troops. They were watching a football game and their commanding officer turned it off and ordered them to watch comedy. They were also drinking at a free bar having been barred from drinking for a few months. I thought that was about as bad as a gig could get... But you've caught me at just the right time, that gig was knocked off the top spot this weekend by a horrendous nightmare of a gig in Plymouth.
About four hundred people in a marquee round the back of a football club. The vast majority of people who were there were not there to see comedy. They were there to drink like it was the end of the world. If you imagine what the wedding reception of the two worst people in the world might look like, you're half way there. The promoter was wasted and talking at the top of his voice to his friends at the bar. Scores of people drinking tequila shots, doing drugs, and threatening to kick off if they were politely asked to be quiet. A dark threat of violence hung in the air throughout the night and the event organisers neglected to hire any security. I'm amazed we got out of there alive.
Oh dear! Let's move on to ask you about your most rewarding live experience...
I used to run a little night in Kings Cross called The Schadenfreude Cabaret. We did a one year anniversary show in 2012 with a bunch of people who had played the night over the year. The line up was me, Thom Tuck, Ed Eales White, Ford & Akram, John Kearns and Aisling Bea. Which, as line ups go, is pretty decent. It was just really good fun, everyone was on top form, the place was rammed and we had a big party afterwards.
Your career, a year ago, in ten words? And your career now?
"I wonder if I can raise a family doing this?"
"Well that really was quite an unexpected series of events."