The Vodafone Comedy Carnival in Galway has always been noted for curating an impressive line-up. The city's 2018 comedy festival looks set to be the best week yet, with a whole plethora of top comedians featuring in the programme.
This year Galway be rocking with laughter from Tuesday 23rd to Monday 29th October. The harbour city, located on Ireland's west coast, is the perfect place to combine jokes and sightseeing. It has won plaudits for being the world's friendliest city, and is designated as the European Capital Of Culture for 2020.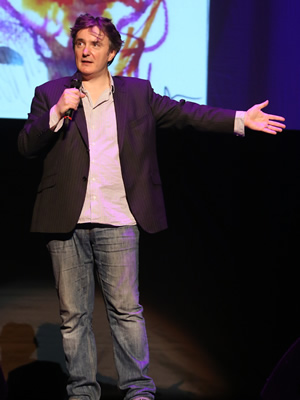 Dylan Moran is the top line headliner this time. The Black Books star is widely regarded as one of the finest comedians of his generation, and has been winning many plaudits for his latest show, Dr Cosmos.
Another sitcom star - Murray from Flight Of The Conchords - will also be appearing in Galway to perform stand-up this October. Rhys Darby has chosen the Town Hall Theatre to film his Mystic Time Bird special.
Meanwhile 8 Out Of 10 Cats star Sean Lock will be performing three nights at the Black Box, and Milton Jones will be delivering his beautifully crafted gags in another show. How many grandads will the oneliner comedian mention he has this time?
Joel Dommett, who has risen to fame since his appearance on I'm a Celebrity Get Me Out Of Here, will be making his Galway debut at the Opening Gala, before appearing in other shows. And another comedian to find fame via TV, Britain's Got Talent winner Lost Voice Guy, will be making his Irish debut as part of the festival.
Gina Yashere, who is currently acting as the British Correspondent on Trevor Noah's Daily Show, will be jetting into Ireland from New York to amuse audiences as well.
Other super solid stand-up names in the programme include Al Murray, Andrew Maxwell, Reginald D Hunter, Zoe Lyons, Glenn Wool, Angela Barnes, Jason Byrne, Phil Nichol, Simon Evans, Stephen K Amos, and Taskmaster star Kerry Godliman.
The festival has also booked rising stars such as Catherine Bohart, Christopher Macarthur Boyd and Rosie Jones; they had some of the hottest shows at the Edinburgh Festival in August.
Attending Galway's festival is also a chance to see acts who are well known in Ireland but haven't yet come to the UK. Enya Martin and Dermot & Dave are amongst the other names we spot in the programme.
It's not just stand-ups at the festival. Rich Hall will be presenting his musical Hoedown, and the Cuban Brothers are in town too. Terry Alderton and Paul Currie meanwhile will be amongst those ticking the boxes for the surreal and clowning genres.
Phill Jupitus - described as the 'Swiss Army knife of the festival' - looks set to be the busiest performer again. He's set to appear in various mixed bill shows, perform his stand-up show Juplicity, and will pop up as his alter ego Porky The Poet too. Plus he'll be DJing, taking part in Steve Frost's improv show, presenting the festival's radio and lots more, including "hopefully cooking the breakfast."
In total, over 100 acts will perform in 18 venues across the week, so there's certainly no shortage of shows to pick from.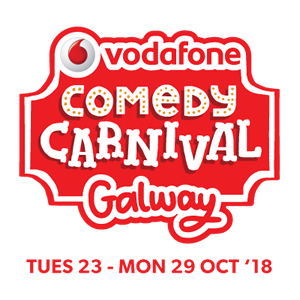 The 2018 Vodafone Comedy Carnival runs as part of Vodafone's Centre Stage programme, and once again sees the return of the iconic Spiegeltent to Eyre Square. Gerry Nixon, Vodafone Ireland's Sponsorship Manager, says: "The Vodafone Comedy Carnival has been such a success over the past number of years and we are delighted to be involved once again as part of the Vodafone Centre Stage comedy and entertainment programme. The Comedy Carnival is a highlight of the country's entertainment calendar and really reflects what Centre Stage is all about, connecting people to things that matter most - friends, fun and laughter. This year will see top class performances from both Irish and international talent and this, teamed with the brilliant atmosphere in Galway city, makes the Vodafone Comedy Carnival is the must attend event of the Autumn."
The festival's CEO Simon Heaslip comments: "The Comedy Carnival really adds to the buzz of the city and my hope is that anyone making their first trip to Galway, be they customers or performers get to experience some of the magic that residents and regular visitors feel so intensely. We would especially like to thank Galway City Council for allowing us to locate our Comedy Village in Eyre Square. I'd also like to express my gratitude to our main sponsors, Vodafone, whose outstanding commitment to live comedy is remarkable and allows us to put on such an amazing festival."
The Festival's new Artistic Director Martyne Green adds: "I'm thrilled to be stepping up to the helm of this year's Vodafone Comedy Carnival in Galway. It has been one of my favourite festivals for many a year and I'm proud to be playing a part in bringing what, I think, is a wonderful line-up from all spectrums of comedy, to visitors and locals alike. Galway is such a vibrant city all year round but there really is something special about that last week in October - you can feel the funny in the air. With performers joining us from all over the world, I can't wait to immerse myself in the mayhem, madness and mirth... see you there."