Dick & Dom's Cash From Chaos is a new podcast and live game show from the legendary BAFTA-winning comedy duo. Having sold out their run at the Edinburgh Fringe last summer, Richard McCourt and Dominic Wood are now putting their money on the line against a live studio audience.
The pair will challenge the audience to a series of weird and wonderful games, with a portion of their show fee on the line. Over the course of each night, they'll put their entire takings from the project at risk - they could genuinely leave without a penny (and they're doing it properly, there are no hidden fees or royalties - every penny they make from ticket sales and advertising is available for members of the audience to win!).
Of course, there needs to be someone in charge of making sure everything is fair, so each episode will see a celebrity guest take the role of impartial adjudicator to make sure Dick & Dom aren't cheating! Angellica Bell, Barney Harwood, Melvin Odoom, Kevin Bishop and Sam Thompson are confirmed guests.
The duo, speaking in a café, explain more: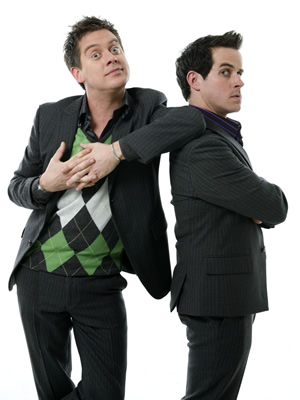 So guys, you're most famous for all your bungalow work, but this is something quite different?
Dom: Yeah totally, it gives us a real opportunity to give the bungalow kids something for their age group now. A side they won't have seen before.
Dick: We've kept a sense of the anarchic games but this is definitely not a kids show, this is for the grown-up kids.
Dom: Think "Dick & Dom After Hours".
A great tagline! How did you come up with the actual show?
Dom: We were bouncing around ideas and came up with one idea for a game where the audience can literally win money from our wallet.
Dick: Yeah and then we thought 'why not go further and just give away our whole fee?'.
Dom: [picking up his cutlery] I wonder how many mouths my fork has been in...
...Anyway. So you're really going to possibly give away your whole fee? Why is that element important?
Dom: Because no other celebrity in their right mind would give away their fee. Ever.
Dick: Also, we're a bit skint right now so the pain on our faces when we have to hand over our cash will be real. We must be mad.
Dom: You are!
Ouch, why did you want to make it a podcast/gameshow cross over?
Dick: We're crossing over into an older demographic and a podcast is the perfect way to try out new material with the bungalow viewers who are now grown up.
Dom: You've got no one telling you what to do, there's no one telling us what to say. We know the boundaries, so we're fine.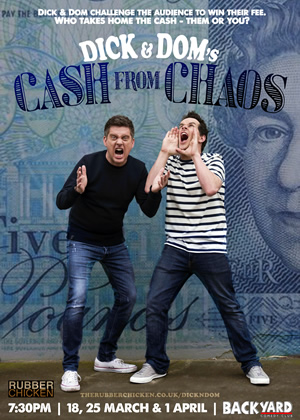 Give us a few teasers for these ridiculous games...?
Dom: Slap Your Meat On The Counter - hear the noise and guess what cut of meat is being slapped on the surface.
Dick: Quick Fire Fivers - we literally ask an audience member a random general knowledge question and you can win a fiver, just like that.
Dom: Yeah and at the end of every night we throw all the rest of the cash on the floor and an audience member has 15 seconds to grab as much of it as they can.
Dick: We also have the chance to grab our cash back!
Wow, that's pretty intense. Do you guys really enjoy working together after all this time?
Both: Yes please.
Ok, but you can't get on all the time, tell us one annoying trait about each other?
Dom: He blows the entire content of his nose into a handkerchief every single dinner time. At no other time. Not when he's ill, not when it's cold. ONLY when we're eating.
Rich: ... Dom is a paranoid lunatic.
So, come down to Backyard Comedy Club for Dick & Dom's Cash From Chaos and it could be you who wins their fee!