Improv group ComedySportz are to perform an improvised pantomime in various venues in Manchester this December.
The group confirm: "There will be brand new twists on your favourite pantomime characters as heroes and villains will go on a one-of-a-kind adventure using only audience suggestions and a sprinkling of fairy dust."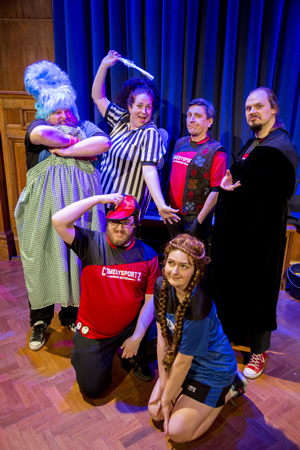 Where regular ComedySportz shows see two teams competing in quick-witted gags and games, these pantomimes will see players working together to bring you a unique spin on age old characters. Performer Brainne Edge says: "Don't worry though as there will still be plenty of gags and games! This is our second year doing this show and we're delighted to be bringing it to more venues for 2018."
The group have regular shows across Greater Manchester, perform each year at the Edinburgh Festival, and have put on shows around the world.
The organisers say: "The group can't wait to once again be performing their loving pastiche of classic panto tropes and stories. If you're bored of seeing the same old pantomimes every year then you don't want to miss this alternative family friendly festive treat!
"Alternatively, if you're looking for a night out without the kids the group will also be performing an adults only version of the show as part of their regular Improv Mullet night at The Kings Arms, Salford on the 1st December."
The dates are:
Saturday 8th December, 4pm: Ramsbottom Civic Hall
Saturday 8th December, 7pm: The Way Theatre, Atherton
Friday 14th December, 7pm: Waterside Arts Centre, Sale
Saturday 15th December, 3pm, 5pm, 7pm: Waterside Arts Centre, Sale
To find out more about book tickets visit comedysportz.co.uk