Comedian and promoter Bob Slayer drives one of the most interesting and exciting comedy venues in the UK. Yes, 'drives'. Let's find out more...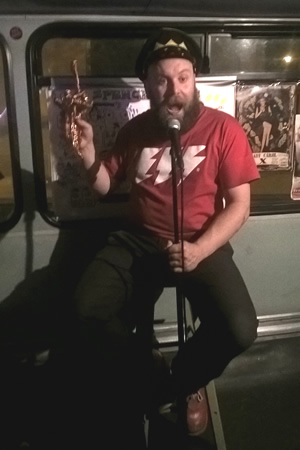 Hi Bob. How's things? You've just starred in a comedy show set on ice?
You missed out on a ridiculous and amazing spectacular... we sold out Alexandra Palace ice rink and put on a big crazy show with Tony Law and the Weirdos... From now on everything I do will be on Ice! Everything!!!
As well as being a comedian, you drive and programme the BlundaBus. For those that don't know, could you introduce what the bus is about?
The BlundaBus is a converted double decker bus which we take around festivals. It has a theatre venue on the top deck and a bar below, with a soon to be installed massive ice machine...
Where did you get the bus?
It's an ex London bus that we fitted out ourselves. Some comedians of note were involved in the build. Including Joe Davies who did the carpentry. Pat Cahill the upholstery and John Kearns held a paint brush.
Did you know that Vic Reeves used to be a diesel mechanic and is a bus enthusiast? He came saw the BlundaBus at the Fringe and I will be parking the bus around his country house for the winter.
Is it a logistical nightmare to get it from place to place?
Not at all. It's got wheels and an engine. It's a beautiful thing to drive if you aren't in a hurry. It will go 50mph but anything over 40 and you see the fuel gauge spin backwards like a clock. "How is it on fuel?" I hear you ask and I reply "Ah it's brilliant on it. It flippin loves the stuff..."
The Bus operates on a Pay What You Want basis at the Edinburgh Festival, a model you pioneered few years ago - an idea that has really gained traction now...
It's simply, you can buy a ticket in advance or you can chance turning up and there being seats left and you can pay what you like on the way out.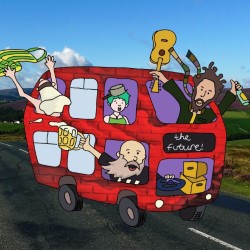 The next trip out for the bus is the Vodafone Comedy Carnival in Galway at the end of the month...
Galway is a glorious city with a really creative heart... The BlundaBus was at the festival last year and I've been a bunch of times before without. We will have a cracking spot in Eyre Square next to a Spiegel tent. What is not to love?
Your line-up for the festival looks great. Stars including Phill Jupitus will be performing, and there's a nightly lock-in called NeverMind The Bus Stops.
Lots of great things and me!
After Galway, what's next for you and the bus Bob?
Galway is the last outing of the year for Brenda (the BlundaBus). She will be wrapped up warm for the winter months while we do some more work on her... Relaunching maybe with a new look for festivals next May...
In December I'm going to be Santa Claus on Ice (I really am) in Born in the Borders Brewery just south of Edinburgh. And why not eh?