It's heartening to know that, despite the ongoing chaos and confusion at the top level of UK life over the last few years, people still want to take a mighty long flight to play gigs over here.
The young Australian comic Blake Freeman, for example, kicks off six nights at the Soho Theatre on Monday, with his debut hour, There's Something There. That show won him the Best Newcomer award at the Melbourne International Comedy Festival last year, an honour previously bestowed on subsequently-global talents like Claudia O'Doherty and Flight of the Conchords. So now he's also going international.
And very timely his arrival is too. Just think, a whole gloriously funny hour, free of talk about election results and withdrawal agreements. See you there? It's a deal.
One quote about you said 'born to be a comedian' - did you want to do comedy as a kid?
I always changed what I wanted to do when I was a kid. I remember I wanted to be a skateboarder, writer, nurse. I remember when I was, like, 12 I wanted to work in an office. I didn't know in what capacity but for some reason working in an office seemed like fun.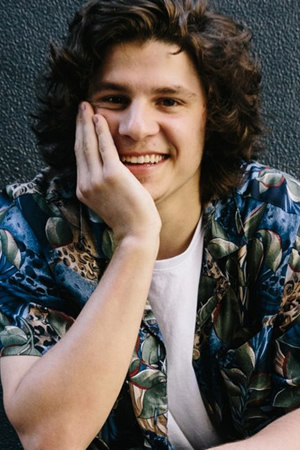 How did you get started in stand-up, and how did the first gig go?
I started doing stand-up because a friend of mine wanted to do it, and I thought 'if they're gonna do it I should give it a go.' Then when I did my first gig I actually did okay. I'm sure if I saw it now I would consider it a terrible gig, but at the time it was good enough for me to keep going.
Is there a particular point where stand-ups stop feeling like a newcomer - a certain number of gigs maybe?
I still feel like a newcomer. Like I've been performing for a while but maybe because I'm younger than a lot of other people doing it, I still feel like a newcomer. It's funny because all my friends in comedy are older than me, so the longer I'm in this they are as well, and I reckon to my peers I'll always be the young one ya know.
Are there certain places or things in Britain you're particularly looking forward to?
Nowhere specifically. I'm just excited to be over! Like I haven't really travelled a whole lot so it's awesome to be anywhere!
Could you tell us a bit about There's Something There - any particular themes you explore?
My show is about myself and where I'm sort of at with everything going on in my life. I'm the worst at selling my own show, but I can say that it's a funny show that I worked hard on!
Your stuff is pretty candid - do you 'ok' material with the people it's about?
I'll usually okay it with someone, that I'm gonna talk about them. It's weird though, because I when I talk about people I know I'm rarely making fun of them. I'm more making fun of myself telling a story that also happens to involve them.
There's Something There would be a good name for a new-material night - how's your writing process?
My writing process changes everyday. Like one day I'll sit down and write, one day I'll think of something and just do it, I might write from the stage. It changes more than I change me bloody shoes.
When you booked these shows, they were predicting shortages or riots, depending on how the 31st went - did you have survival plans in place?
I think that all the people protesting should come to my show. Half-price tickets for anyone who's been pepper sprayed!