We catch up with Anna Morris, the character comic and actor, to find out about her latest projects...
Hi Anna. You're set to perform a run of your show Bitchelors in London soon. What can people expect?
They can expect to walk into the gorgeous cabaret bar downstairs at the Soho Theatre and all become very important judges at a spoof Woman of the Year Awards.
I'll play the host (my most famous character, Britain's Biggest Bridezilla Georgina) and four contestants. The audience will see four presentations (including songs, demos and things that don't quite go according to plan...) and vote for the winner at the end. This will result on a choice of four endings, depending on who they choose!
How did you come up with the characters? Are they based on aspects of your own personality?
I guess there is a bit of me in each...! I wanted to create four women who are all trying to 'have it all' and be the perfect woman.
Each was based on someone I'd met (or overheard) and I put them in a world that I thought they would suit, then threw in as many curve balls as possible to crush stereotypes and audience predictions...
A good example is Jane - the twee baker who talks like she's going to burst into tears at any moment and is always shaking - the most nervous one. She's based on a woman I met running a cake stall at a village fete. I gave her a sweet, innocent and nervous exterior and then worked on her inner most darkest secrets which all spill out onto the stage...
And Alexi - the anti-marriage activist - is based on a terrifying and tiny lecturer we had at uni who was from New York and used to scream in our faces...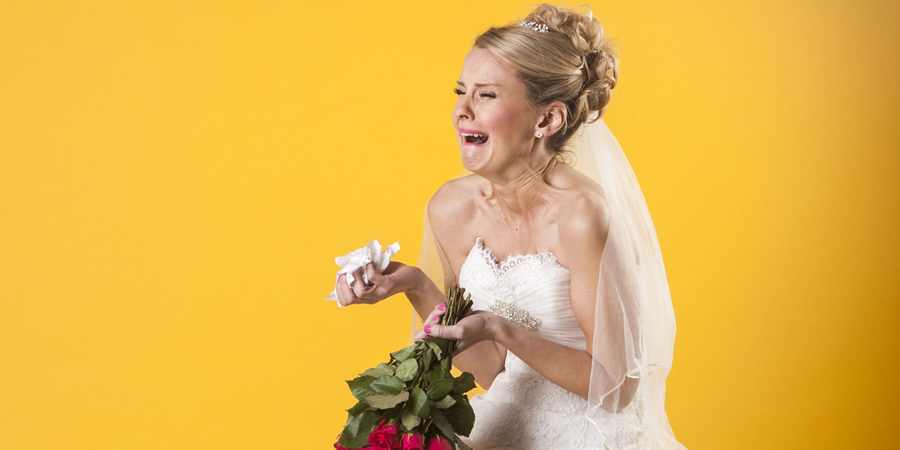 As you mentioned, 'bridezilla' Georgina is perhaps the best known of your characters. Is she your favourite, or the one you're least excited about performing, given you inhabit her the most?
She's the easiest to perform as I've done 100s of shows with just her (It's Got To Be Perfect) so for me it's more exciting to do then other characters, who are more of a challenge. I have to rap as Alexi, sing as Jane, kidnap someone as Keva and do a very bizarre baby doll aerobics demo as Nina! Georgina simply hosts - the others have to fight for your vote and work really hard. It's actually an exhausting show!
Are you married in real life?
I am not married, and I think after over 100 shows dressed as a Bridezilla I've probably put off all men... I once rehearsed the show in my bedroom in Brixton overlooking the street and looked up to see some guys on the pavement staring at me. I realised all they could see was a woman in a huge wedding dress talking to herself...
Amazing. How often do you go off script in a typical show?
I go off script a lot, because I love improvising. The audience at my shows also seem to enjoy joining in and shouting stuff back (nothing horrible!) so I love to answer back in character - whichever character I am at the time.
The challenge is I have to answer back in the way the character would - so once I had a really drunk hen group disrupting the show. It was during the nervous character Jane's set. So Jane could only politely ask them to shhh and it made her more shaky/nervous which was very funny. I made the next character deal with them because she was really gobby and scary! They soon shut up...!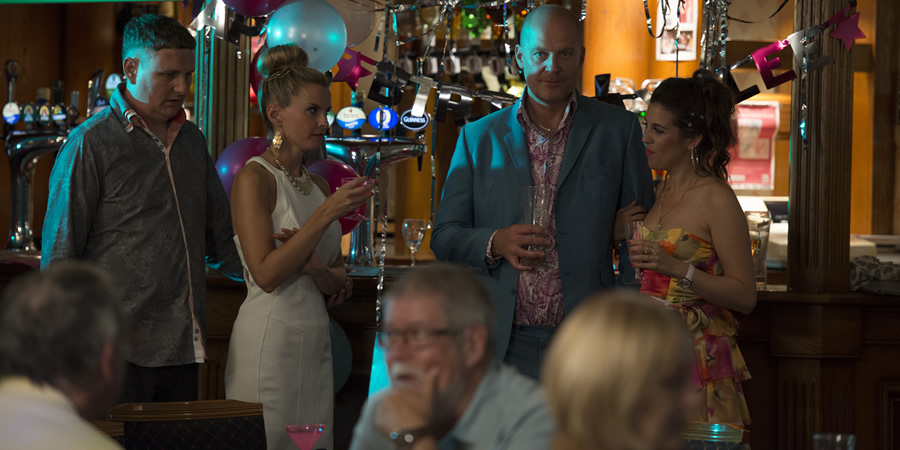 We'll next see you on TV in the hotly anticipated new sitcom Lee And Dean. Can you tell us more about your role...
I play Mrs Bryce D'Souza, the rich client of builders Lee and Dean. She's bored and there isn't really anything wrong with her house - she just loves having them round - well mostly Lee, the cheeky flirty one who she is constantly taking upstairs to show the crack in her wall...
I don't want to give anything away, but my character ends up be swallowed up in their world and getting involved in all sorts of drama. It's a brilliant show and I'm very proud to be involved in it.
What was it like filming the episodes? Were any of the 'flirty' scenes awkward to do?
It was just so much fun. It's improvised, so you never know what cracking line someone you're acting with will come out with next.
The flirty scenes were not awkward at all. In the first episode, when Dean (Mark O'Sullivan) returns to the house alone and tries to flirt with Mrs Bryce D'Souza by flicking water into her face, we had to re-do it about 10 times because we kept laughing.
What are your plans for later in 2018?
I'll be doing Bitchelors at the Underbelly Festival, a new show in Edinburgh, and I'm working with Mark from Lee And Dean on writing some other sitcoms.