The Humble Quest for Universal Genius - The Perfect Contestant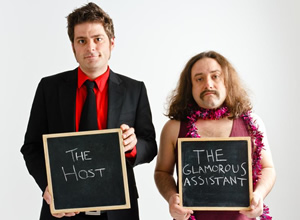 'The Humble Quest for Universal Genius' is a live comedy format where contestants are put through their paces across a series of rounds to see if they have what it takes to be considered a true genius.
The 50th show is coming up, so we asked creator Mark Allen (pictured with 'glamorous' assistant Eli Silverman) to create the ideal contestant for us.
If we were to create a hybrid genius, based on the best contestants at each round over the previous 49 shows, here's how it would break down...
Languages
The aim: I have a Bulgarian phrasebook, which claims to be translating popular English slang words and phrases. However most of the phrases within the book are utter nonsense, such as "Basket scrambler", "Gammon queer" and "Dicked in the nob". The contestants are given examples from the book as asked to explain what they mean.
Honourable mentions: Richard Herring, whose definition of "Gull-groper" is sadly not fit for publication; and Nick Helm, for his definition of "Suck the Monkey" as an exclamation to be used when things go horribly wrong.
The winner: Mike Wozniak, for his glorious definition for the phrase "Old man milk". According to Wozniak, it is used in Portsmouth to describe something that's very difficult to procure, but which - once procured - is totally undesirable.
Etiquette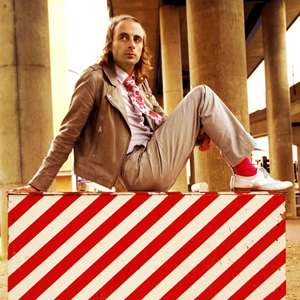 The aim: Based on the Debrett's Guide to Modern Etiquette, the contestants are asked to respond in the correct manner to various questions on how to behave in polite society.
Notable mentions: Rufus Hound and Isy Suttie, who decided to forgo the round in favour of having a banana eating competition. Hound won as Suttie ended up regurgitating a mashed-up ball of banana back into her hand (Video).
The winner: Paul Foot, who - unsurprisingly for a man of such sophistication - knew that the correct way to eat peas in polite society is to squash them onto the back of your down-turned fork. Superlative manners from Foot.
Poetry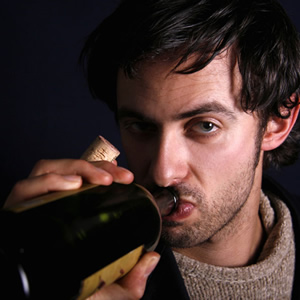 The aim: To compose a poem in five minutes based on a suggestion from the audience.
Honourable mentions: Dan Antopolski, who came up with an impressive number of rhymes for the word cucumber; and Tom Parry from Pappy's for his seven-minute long epic poem about Rod Stewart and Moira Stewart.
The winner: Marcel Lucont, whose magnificent poem on mice contained the unforgettable line "If you eat my Roquefort, I'll give you what for".
Science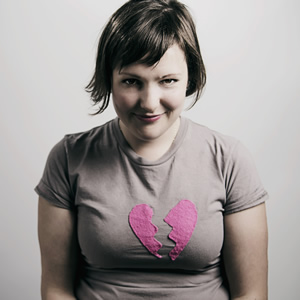 The aim: The contestants are presented with graphs and charts which have had the labels removed. They simply have to use their best science to explain what the graphs are illustrating.
Honourable mentions: Andrew Maxwell, who gave an impassioned lecture on the rise and fall of gold prices, which ended in a rousing rendition of a Spandau Ballet hit; and Humphrey Ker, who revealed that a bar chart was actually a pictorial representation of Pac Man and his battle with depression.
The winner: Josie Long predictably showed a flare for this, explaining a bar chart which illustrated the scientific breakdown of types of women that Russell Brand has slept with.
Hunting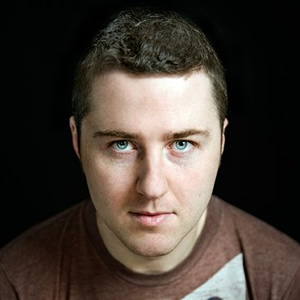 The aim: My "glamorous" assistant Eli Silverman is forced to wear a velcro dartboard and run around the stage in the guise of various animals, as the two contestants hide in the audience and fire nerf guns at him.
Honourable mentions: Terry Saunders and Kent Valentine, who teamed up to haul Eli down and shoot him at point-blank range. Also Thom Tuck who, when faced with a final shot to win the game, chose to shoot at the floor so the "deer" he was hunting could go free.
The winner: Lloyd Langford who surprisingly possesses an unparalleled killer instinct. Not only is he the only contestant to score a bullseye, but he is also the first to hit his prey in each of the three rounds - a feat he has accomplished both times he has competed in the show. Sensational stuff from the Welshman.
Art
The aim: During the interval of each show, the contestants are asked to create a sculpture entirely out of plasticine and to then explain the symbolism behind the piece.
Honourable mentions: Holly Walsh, for her scarily accurate depiction of Eli; and Joey Page for his intricate work "Fisherman's Luck".
The winner: Tom Bell, whose astonishing creation "Shame" featured a half naked man and woman who were hiding their faces in shame. Not because they were naked, but because they were ashamed of Britain - represented by them being stood by a union jack as a native British red squirrel was being brutally sodomised by an American grey squirrel (Video).
Literature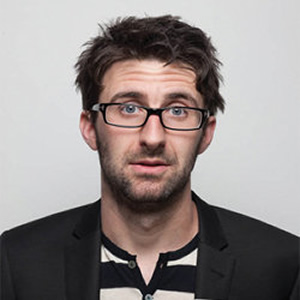 The aim: The contestants are given extracts from genuine, but little-known literary abominations and they are asked to continue the story where the extract left off.
Honourable mentions: Robin Ince - himself no stranger to books - had the audience on the edge of their seats as he transformed Catherine Cookson's seemingly tepid novel The Nice Bloke into a bawdy romp. Henning Wehn also excelled as he introduced some trademark Teutonic bluntness into the Inspector Morse book The Wench is Dead.
The winner: Mark Watson, who - as an actual real-life novelist - would have been disappointed had he not taken this accolade. His story of platonic love between a woman and a wolf (separate beds) was an unexpected plot twist in The Bomb That Could Lipread, but it was nevertheless enormously well-received by a late night Edinburgh audience.
Mathematics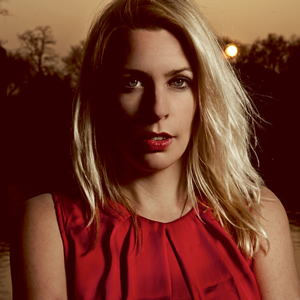 The aim: The contestants are given a mathematical formula without being told what it means. They then have to explain to the audience what each of the letters in the equation stands for and what the formula is used to calculate.
Honourable mentions: Josh Widdicombe, whose mathematical formula for the causes of divorce was a stark warning to all married couples; and Romesh Ranganathan, who as a former maths teacher was very convincing in his explanation of the formula for how to be ejected from a nightclub.
The winner: Sara Pascoe, who brought the house down at Latitude Festival as she talked us through the equation for how you know if someone is cheating on you.
Inventing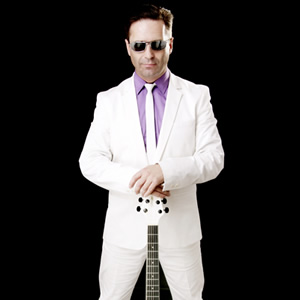 The aim: Contestants are asked to solve a common problem by coming up with an invention based on a given set of household items.
Honourable mentions: Simon Evans who accidentally flung an apple on a chopstick into the audience whilst demonstrating a new Olympic opening ceremony; and Marek Larwood, whose trial-run of his new system of voting disastrously led to the BNP being elected to run the country.
The winner: Phil Nichol, whose solution to the Greek Debt Crisis involved enthusiastically drawing a moustache and monobrow on glamorous assistant Eli, before suddenly realising that the marker pen was permanent.
Actual Knowledge
The aim: A quick-fire round where contestants have to prove their grasp of actual knowledge.
Honourable mentions: Angela Barnes scored very highly on this - perhaps aided by her previous stint as a professional know-all for the AQA text service. James Sherwood also displayed an impressive knowledge of some obscure subjects.
The winner: Paul Sinha. No contest at all here, as he was the 21st highest-ranked quizzer in the world at the time he competed and has subsequently gone on to become a resident clever clogs on ITV's The Chase. I like to think that his victory in the actual knowledge round on The Humble Quest for Universal Genius spurred him onto greater things.
---
To find out more about THQFUG visit www.universalgenius.co.uk and follow @THQFUG. The 50th show special is on Thursday 20th December 2012 at The Leicester Square Theatre in London, with guests Tony Law and Steve Hall.