Udderbelly Comedy Festival 2013 launches in London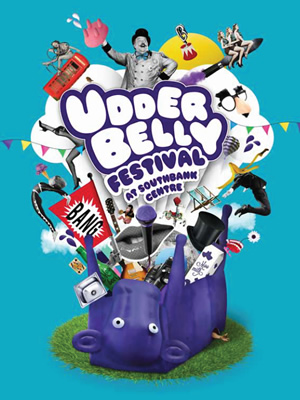 Underbelly, the Edinburgh and London based live entertainment company, today launches its 2013 festival run in London.
The Udderbelly Festival runs between 12th April and 14th July 2013 on London's Southbank, with lots of notable comedy performances due to take place in the iconic upside-down purple cow venue.
The festival first launched in 2009 when Underbelly joined forces with the Southbank Centre to put on a summer of comedy, circus, family and cabaret shows. The festival proved a huge success and so has returned every year since. Over 50,000 tickets were sold during the 2012 programme.
In 2013, over the next 94 days, there are set to be a whole heap of comedy shows to see (ok, we admit it, we were going to publish an exact number, but lost track counting).
Writing in the festival's brochure, organisers Ed Bartlam and Charlie Wood say: "We're thrilled to announce the return of Udderbelly Festival to Southbank Centre for a 5th consecutive year. If you haven't been to the festival before, it's very simple - we cram a big upside-down purple cow with comedy, circus, theatre and family shows and let it graze on the bank of the Thames until mid-July. Nearly all of our tickets are between £10 and £20 and we guarantee that there is something for everyone."
Headline acts this year include the multi-award-winning comic mime The Boy With Tape On His Face fresh out of his critically acclaimed West End run, alongside stand-ups like Susan Calman, Richard Herring, Tony Law, Andrew Maxwell, Ardal O'Hanlon, Andi Osho and Gina Yashere.
There's sketch comedy available too from Late Night Gimp Fight and those delivering musical laughs will include Doc Brown and Abandoman. Multi-act nights are a good way of seeing lots of comedians in one go, and Udderbelly has programmed shows such as Best Of The Comedy Store and Spank!.
The programme also features improv from the likes of The Showstoppers and Austentatious, magic from Pete Firman, and you can gain some unique comedy experiences from shows like Back To The 80s With The Forgery Club, Simon Munnery's Fylm-Makker and Comedy In The Dark.
Entertaining the children over the summer is easy too, thanks to shows at the Udderbelly like Comedy Club 4 Kids and Little Howard's Big Show.
Those that have visited the Southbank in recent summers will know that the Udderbelly Festival is not just about the shows. There's also a buzzing social area featuring one of the biggest outdoor bars in Central London. With everything from Giant Jenga to organic food, the festival is an ideal place to meet and socialise with friends, particularly when the sun is shining.
For a full list of all the shows taking part in the festival, to find out more about how to get to the Southbank, and to purchase tickets visit www.underbelly.co.uk
Here's the trailer for the festival: