Tom Stade's first ever blog
We asked Tom Stade to write a blog to introduce his new live stand-up tour. We didn't realise he'd never written one before. Here's his first ever attempt...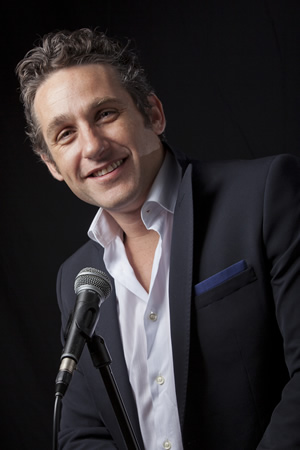 I just want to start this off by saying this is my first blog ever! I am a cave man when it comes to these things... as I am doing this it feels more like an essay. Maybe, as Bob Dylan said, "The times they are a-changin" and we are now using the word 'blog' because this generation needs to feel like something different.
I am on vacation right now and the last thing I want to do is blog, but my good lady friend who keeps me company and with whom we pleasure each other's mortal bodies, is in the shower.
'Too much information' you're probably saying to yourself, or 'TMI' as the people are probably calling it now. However, in my time (like I owned time at one time) that was known as juicy detail. I am one to love information. Can't get enough of the stuff. Information makes this world go round. I know because I have a massive gambling problem (only when I lose is it a problem) and I've never been studying forms thinking 'there's way too much information for me to make an informed decision on something that is a pure guess'. I like to be as prepared as I can when I'm guessing.
Where would humans be if they didn't have enough information? Afraid. Humans like to have lots of information so we can feel less afraid. We have formed committees and groups on getting information. MI5, FBI, KGB, CIA and mothers who get together secretly to find out all they can about their children's whereabouts - what they're doing, who they are seeing - so they can control everything in their children's lives. Ok, I'm not positive on that last one, I'm not a mother and it's pretty secretive. I'll try and get some more information on that one. But the other ones I'm sure about. Lots of info on those. Guantanamo Bay is an information heaven for some people and an information hell for you-know-who. And if you don't know who, get some info on it!
Now, last paragraph in this blog. How would you like your comedians? Armed with lots of information or 'dumb'? What if Daniel Kitson couldn't find the words that make him so poetic? I would hate to see people heckling Dan, "More info you stuttering twat I can't see your words in my mind." What about Stewart Lee? How would he rally against the injustice of 'the less noticed but hugely talented artist that will never be noticed because they aren't part of the massive showbiz machine's agenda' if he knew nothing? I guess all I am saying is I don't want to blog anymore because I have a massive hard on and I want to blow a big load on a woman that drives me completely mad and uses me because she knows I can't get enough of her big tits and has a sexy ass that drives me wild. Now can you blog that, or is it too much information?
Well... Um, thanks to Tom for giving up some of his valuable holiday time and that bit of over-sharing! Here's some information for you: Tom is on tour with his show 'Tom Stade Totally Rocks' until June 2013. For a list of show dates and to find out more visit tomstade.co.uk