Tom Little wins Leicester Mercury Comedian of the Year 2015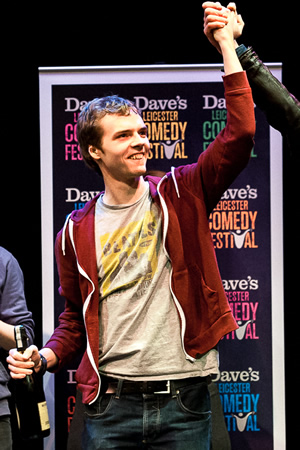 Tom Little has been named as the winner of the Leicester Mercury Comedian of the Year 2015 competition.
The contest, which has been running for over 20 years, is one of the most prestigious prizes in the yearly comedy calendar. It is not an open access competition - instead comedians need to be nominated by agents and promoters to be able to take part. The competition has a long history of spotting the comedy stars of the future, with the previous rollcall of winners includes the likes of Rhod Gilbert, Jason Manford, Johnny Vegas, Seann Walsh, Josh Widdicombe and Romesh Ranganathan.
Talking about winning, Little says: "It's such a big deal that these amazing finalists are voted for by the industry. I'm so pleased to be one of them".
Tom Little has been performing stand-up since July 2013. The 27 year-old, originally from Cumbria, now lives in Salford. In 2014 he was a finalist in the BBC Radio New Comedy Award, a semi-finalist in So You Think You're Funny? and came joint third in the Beat the Frog World Series.
Norwegian comic Ingrid Dahle was named the runner up at the live final, which was held as part of the closing weekend of Dave's Leicester Comedy Festival and hosted by Rob Rouse.
The judges were Alex Hardy from The Times, Bruce Dessau from The Evening Standard, Paul Banks from the Leicester Mercury, promoter Peter Vincent and UKTV's Steve North.
Below are some video highlights from the final:
A guide to the finalists
Of the eight finalists this year, six were female acts, making this a historic year in the award's history. The 7 other finalists taking part in the competition alongside Tom Little were as follows. These biographies have been supplied by the acts' management.
Lolly Adefope: Lolly is a character comedian getting noticed on the circuit both for her solo characters and her turns in the cult hit show The Bearpit Comedy Podcast Podcast. Lolly will be bringing her much anticipated debut full-length show to the Edinburgh Fringe this year, following her first fringe appearances in 2014 sharing the bill with Matt Winning.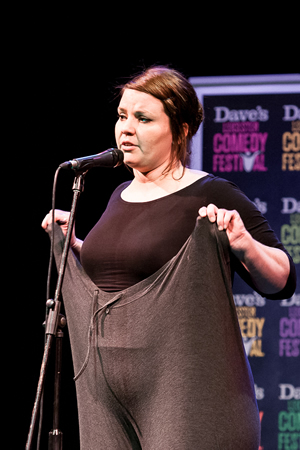 Ingrid Dahle (runner-up, pictured): Originally from Norway, Ingrid has sprung forth making a name for herself on the UK comedy scene. Blending her innate oddness, a love of British culture and unique physical comedy, Ingrid reached the final of So You Think You're Funny?, and won Brighton Comedy Festival's inaugural Squawker Comedy Award.
David Jordan: After a successful stint as a solo singer songwriter, David brings his unique musical talent to the world of stand-up, combining his brilliant voice with carefully crafted, hilarious and edgy songs. David has already contributed jokes to Radio 4's hit show, The News Quiz, music for Comedy Central's Seann Walsh World, as well as performing to sell-out audiences in London's West End at several high-profile benefits alongside comedy legends Stewart Lee, Richard Herring and Mark Thomas.
Emma Kearney (as Penella Mellor): Winner of Beat the Frog World Series 2013 and Nando's New Comedian of the Year 2013, Penella Mellor is one new comer to look out for. Penella is not a good grown up. She struggles daily with all aspects of adulthood: parenting, dating and being nice to other people.
Stephanie Laing: Goofy and peculiar, Stephanie Laing's comedy is partway between the needy oddness of Maria Bamford and the upbeat affability of Josie Long. Her material is a mix of silliness, filth and unusual observations, underpinned by a disarming honesty which makes her seem charmingly vulnerable. Stephanie started performing in April 2007 on the Scottish comedy circuit. She had shows at the Edinburgh Festival in 2010 and 2012, and has performed at The Stand (Edinburgh and Glasgow), The Comedy Store, The Comedy Cafe, Crack Comedy, Downstairs at The King's Head etc. She is now based in London.
Jake Lambert: Jake started stand-up in March, 2013 after gaining a following on Twitter under the pseudonym @LittleLostLad. Six months after starting, he made it to the Semi-final of the BBC Radio New Comedy Award. He has supported Matt Richardson on the Reading leg of his UK tour. He can be seen performing at comedy clubs such as Crack Comedy, Comedy Cow and The Piccadilly Comedy Club.
Kiri Pritchard-Mclean: Mclean has been making something of a name for herself in the short time she's being performing stand-up comedy and has achieved further success as one fourth of multi award winning sketch group Gein's Family Giftshop. A unique and assured comic voice, Anglesey native Kiri is whip smart with material to match, an apprenticeship on the North West comedy scene equips Kiri with a presence beyond her years and the rare ability to be challenging in her material without alienating her audience.