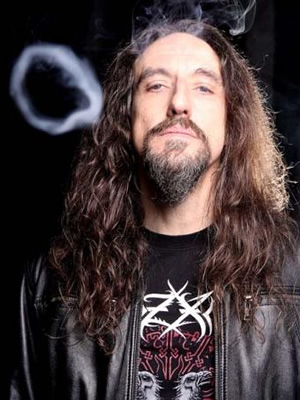 Steve Hughes is currently touring the UK. We caught up with him to find out how it is going...
Hi Steve. How are things? Happy?
We have done quite a few shows now, and no one has complained as far as I know. Plus, there's been audiences, which is always a plus when doing live performances... and they have been laughing, which is of course a great component of comedy, so things are good in that perspective. Whether or not this makes me happy is a different question all together - it certainly doesn't make me un-happy.
Your tour takes in 40 something different places in just a few months - presumably that travelling gets a bit wearisome?
It's not always the travelling that's wearisome but the traffic jams and roadworks and roadworks and roadworks and roadworks, and did I mention the roadworks? I would love to be the guy who inherits the fortune of the guy who hires out traffic cones to England, cause he is set for life.
We try to get to the show as close to the start time as possible these days, so as to avoid any down time and make it feel less like touring, and more like just going to a show. It's good for the sanity.
Do you have a favourite venue?
I always enjoy the Lowry in Salford - it's a great room with cool staff and the audience is always killer; they laugh a lot and from their guts, like Scousers and the Northern Irish.
The Stand in Newcastle is a great room with a great crowd. The Stand of course originated in Scotland and they have good rooms in Edinburgh and Glasgow as well, but the Newcastle room is just set up really well.
The Slade Rooms in Wolverhampton is excellent, as are the Glee clubs, as I've been performing in them for years and they have the best dressing rooms.
You're entered the tour off the back of shows in Australia and New Zealand... Could we clarify, where do you call home now?
I haven't had a home since 2009, when I went back to Australia for the first time in 10 years. Since 2010, when I started touring supporting Reg Hunter, I have been constantly on the road.
I have a room I rent with a great friend of mine in Manchester, so that in the downtime I'm not homeless, but I am coming to the conclusion that I may have to get off the road for awhile and do something else besides constant touring between here and Australia, and in the last 2 years I've been in New Zealand as well plus other various European countries. It's starting to get a bit mad, and my Chinese acupuncturist has told me I have to get some sleep in the night for once.
I don't have time to miss anything in particular, except having nothing to do but wake up and play drums all day... which is what I'm planning to do sometime soon, I hope.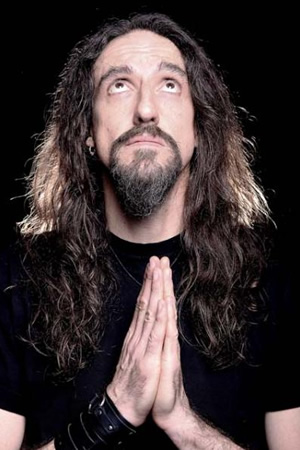 Talking of music, you were previously in various metal bands. The switch to comedy doesn't seem like the most obvious career change...
I started playing in bands from the age of 16, until I was about 33. We were lucky enough to be around for the birth of Thrash and extreme metal music and even though we were isolated in Australia we had the underground tape trading scene that connected us to the world. Being the first thrash bands in Australia at the time, with the birth of the Punk / Metal crossover scenes, we had a great time and there was nothing like that energy and underground mentality.
It was in the late 80s that I started to watch a lot of stand-up - like Richard Pryor and Steve Martin - but I also became interested in the spoken word of Black Flag's Henry Rollins and Jello Biafra of the Dead Kennedys.
I didn't start stand-up till the mid 90s, and even then I was still heavily involved in being in bands and would be until the day I moved to the UK in 1999.
I never considered it that strange to go from bands to comedy, as its just all performing and creativity as far as I'm concerned. Bands just became too much work to get everyone on board and be as driven as I've always been, so I just thought well if I do stand-up then I can just do what ever I want. Simple as that really.
To people like us (who are more likely to have Wham! in the CD player than Megadeth) heavy metal bands seems a bit over-serious and depressed. Do you think the genre could do with lightening up a bit?
Well, from an outsiders perspective that may seem the case, but heavy metal is a many-headed beast with many different types of bands playing different representations of metal music, and of course with different attitudes and ideologies.
Some metal bands and fans are very well adjusted people who just like exciting music and having a good time. Some of the more extreme bands of course are indeed involved in far more serious - even Satanic and misanthropic - philosophies, coupled of course with brutal music that may very well be deemed unlistenable, even by other metal fans.
Personally I like both, and of course many other forms of music. I also do not hold the view that discussing serious, intense or even frightening topics makes you a negative person. I would ask why are the majority of mainstream perspectives and belief systems so disengaged from what's really going on around them?
Now you've worked in both music and comedy, would you say touring is similar in both, or are they completely different industries?
Well, touring in bands or comedy or anything varies between how well known you are, which of course means that your income varies and therefore it's better to be touring on a big budget as it's more comfortable and not as painfully gruelling as it is when there's a whole bunch of you crammed in a van with band equipment and earning no cash.
I can earn cash now, but my budget is not like U2 so there's no tour coach or private jet... just me and my support act, and a Nissan Micra, so you do the math.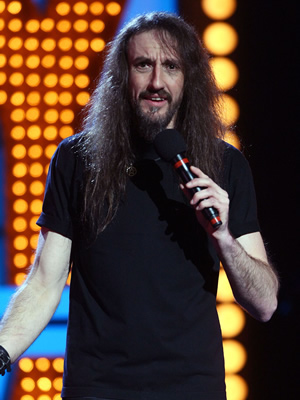 You've appeared on most of the major UK stand-up television shows. How have you found those experiences? Was it hard to adapt your material and style?
It's not that difficult to adapt to mainstream TV. You just don't swear or do some of the more anti-authoritarian issues... such as the coming third world war being created for the destruction of the 3 super powers, so the ruling elite can create a centralised global fascist satanic police state that is ideologically bound in empirical ideologies that will close off portals to transcendental realities and thus trap us in the physical dimension where we can be slaves (which we already are)...
Gosh. You're pretty much on the road until early December... any thoughts what you're going to do when you're final gig in Aberdeen is done?
Well after my show in Aberdeen I am flying back to Manchester to then drive to London and then the next day I am flying to Dublin to do another show that has been added to the tour.
Then I have some Xmas shows in The Comedy Stores in London and Manchester and then I will probably have to do my tax over Xmas and then I will hopefully go to Australia and finish an animated film I am working on with one of my oldest mates from Oz. It's a cartoon, but not for kids.
Then I am hoping to not do any comedy for awhile, which won't happen as I will probably just do it all again in Oz and New Zealand. Or I may just try and make my band Eternum happen and maybe I'll get some time to eat and go to the gym and see my girlfriend... if, of course, I still have one by then.
Well, best of luck with the rest of the tour Steve and whatever does occur after that.
For more details on Steve's tour visit stevehughes.net.au