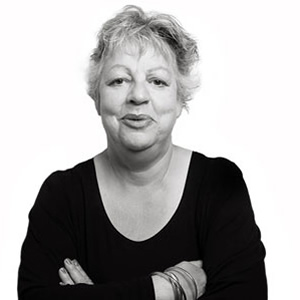 A quick chat with Jo Brand about her stand-up work and the new series of the TV show in which she stars, Getting On...
Hi Jo. How is life for you at the moment?
It's alright thanks, if not slightly chaotic and disorganised. I'm always 10 minutes behind myself.
You're regularly on TV and part of big gigs now. Do you ever think back to your early days on the circuit in the 80s? Anything you miss about them?
I liked it in 'the old days.' Much of the time now I work as an individual and a big part of being on the comedy circuit was socialising with other comics. In my day: Alan Davies, Eddie Izzard, Jenny Éclair, Julian Clary, Nick Hancock, David Baddiel, Frank Skinner and many others. I only tend to see these people now on comedy panel shows, apart from the ones I keep in touch with anyway.
Your husband sometimes comes off in a less than glorious light in your jokes - do you run them past him first? Does he secretly mind do you think?
Why don't you ask him? And do you really think that if all the stuff I say about him is true, I would really say it in public? Maybe you think I'm slightly mad!
Good point! Changing the subject, congratulations of the success of Getting On, the BBC Four comedy drama set in an NHS ward (pictured below). We love it!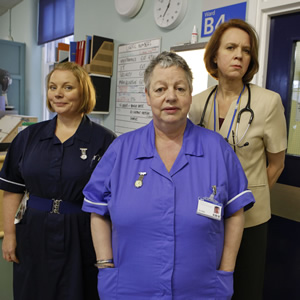 Getting On's low-key 'feel', slow pace and short-length first series might not have made it an obvious contender for a hit though... but did you always have faith in it?
Yes I did, but I wasn't sure early on whether other people did too.
You have on a number of occasions said you're not an actor, yet you've now got a BAFTA for it! Have you accepted yet you are good?
No!
Ha ha. Where do you keep the award?
It's on the fridge and it's up to you to imagine how often I visit that particular piece of kitchen furniture.
You were a psychiatric nurse before you got into comedy. Did you have to visit any hospitals for 'research' for writing the show, or has nothing in the NHS changed so you can just write from memory?
I have many friends still working in the NHS and they keep me ticking over with how it is.
A new series starts later this month. What can we expect?
Not telling you, you'll have to watch it!
Fair enough. This preview video gives a little clue though - you're in a new ward.
Talking of medical things, you're headlining Comedy Slam!, a charity gig to support mental health services in South London, on Tuesday 23rd. It's presumably a cause still close to your heart?
It certainly is. I think the whole area of mental health issues is not particularly glamorous as far as charities are concerned, and so I support as many mental health charities as I can.
The line-up looks great, have you gigged with any of them before?
I've gigged with Nina Conti, Robin Ince, Shappi Khorsandi and Nick Revell but not Daniel Simonsen yet... but I have such an awful memory that I could be wrong!
The audience are sure to have a great time! Now the new series of Getting On is almost done, so do you have any plans for the rest of the year?
Getting On was recorded in March this year, so apart from promoting it, it's all done and dusted. I'm writing a new stand-up set which I'll be trying out bits of up til Christmas, and then a bigger tour next year. And I'm also writing a book about being middle-aged.
Thanks Jo! All the best with those things.
Comedy Slam!, in support of South London and Maudsley mental health services, will be at the Southbank Centre on Tuesday 23rd. The show will feature Jo Brand with Shappi Khorsandi, Nina Conti, Robin Ince, Nick Revell and Daniel Simonsen and, since we spoke to Jo, Imran Yusuf and Stewart Francis have also joined the line-up. Further guests are expected to be confirmed nearer the time too. Info & Tickets
Getting On returns to BBC Four for a third series on Wednesday 17th October. Guide