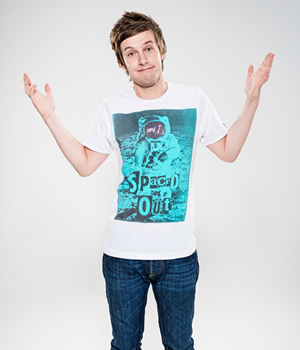 If St George had been able to participate in the whimsies of Twitter his dragon-slaying antics might have resulted in the hashtag #Legend trending. That's what happened to modern-day word warrior Chris Ramsey when he ran the gauntlet of ITV2's Celebrity Juice, facing ferocious firebrand Katie Hopkins - and winning.
The 28-year-old comedian with the pristine barnet, scallywag grin and South Shields lilt was hailed a hero for getting one over on the merciless Apprentice motormouth.
Edinburgh Award-nominated Chris, who starred in BBC Two sitcom Hebburn, is no stranger to using his weapon-like wit on TV. But although he's a regular panellist on the chaotic and abrasive Celebrity Juice, he admits it's the first of any of the TV programmes he's been on that he actually watched.
On the show, which aired on Thursday 18th September, he repeatedly slammed Katie, at one point addressing her weight gain for a TV documentary by asking her: "Don't you lose loads and loads of weight because most of your shit comes out the front?"
Chris, who gained another 15,000 Twitter followers after the show, was widely praised on the micro blogging site. One user tweeted: "I think everyone, everywhere wants to high five @IAmChrisRamsey for doing the impossible task of shutting Katie Hopkins up. #CelebJuice"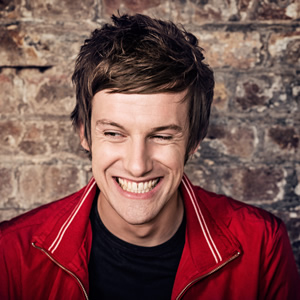 It also led to #ChrisRamsey trending at number two on the night of broadcast - the same day as the Scottish referendum - in between #YourVoteMatters and #scotlandinaday.
He has a habit of sparking Twitter users' imaginations. A stunt in which he ordered a pizza while on a train trended at number one worldwide.
Now Chris is a Celebrity Juice stalwart of five series. He says: "Celebrity Juice is sort of the new being gunged. If you're a celeb and haven't got much credit, go on Celebrity Juice, let Keith [Lemon] absolutely torture you, take it on the chin, and everyone in the country will go, 'We still don't like you but fair play because he tortured you there.'"
Describing outspoken Katie as an "arsehole", he continued: "I put my oar in and I was looking forward to watching it as much as I was looking forward to being on it. I don't normally watch things I'm on but this was an exception."
Chris actually feared his TV career was over after he was give the red card for making obscene comments on a Saturday morning programme. He was 'banned for life' from Sky show Soccer AM in late 2012 after he repeatedly talked about "bumming your dad".
But while he was concerned about his on-screen livelihood after being removed from the programme, it led to his stand-up show: The Most Dangerous Man on Saturday Morning Television.
Chris, who is currently touring, explains: "The whole show's based on the fact that I'm the only person ever to get kicked off and then banned for life from Soccer AM. They told me, 'You're never coming back.'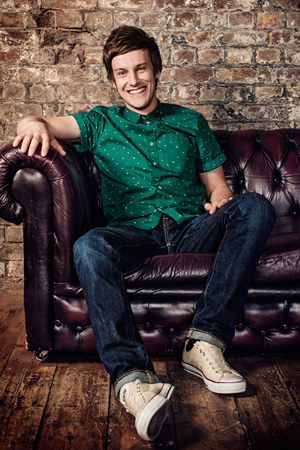 "The powers that be - the important people in the office - apparently were like, 'Yeah, he's not coming back.' The thing is, if you say to someone 'I'm banned from a TV show', they immediately think, 'Oh, you're like a Frankie Boyle, you must be really edgy'... And I'm not at all.
"When people hear the story in my show or see the clip on YouTube, they realise I'm not the most dangerous man, I'm just an idiot. Every one of my audience members leave after my shows going, 'Yep, he's a pillock.'"
He continued: "I was telling this story and I thought it would be fine because it's Soccer AM; it's a bit cheeky. But it wasn't fine.
"The moment kind of reoccurred accidentally a few times during the show and it was having an adverse effect on a couple of the other guests who started being a bit naughty. They were like, 'It's all because of Chris Ramsey, get him off.' I was like the stupid kid in class that brings the learning average down. Nothing sinister, just making a fool of myself."
Chris said he was genuinely worried about his future after the incident. "My live show is sort of therapy because I talk about how even though it was funny it was a stupid thing to do and I could've put some families watching in awkward situations.
"There were a couple of complaints but I got 13,000 extra Twitter followers right after I said it. It was viral, it was trending all morning. A couple of people kicked off. One guy came on my Facebook and was like, 'It's disgraceful what you did this morning, I hope you didn't get paid for that.'
"There were moments when I thought, 'Oh god, what's going to happen?' It's something you always worry about but so far I've got a tour out of it, which has been extended, so I'm happy. I've totally exorcised the demons."
He adds: "I'm not even that much of a football fan - I don't know why I was there in the first place."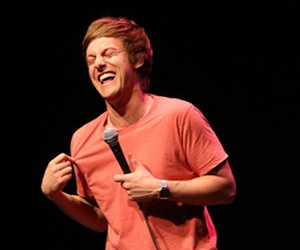 Ramsey learned his trade on the open mic scene in Newcastle seven years ago, after quitting a film studies degree at the University of Sunderland. Three years later, in 2010, he took his first solo show to the Edinburgh Festival. In 2011 his show Offermation was nominated for an Edinburgh Comedy Award and went on to become a Radio 4 programme.
"Edinburgh is great. It's like a month-long freshers' week crossed with a business conference. It's a great place to get noticed," he says. But touring is surprisingly a little more sedate. "I know bands do it, but I don't know how they can go partying every night when you're on a 60-night tour. I did it once, a couple of tours ago. Me and my tour support Carl [Hutchinson] went out in Fareham in Hampshire.
"We got really drunk on the Saturday night in some little pub but the next day we had to drive to somewhere like Southend. I was so hungover, it was the worst idea ever."
The lack of wild nights on the road might also have to do with the fact Chris got married this summer to singer and actress Rosie Winter, who is fodder for his act. "She knew from day one she'd be included in my act.
"A lot of the times when I'm taking the piss out of her or winding her up round the house, her little catchphrase is, 'Marry a comedian, they said, it'll be a laugh a minute, they said.' She always says that.
"But she gives just as good as she gets otherwise I wouldn't be married to her. She's f***ing great."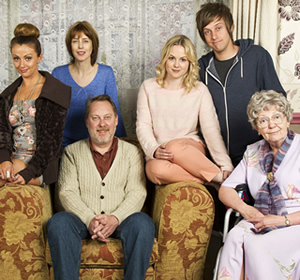 Besides touring and getting wed, Chris is currently penning a new sitcom with Hebburn creator Jason Cook. Chris played lead in the BBC show, which also starred Vic Reeves and Gina McKee. But it was dropped in March after two series and a Christmas special.
It's now been sold to the States after Hollywood comic Adam Sandler bought the rights. "Johnny Galecki from The Big Bang Theory could play Jack no problem. He'd be amazing. I love him.
"I don't see why Adam Sandler couldn't play the dad himself, he's cracking on a bit now. Maybe Pam from the American Office could play Sarah. And Gina McKee is so unique and fantastic that I think you could just get her over to play it with an American accent."
Despite the fact it has officially ended, fans are still hopeful it will return to UK screens. "I still get Tweets daily asking when Hebburn is coming back. It's nice to still have that, but it's probably more likely it'll take off in America than something happening over here.
"Me and Jason are writing a sitcom, that's what I'm working on in the background at the moment. We're best mates and we're always working on stuff together. There'll definitely be something with me and him involved in the future."
Chris Ramsey tours 'The Most Dangerous Man on Saturday Morning Television' until the 17th November. For dates visit chrisramseycomedy.com