Benji Waterstones wins Beat the Frog 2014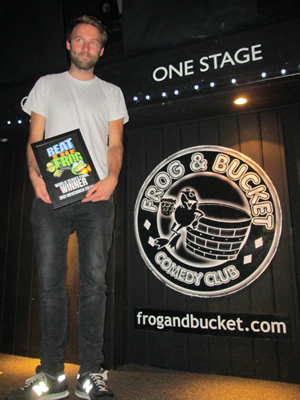 Up-and-coming stand-up comedian Benji Waterstones has been named the winner of the Beat The Frog World Series 2014 contest.
The new act competition, run by the Frog and Bucket venue, has now been running for 10 years. The format sees audience members deciding 'who stays and who goes', allowing acts up to 5 minutes on stage.
Following on from four weeks of heats, last night (3rd November) the famous Manchester comedy venue was packed as 9 acts took to the stage for the finals of the competition.
Benji Waterstones, the 30 year-old trainee psychiatrist, emerged as the winner. Originally from Northumberland, Waterstones has recently moved to London. He was awarded a £250 cash prize plus a booked paid weekend at the Frog and Bucket in 2015.
The competition was the closest ever, with just one vote between the 1st, 2nd and 3rd places. Mateusz Jurczynski took second place, with Red Redmond, Tom Little and Lewis Whiteside jointly taking 3rd place. The venue reports that Clayton Jones just missed out, by 2 votes, from the 3rd place too.
Dan Nightingale, who hosted the show, created the format of 'Beat the Frog' 13 years ago whilst working at the venue. Penella Mellor, who won by a landslide last year, returned to headline this year's final and passed on the title to Waterstones.
This year saw the Frog and Bucket celebrate its 20th birthday, an anniversary which cements its claim to being the longest running comedy club out of London. Beat The Frog returns next Monday, as the search for 'the next big thing' starts again. Every week the winner will automatically secure a place in the heats for October 2015, with two winners from each heat then making it through to the overall final.
Benji Waterstones is on Twitter as @its_benjis
The Frog and Bucket's website is frogandbucket.com