Abi Roberts' Russian Journal
Last year, Abi Roberts undertook a trip to Moscow, where she became the first UK comedian to perform in Russia... in Russian. Abi has known the language since she studied it at university, with childhood trips to the country with her diplomat father helping her practice, but she was last in the country back in 1998, and a lot has changed since then. Plus, it's always going to be a daunting prospect to try your set in another language! Here is her fascinating trip diary, explaining how she got on...
DAY 1, Wed 23rd Feb: To Moscow
On the day I left, I got up at 2.30am and was eventually in a taxi to Heathrow at 3.30pm, driven by one of the Kray Twins' relatives (allegedly). Then it was a flight to Moscow's Domodetyevo airport. On arrival, I was greeted very warmly by two of the guys who run the Moscow Comedy Bar - how I've missed those Russian triple kisses!
The hotel was directly opposite the KGB HQ, and I was often awoken by the 'thud-thud' sound of massive helicopters landing on the roof of the HQ. Last time I was in Moscow, I was very conscious of being monitored, but strangely more so this time around. The concierge took great interest in where I was going and who I was seeing. He even noticed I had left the 'Do Not Disturb' sign on the door when I was out... my room was on the 8th floor!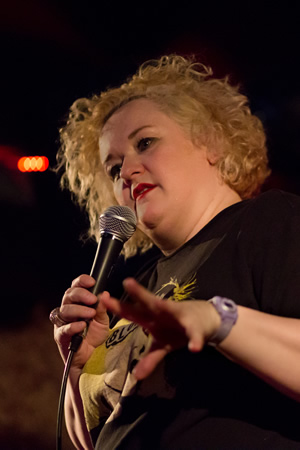 DAY 2, Thurs 24th Feb: Settling-in and the preview show
I had a bit of a wander about on the Thursday. Moscow used to be grimy, but the city is now fantastically clean, cranes dot the sky all over and there are marble fronted buildings on every street. There's still older 'onion' domed buildings too. Central Moscow is just one big subway underpass for walkers, but they are very clean (no smells of wee or bad graffiti).
I set off in a taxi at about 7:30pm and got to Moscow Comedy Bar at Jim & Jacks on Myanitskaya Ulitza very early. I found the place was a sort of speakeasy, tucked along an alleyway off the main drag. It was absolutely packed to the rafters and very hot. I was worried it might just be a mic in a corner of a bar, but it wasn't - it was a purpose-built comedy club, replete with lights, low stage, proper seating and a pro compere, who MC'd me on nicely.
I knew before I arrived that comedy is very new in Russia, and that the country has no female comics at all to speak of. So I was a totally new concept to them. I'm used to doing comedy shows in the UK and I know where people will laugh, where to go quiet, where to busk it and where to be cheeky, but this was a new experience for me. The show was partly in Russian, partly in English and partly in 'Ringlish', so I had no idea what would get a laugh and when and which material would work and which wouldn't fly.
Many say that Russians don't laugh, or they just smile and politely applaud. Not so. I knew straight away that this was going to be good, as they laughed at my entrance onto the stage and my opening lines. Possibly one of the best reactions of all three shows was from a Ukrainian in the audience. I said in Russian and English, "You are from Ukraine? Do you feel safe? Are you sure? There is an exit over here... I can get you out, I know the bouncer". Cue mass laughter. It was like being in rock concert rather than a comedy gig.
DAY 3, Fri 25th Feb: Media and first 'proper' show
I was worried about ticket sales but shouldn't have been. We sold out again. The second show was harder than the first but only for the first ten minutes, and only because of a twat in the first row (who was British) who refused to react. I had to quickly demolish him and make sure that I got him to crack a smile, and after that things got easier.
Again, there was a Ukrainian in the audience, so I did a re-run of the previous night's gag. As it was the first proper show, I tried a bit about Russian 'heep hope' as they call it out there. There are loads of English or Ringlish words they have incorporated into their language, like 'hip hop' and 'arranbee' (R&B). That's one of the main things that has changed since I was last here - how many English words have crept in.
I wanted to do a gag about Putin's favourite colour being light blue - a reference to the gay rumour about him that involved the phrase 'bledno-goluboy', which is slang for gay. I was told "Not here. Don't do that here. Even windows have ears." So I didn't do that bit.
DAY 4 & 5, Sat 26th & Sun 27th Feb: Spasibo Moskva
By now I was getting fluent in switching quickly back and forward between languages, and was sure of what worked. I can only describe this as like patting your head and rubbing your belly at the same time. I let rip with the ad libs, did a hip-hop version of Rachmaninov and an impression of a Star Wars "Babushka Wookie". The show was massive fun and I could have done longer than an hour. I got pissed that night.
I went to Russia because I'd always wanted to go back to see how it's changed and whether the character of the Russians had changed, and what of any reaction they would have to a woman doing stand-up in their native language. I wasn't disappointed, and they loved it. They've invited me back to Moscow next year to do Moscow and St Petersburg. I can't wait! I hope there's some Ukrainians in...
Here is some video footage from Abi's set at the Moscow Comedy Bar...