Steve Hall interview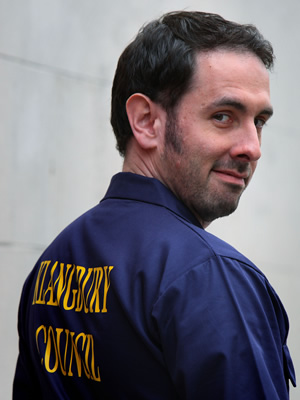 Several years in the making, the We Are Klang television show finally came tumbling onto our screens in late July, and caused more division on our forum than any number of Madeleine McCann gags. Set in the offices of the fictional Klangbury council, the six-parter is a big, daft sitcom with audience participation and a weekly song built in, and was described by one punter as "really puerile, silly and stupid... We Are Klang is utterly childish and I enjoyed every minute of it," which summed up both arguments rather well. With the first run just finished, then, we gently grilled Klang's Steve Hall - turning him occasionally - about the road to BBC Three, where they went right/wrong along the way, and those extreme reactions...
When and how did you first become aware that a TV series might be a goer?
It first hoved into view as a credible possibility after we got nominated for the Comedy Award in Edinburgh in 2006. We'd had interest from producers before that, but that was our third Edinburgh run, and at that point we'd built the momentum, and also a deep enough back catalogue, to be properly taken seriously. The Pick of the Fringe shows in London, and a run at the Soho Theatre served as another way of displaying our feathers to broadcasters.
The BBC commissioned a pilot script which we delivered at the end of January 2007. They gave us some feedback on that first draft, and while we were in Melbourne in April we were told that our second draft had been commissioned for filming. At that point we hadn't actually decided who was going to produce it, and after careful deliberation we agreed that doing it in-house at the BBC was the best way forward. The pilot was recorded in July 2008, and the series commission came a few months after that.
Was sorting the format of the show tricky?
Before the series was commissioned, in terms of the development of the style of the show, we had some massively important conversations at Television Centre with [Beeb comedy bigwigs] Cheryl Taylor, Simon Wilson, Kenton Allen and Jeremy Dyson. There was the obvious conundrum of what on earth to do with the chaos that is part of the Klang DNA. They were hugely patient with us.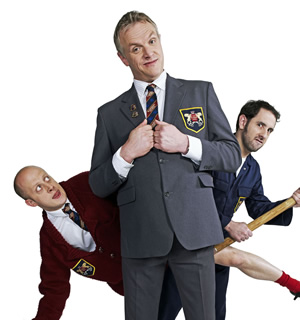 We'd done some shorts for Paramount in December 2006, directed by Tim Kirkby who did Look Around You and Stewart Lee's Comedy Vehicle. They'd been really useful for getting us thinking about the mood of the piece and how our dynamic would have to change for television. Obviously it's a process that takes a long time, and it was important to maintain a popular momentum - getting nominated for the Barry Award in Melbourne, a well-received greatest hits show in Edinburgh 2007 and some thrillingly well-received bits on Edinburgh and Beyond and Saturday Live Again all helped that a great deal.
What are Klang like in meetings? Are you hard-nosed businessmen?
Thankfully we have management whose noses are made from aggregated diamond nanorods, meaning we can be pussycats.
What were the biggest ups and downs while trying to get the series sorted - were there points where you thought 'this is never going to happen'?
Any writer who doesn't have that thought several times a day throughout the whole process is mental. Perhaps the biggest sticking point was the 'Department of Audience' - we were told by some people that it flat-out wouldn't work and that it was folly to attempt something so untested, ignoring the fact that Garry Shandling had done a perfectly good job of it 20 years earlier. But the BBC were hugely supportive and encouraging, and I think Ben Kellett, our director, did a great job capturing it in such a way that it feels fresh and inclusive for everyone. That was really important - to feature a studio audience in such a way that the viewer at home didn't feel left out.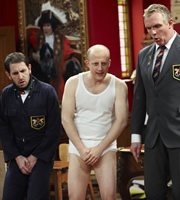 Were there any lofty aims for the series?
One of the loveliest things I've read was someone who said that seeing Klang live was like going to a Polyphonic Spree gig - the sense of communal joy was something we really wanted to ensure translated onto the screen. For all that our live shows have been quite rude, we've rarely caused offense: by rendering ourselves the three lowest-status people in the room it removes all fear for an audience. Again that was something we really wanted to capture, the sense that it's the three biggest dicks in the world dicking about.
We also wanted to make sure it was crammed with jokes and direct opportunities to laugh. It's the sort of thing that hopefully rewards repeated viewings. I remember watching Red Dwarf and Alexei Sayle when I was at school - there was just so much packed into each episode. I read an interview with Jerry Seinfeld in which he was saying that he viewed being 'funny' as being an expert practitioner of fun, which is a really healthy way of looking at it. We used to sometimes provocatively call ourselves a sketch show with jokes in, and it was a good maxim to guide the show - trying to come up with a comedy show that wasn't ashamed to be a comedy show.
How did the three of you go about doing the actual writing? Is there an alpha male among you who has final say?
As there's three of us democracy rules - and there's a long standing agreement that anything we individually feel passionately about should be given its chance. We did read-throughs of the script at the Pleasance in London, and recorded each one - you can't get moody about losing a joke if it's died on its arse three times. We each took away individual episodes to develop, and then started cross-pollinating. Once the plots were coherently in place it was a case of packing the jokes in.
Rehearsing each episode in the week it was recorded changed it a lot too - once we got stuff properly on its feet with Ben Kellett, it usually became apparent that we'd massively overwritten and needed to steel ourselves to losing chunks we'd always loved. Notes from [executive producer] Mark Freeland and [producer] Jon Mountague kept us on our toes too - there were certain changes we were violently resistant to at first, only to realise that they were totally correct. The mayor was originally a man - in the pilot he was played by John Savident - and it was Mark's suggestion to make her a woman, the matriarch sorting out the three quarrelling brothers in the sandpit. He was bang on.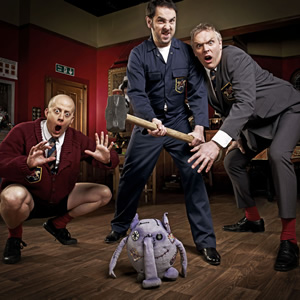 The series has been a real Marmite job on our forum - people either love it or hate it - were you expecting that sort of reaction?
To a certain degree - it's so cartoony, and by having our characters be quite so low status, some people may be alienated. The Times has previously called us 'stupid comedy done with great intelligence', but some people won't regard that as worthwhile. It's summed up by the way some viewers have called it, for example, a sweary Rentaghost in a negative manner, only to have some people then counter that that is exactly why they like it.
There are certain things we clearly could have done better, it's been a huge learning curve. The three of us have very different policies with regard to looking at forums and so on - I'm actively entertained by it - and it's fairly easy to dismiss certain obviously wrong sentiments: a very small number of comments called it sub-Boosh, which is so obviously incorrect as to be chucklesome. It's also worth noting that as the series has progressed, there's been an increasing number of people who have come round to liking it, or at least hating it less, once they've got used to us.
So what next for Klang?
We record our live DVD on November 5th, at the Bloomsbury Theatre.
Tenk you veddy much.