Tim Vine interview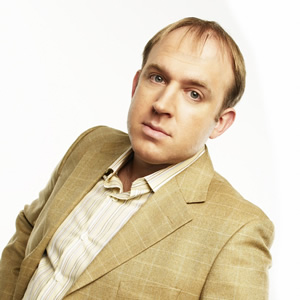 Best known for his bizarro double life as both an upbeat punsmith (on stage) and a downbeat flatmate (in Not Going Out), Tim Vine's early TV work could have taken his career in an altogether different direction. While brother Jeremy became a highbrow household name back in the mid-90s as a political reporter, Tim did just about the opposite, kicking off as a game-show host. 16 years on, we find him in the midst of a major tour, down in Taunton.
Howdy Tim, how's touring life treating you? Any catastrophes along the way?
Nothing like that, we seem to be turning up at the right venues and people appear to be laughing, so at the moment it's working. It's quite pleasant really. It's a sunny day down here in Devon, or wherever we are. Somerset?
You're well-known as a comic now, but can I take you back to your game show days?
I did three in two years. The first was a show called Housemates, which I don't think there are any clips of anywhere, it was on BBC1 in the mornings after Kilroy in 1995. It was on every day for a month, then they took it off.
But I absolutely loved it, particularly that thing "Here's your host...", wheeling out from behind a piece of scenery with a ridiculous smile on your face. Being a game show host is right up my street and I'd quite like to do it again sometime.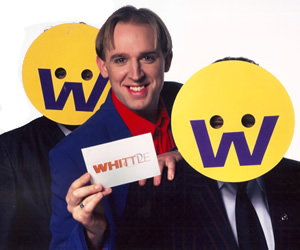 I vaguely remember one called Whittle...
I did Whittle on Channel 5 and a thing called Fluke which was my idea and was on Channel 4 for about nine episodes.
Game shows usually happen towards the end of a comic's career - how did yours come about so early?
It was through Pebble Mill where I got my first thing on television, they used to have this slot where a comic would come on and do three minutes of stand-up, and it kind of suited what I do because what I do is all clean and stupid. It seemed to go down very well with the blue rinse mob so I came back and did it again, and then they had this game show they wanted to do in the mornings.
So you were doing Housemates while still trying to make it as a stand-up?
There is an argument that perhaps I shouldn't have done that first game show. One of the problems was that they tried to steer me away from cracking jokes which is an odd situation to be in, they said 'we don't want you for your comedy, we want you for your warmth.'
If you look at comics from the past like Frankie Howerd, Les Dawson, Morecambe and Wise; All those people had been doing that act for 25 years before they got proper TV exposure, so when we saw them on TV for the first time they were the finished article. Whereas I started doing comedy and within two years I was hosting a game show on BBC1. Which for me was just hilarious, I thought "How on earth did I end up doing this?"
Clearly it was the warmth...
The warmth! Yeah, you can't learn warmth.
The other thing I learned on that show, a phrase the director said to me halfway through that series and I now always equate to the kiss of death, he said "I think we've got a hit on our hands." Whenever anyone says anything remotely like that I know I'm in a stinker.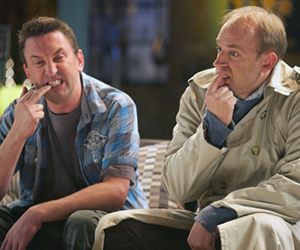 Speaking of cancelled shows: being part of Not Going Out must have been a bit bewildering over the last few years, with it being axed then coming back again?
More for Lee, he was more aware of all the comings and goings, I'm a bit away from the very centre of it, it's more Lee's baby than mine. I do the easy job, I turn up at the end, am told where to stand and say the right words. But it was unusual that it should get axed at the stage that it did.
Then the 'Tim Vine Quits' story emerged recently...
Well I'm not. Bottom line, I'm doing another series, Lee's writing it at the moment. Don't believe what you read. I have an idea where the story came from but, yes, I am doing the next series.
Any exciting new projects planned for after the tour?
I'm doing a DVD of this show, then getting ready for Edinburgh. I'm doing a chat show [at the festival], but the difference is it's not famous people, I just pluck people from out of the audience and interview them. So we'll see how that goes, it's a bit different from what I normally do as I normally have everything tightly scripted but this is the reverse of that. It's afternoon, teatime, I do a bit of stand-up at the top then get people out of the audience and interview them like Parkinson.
Do you reckon it's got TV potential?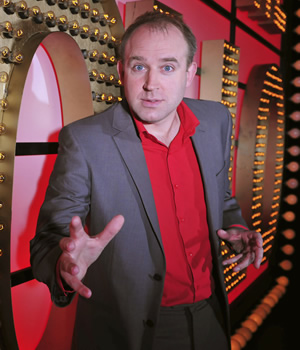 Who knows, I'm up for all sorts of things but a lot of these TV channels, you can't second guess them.
What's the worst idea you've had?
Ha! That's your line of questioning is it? 'What's the worst idea you've ever had?'
Sorry, I mean what's the worst TV idea they've come to you with?
Ooh, er, let me think, that is a very good question actually. Well we'd done Fluke on Channel 4 and I really loved the format - completely inconsequential questions but with a proper prize like a car at the end of it. Then we did a pilot in America.
So it was the Fluke idea but they decided to mix it up a bit, so they put a monkey in as well and called it Beat the Chimp. One of the contestants would be this monkey, with the possibility every week that he might win it. That, with hindsight, was not perhaps such a great idea.
It's probably a good way to sum up American broadcasting: take British TV, then add a chimp.
'Beat the Chimp' sounds slightly worrying as well.
It could easily be a euphemism...
It sounds like a euphemism or that you're torturing animals. There's a clip of that on YouTube.
Put in Beat the Chimp and you'll see me asking questions to a monkey.
For more details of Tim's current tour and updates on that Edinburgh show, visit www.timvine.com