Steve Hughes interview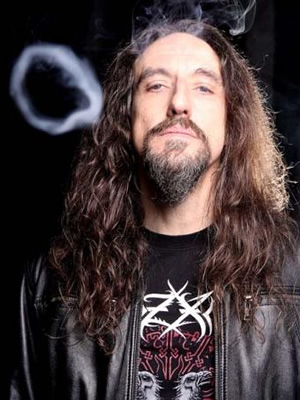 He's billed as The Heavy Metal Comic and it's no idle boast. Steve Hughes drummed with some of Australia's first and finest thrash bands, but then gave it up to become a hard-hitting stand-up here in the UK.
A decade on and he's finally taking the plunge and embarking on a UK tour. So what will the good folk of Middle England make of his mighty rants? And what's all this about World War Three?
Circuit Training met up with Steve at the Comedy Store offices, just round the corner from the famous West End venue, and strapped in tight as he vented with some venom, cuppa in hand. Warning: if rude words offend, you may want to wander off elsewhere.
Let's start in Oz: I've just discovered that you were an MTV heavy rock presenter before coming here. Did you have to give up a decent gig there?
Not really, my mate was a cameraman. So that only lasted for, like, six weeks until it all fell apart as heavy metal doesn't really exist in Australia's consciousness. It's just a lack of people and a lack of culture I think.
How do you compare the UK and Oz, culturally?
I always hated Australia for its conservatism, not even realising how conservative it actually was 'til I moved over here. I used to watch English comedy shows and good American comedy stuff and think "why don't we have any good fucking comedy shows?" Think about it, it's cause there's nothing to fucking write about.
I saw Angry Boys for the first time the other night, and all the shots were of young kids on BMX bikes on the beach. That's all you really get. They could delve into the aboriginal stuff but they won't cause they fucking know its genocide.
So all the decent comics come here?
I'd even think about moving back there for a bit, working out there and coming back to England. But it's that 23-hour flight - you never leave Australia on a whim! It's become quite boring, the sense of going back there after a decade over here and the same people are on the TV. And they're there 'til they're fucking dead. Carl Barron has been the most successful stand-up comedian there for a decade. "Well we've got one, isn't that enough?" The only Australian broadcasting company doesn't have a comedy section.
Is that right - no comedy department?
If you went to the BBC, you'd go to the comedy department. But if you go to the ABC, no, we've got sport, pictures of sport, like, all over the fucking place...
So how does it ever get made?
It doesn't get made!
Over here, on the other hand, there are stand-ups all over the telly these days. Which is presumably how you've gotten that bit of extra recognition?
I think it was just time. My mate used to call me 'the best-known least-known comedian around,' cause everyone knows who you are, but no-one gives a shit. Well, it was more because of my material which was fucking full-on. You're not gonna let some guy call Tony Blair a 'genocidal kid-killing war criminal' on TV.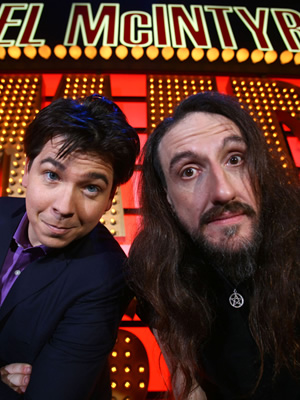 It'd be a bit awkward on the BBC. For balance you'd have to do similar rants about all three party leaders...
I don't hold back when I do this, so I'm under no illusions. I'm not chasing what Jimmy [Carr] and Michael [McIntyre] were chasing. I did some talk show this morning. This was the first mainstream thing I've ever done, and how I've snuck into their world... it's like Marilyn Manson at a kids party. I have no desire to be in the mainstream world. Because they'll stop you, and I'm not a child that doesn't understand.
That bit of mainstream exposure has presumably helped you do this tour though?
Reggie [Hunter] helped me out, I supported him. Mike was good, he let me on [his Comedy Roadshow], that was cool. I think Michael was just excited to know a heavy metal guy... I'm the only one he's ever gonna know [laughs]. Where's he gonna meet any more? Plus I never put shit on him, he never bothered me. When he first came on the scene I could hear other comics bitching about him so I thought 'this bloke must be funny.' Cause it's quite a good scene, not many people bitch, comedians are quite cool. But all of a sudden they're like 'Mike's this, Mike's that.'
So there was a bit of jealousy?
It's only when they think he's a bit pompous, and he was, he did have a plan. Him and Jimmy Carr both had plans to get on the fucking TV. Big time. Which didn't offend me, I didn't give a fucking shit. He's a great performer! He's funny. Comedians just get upset at someone so mainstream, because it's their artistic streak they're upset about really.
How's your own tour going so far? I'm intrigued to hear what Middle England makes of your unexpurgated stuff...
I know, I worked out last night I may have to warn some crowds. People would think that places like Oxford and Cambridge would be shocked, but nah, they're fucking well-read, I never have a problem in those places.
They read the broadsheets so they've seen naughty words before.
Exactly. Where you have a problem is those satellite London towns, an M25 strip of nowhere. But you'd be surprised. Me and Reg did some show in a seaside town here, beautiful, I'd never heard of it or been there before, fucking stunning. The audience turned up and they're all fucking old blokes in suits, silver foxes with their wives. And I'm sitting there thinking 'oh no...' but they fucking pissed themselves! I'm never worried about the oldies.

So you haven't actually freaked anyone out?
I don't know if I freaked anyone out or not, but I didn't do a long show last night, about an hour and a half. There's a lot of information there if you've never thought about this stuff.
I've read millions of books on philosophy, psychology, religions and conspiracy theories, politics. And I'm no expert on politics, economics, things like that, I don't claim to be, but I've read all this for years and years. And I've spoken about it to people I know and you forget that some people don't fucking know about it, who'd never think that something like rights could be used as a psychological trick against you.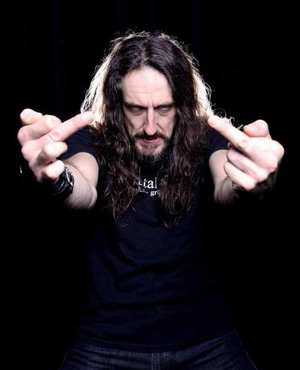 It does seem like we're recreating the dark days of the early '80s, maybe even another Falklands War. Is that why comics like yourself are getting a wider audience?
Any kind of economic recession helps comedy, in a sense - people need a laugh, doesn't matter if you're satirical or not. I think since 9/11, it's the creation of the Third World War as far as I'm concerned. Which I believe will happen before I'm dead.
Really?
I've read enough about what's going on. Wars are created, I don't believe in any of this 'ah it was just the Nazis in World War Two' - it's bullshit, it's always been economics and things going on. And you can't tell me the Vatican wasn't involved. The British would have been involved with Nazis on certain levels of subversiveness. It's not just the good guys and the naughty Nazis, it's never been like that, there's major monarchies and ruling banking elites. And you tell this to people and they think it's just a conspiracy theory, but you can look it up!
Right...
You know, you can look up the Bilderberg Group and the Trilateral Commission and the Council of Foreign Relations. They're there, they've got websites. They're unelected and they're making decisions on countries' behalves you fucking retards. You've got American presidents on film saying there's a banking enemy that's trying to overtake our country, right, and they still go 'you're an idiot Steve'. How much is it going to take for you? It's like they can make movies and show that McDonalds burgers are made of fucking children's cancer and people would still go there. You can't stop these fucking sheep people.
Most of us just go flow with the flow...
There's a great way to get McDonalds out of your country... stop going! You don't have to have a meeting, or do anything illegal, you don't have to leave the house, you don't have to go on a march. Save your money. Some people say 'oh your comedy is offensive.' Oh really? I saw you taking your kids into McDonalds. I find you offensive. Because you don't have the fucking balls to say no to your screaming kid, and you're feeding it fucking cowshit. In their fucking deathburger, that's made from fucking CIA fucking drugs and you're sitting giving it to your kid saying 'you're rude' .
Same with someone ringing up morning TV complaining that someone swore. But you think it's ok to invade Iraq? 'I support the troops but swearing is bad.' Genocide is fine, but saying 'cunt' isn't.
I'd imagine the troops curse on occasions.
That's the thing, tabloids versus broadsheets, The Sun will probably have tits on page three but won't say 'fuck'? They asked me this morning what newspapers do I read? I said 'well, all of them.' It's a big joke that all the middle classes read The Guardian and all the fucking scum read the fucking Daily Mail; but I sometimes find the Daily Mail - as much as it can go mental - is the only paper sticking up for the invasion of British public life when it comes to the establishment itself. I don't see any of the broadsheets doing it except for the Daily Mail which they all claim is right wing. It's the only one sticking up for fucking England.
British nationalism isn't really the done thing these days.
It's only Bruce Dickinson from Iron Maiden that's alowed to wave a fucking Union Jack around! He can still get away with it.
Steve Hughes' Big Issues tours the UK until 6th April.
Visit www.stevehughes.net.au for details.
(Interview photo by Hazel Gumble)