Stephen Grant interview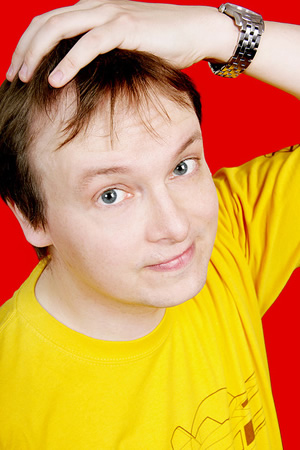 If you happen to come across a rerun of QI this evening - unlikely I know - you may notice the name Stephen Grant in the credits, under 'audience wrangler.' Something of a big cheese down in his native Brighton, Grant has settled into a handy background role across the broadcast media, including doing the pre-show warm-up for every series of QI and Mock the Week. Nice gigs, but how does it feel to be so tantalisingly, reach-out-and-touchably close to the TV big leagues, I wonder?
Grant has flirted with wider fame, helming several one-off documentaries for BBC2 back in the early noughties, while also writing gags for Radio 1's daytime DJ line-up for years (and there was us thinking they were such natural wits). His proper job remains live gigging though, and particularly compering, to 1000 punters a week at Brighton's Krater Comedy Club. He's been doing it for aeons and is clearly the man to know if you fancy a busman's holiday down by the sea - I recall one veteran comic I interviewed a few years back suddenly going on something of a Grant-related rant, completely unprompted, presumably because he didn't book him enough. Ah, the power and pain of promoting.
He's a busy chap then, also hosting a monthly podcast for his beloved Brighton and Hove Albion FC, writing a few books and still dipping a toe in telly's choppy waters. But let's start with the 'nation's favourite...'
Your old Radio 1 writing gig sounds interesting - how did that come about?
It was out of the blue really. I was invited along to a 'writers meeting' at the BBC in 1998 along with loads of other writers. A producer came along and talked about writing topical gags at 6am for Zoe Ball on Radio 1, and then asked if anyone was interested. I put my hand up, and the rest of the room didn't. It sounded great to me, because clearly, unlike the rest of the room, I hadn't thought this through. It was one of the biggest challenges in my comedic career ever; to write funny stuff when the rest of the world is asleep, or at the very least, bloody grumpy.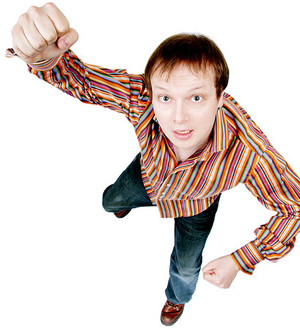 Any particularly lovely or difficult DJs?
Usually, the bigger the DJ, the less interest they had in coming up with any ideas. I worked mostly with Scott Mills - he still does some of the ideas we worked on now, many years after I left - and he was fun, if a little reserved. Zoe Ball was lovely, though Simon Mayo was tough to get on with and Sara Cox didn't want 'anything funny on her show'.
You were hosting at the Komedia when I lived in Brighton umpteen years ago, and there you still are...
I really haven't moved on much, have I? Still, why would anyone - Komedia is a cracking gig. Really, it's pretty much as good as it gets in the UK, what started out in 1999 as my attempt to try and get more stage time in Brighton instead of London has pretty much turned into my mortgage. And yeah, I've been there since day one. That's the reason why the night is called the Krater; the first time I saw the venue, it was just a hole in the ground.
Are you now the Don Corleone of Brighton comedy? Is it wise to kiss your ring?
The venue know their comedy pretty well and even though I help program the night, I'm nowhere near as important as people - and probably myself - think I am.
How did you get into the business? Were you always a stand-up fan or did you have other comedic ambitions?
Not a huge stand-up fan, but I'd been to a couple of gigs and saw just how much fun the performers were having on stage, and I thought, I want that, I could probably do that, I'm gonna try it. It was a lot harder than I thought, but by the first few times of trying I was hooked. As for other comedic ambitions, I wanted to be an actor when I was in my teens, but I saw lots of people who were really talented never getting any work. Comedy is that difficult that, if you are actually any good, you'll always work.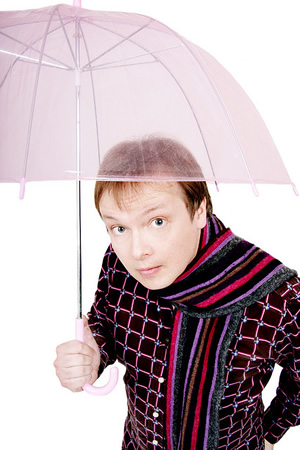 How does the writing-for-TV process work for you? We generally think of Larry Sanders' writers room...
It varies on who you're working with. When I was doing stuff for Lily Savage Live, I just wrote it, emailed it, and got told what was being used - that was it. I've recently been writing with Simon Brodkin on the Lee Nelson show and that's intense - we phone each other up and stay on the line for about six hours, discussing the exact jokes word for word to squeeze the very last drop out of each line. My ears are on fire at the end of it.
What are the trickiest TV writing jobs you've had to do?
Anything for kids, especially if it's BBC. I wrote Live and Kicking for about two years and on the first show I wrote a sketch where someone put on a ginger wig and then somebody else said something like "You're too unpopular now, we can't be friends" or something equally daft, and we got over 100 complaints from parents of ginger children shouting "MY SON GETS BULLIED!" You can't really do anything upsetting or cheeky as unfortunately there's no creature on earth with less sense of humour than an indignant parent.
What was your first ever warm-up gig?
I remember it well. It was for a show on Play-UK called Mental hosted by Iain Lee. It was - from a warm-up perspective - nearly impossible. The premise of the show was that contestants asked each other questions they'd just made up and we stopped the show after every question to see if it was right or not. So I was on the set pretty much 90% of the time. Iain used to help me out though, by telling a story; usually something about Lisa Stansfield freezing her poo. By the way, that's the nice bit of that story.
Is it odd for the ego doing warm-ups for shows like QI - so near to the big stage, yet so far? Do you all secretly hope for a last-minute substitute appearance?
Great question. Yeah, of course. Warm-up is the ultimate ego mash-up; you're being paid good money to talk to a full room of people, but you have to accept and realise they aren't there to see you - you're in the way of the set. Top tip in warm-up; always do panel shows where Tara Palmer-Tomkinson is booked. She's notoriously tardy and doesn't always turn up on time, if at all. It's the breakthrough most acts wish for.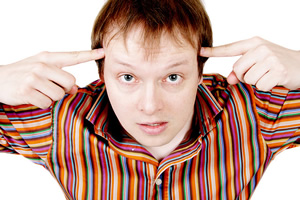 Those BBC2 documentaries must have been a big deal for you at the time?
I did about five. Back in the day there was much more budget for local TV documentaries on the main networks, so they basically let me write it and host it myself. This was huge for me - but mainly because I learnt so much about how you put a TV show together. The money, as is the case with all things BBC though, was crap.
How have you found the TV business since then? Do your writing/warm-up links give you a foot in the door?
Yes and no. Most people know who I am, so they take me seriously, but you get pigeon-holed pretty quickly in this industry. The people who use me for writing wouldn't use me for warm-up, and the people who use me for warm-up wouldn't think to let me write, and neither would put me the other side of the camera... it's a complicated world in TV.
So what else are you up to?
I'm currently writing a book with an imminent deadline: should be out by the Spring, it's called The Random Book of Stephen. On stage, I'll be writing a new show hopefully, but my time is quite tour mad; since June last year it's been Dubai, Toronto, Mumbai, Singapore, Malaysia, and this year I already have the French Riviera, Singapore (again), Adelaide, Sydney, and Brisbane booked in the next few weeks. It's flat out. Love it like that though - not complaining!