Rhod Gilbert interview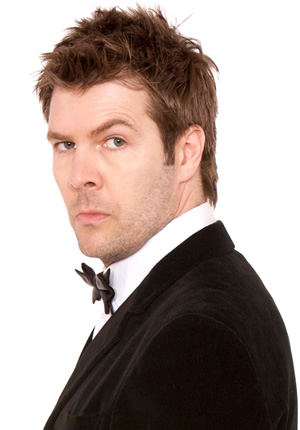 "I hope I never do an advert," says Rhod Gilbert, in the gruff-but-gracious manner you'd imagine is rather sought-after in that industry. He does do adverts, in fact, but hopefully not the sort that would see someone thrown off the artistic roll-call, as Bill Hicks famously put it. "Wales as a holiday destination," muses Gilbert, "I think that's ok."
The Carmarthen-born stand-up is pondering this currently-controversial comedic minefield while plugging his new show, Rhod Gilbert and the Cat that Looked Like Nicholas Lyndhurst, which sold out at the Edinburgh Fringe and is now touring the country. It's a topic he's given some thought to recently, following fellow comic Mark Watson's online altercation with a critic who'd lambasted his cider ads. More on that later.
Gilbert is likely to be troubled by similar temptations as his popularity continues to increase. This tour is selling well, there's a DVD to come, various telly shows in the works and even a big YouTube buzz, around his old 'lost luggage' routine. First though, let's talk gigs...
This tour was booked before the show's Edinburgh run- does that make reading the reviews a nervier experience as the Fringe progresses, knowing you're stuck with it for months?
Yes, I'm very sensitive, I've very thin skin. Any negative stuff that you do get, even if it's drowning in good stuff from other people, it doesn't matter, it's only the negative stuff you take to heart. I imagine if you've got the tour booked and you had a really bad Edinburgh, it'd be a killer.
Thankfully I managed not to have a terrible Edinburgh. In fact I've only been reading the reviews properly today [the morning of the first tour show], so I can get a bit of distance from it, and look at them a little bit more objectively.
Can you remember your first broadcasting job?
Bizarrely, one of the first things I did was a panel show based in Norwich called Pilau Talk, set in an Indian restaurant. God knows how they got hold of me. It was the usual panel show format, but set in an Indian restaurant - the scores were on poppadoms - and called Pilau Talk because it was on fairly late.
You've had an eclectic TV career, from the Wales ads to voiceovers for football clip shows on BBC3...
How I ended up doing the football thing I've got no idea, because I know not the first thing about football - I haven't watched a football match since 1978. It's a very quick research job with those things. I tell you what, one of the frustrations with broadcasting is that nothing is an illustration of your best work, nothing I do is an example of what I'm capable of. It's an example of what I'm capable of coming up with in the time available to me.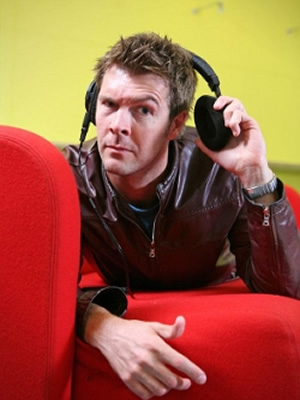 That football thing was particularly an example of that. I mean I'm fairly happy with it, but if you bear in mind I had to write a joke every two minutes - that's the time I had - with about 500 clips in three days, then you start to realise the pressure these things are done under. You watch them back and think 'god that's shit, absolute shit' - but then I remind myself that in two minutes, the time I had to write the joke, that's not too bad.
You had a radio sitcom in development - Leaving Llanbobl. Any progress?
We did a pilot for Radio Two but then we decided that actually we wouldn't mind doing it for TV, and - although there's nothing finalised - I've been talking to Henry Normal at Baby Cow and they're quite keen to sort of do it. So the next step is to put together a TV version, with Henry's guidance.
Do you have lots of visuals in mind then?
That's totally it. When I was writing, even though I was supposed to be writing for radio, I was 'seeing' it. It changed a lot to make it the beast it was for radio. I wasn't really happy with the way it came out, it was very different to the thing that I imagined.
Too wordy?
It was far more gag-based than I wanted it to be - in my head the world I've got is closer to Flight of the Conchords, The Royle Family - subtle and small, but it became a pantomime. It was done in front of an audience, which I didn't want to do, but that's what they wanted, an audience sitcom, and while I was fairly happy with it as a first bash, it wasn't really the thing that I had in my head, and I think that's often the way. And that's why you do a pilot.
So you're still combing your homeland for material, despite being the 'voice of Wales'?
I'm pretty brutal about it, in the way only being from a place licenses you to be. I think if people take it seriously then, well, I think they shouldn't. I holiday in Wales, so I say as I do.
John Peel always said that he only advertised products that he used.
I'm more pernickety than he was, there are many, many things that I use that I would not advertise - I'm a smoker. In fact I hope I never do an advert, and by that I mean an advert for something other than myself, or Wales as a holiday destination, I think that's ok.
What did you make of the Mark Watson row?
Having a black and white opinion of it is pretty tough really, I mean I wouldn't have done those adverts and I hope I never will. I've got a feeling that the original comment was that "he's compromised all artistic integrity, you're off the artistic roll call and no-one can take what you say seriously after that," and I think, frankly, that works on paper. On paper you can say, "right, he says that about this, we know he's no longer sincere, we can't trust a word he says." But that's just on paper.
The fact that you've done an advert for a multinational, if you then go out and talk about multinationals on stage, you shouldn't come away from that with a black and white opinion like "oh I can't listen to any of that because he's done a Magners advert." It's meant to make you think, and it'll still make you think - you'll factor the Magners advert into your thinking. Human beings are totally capable of doing that. And to think an audience can't do that is absurdly facile.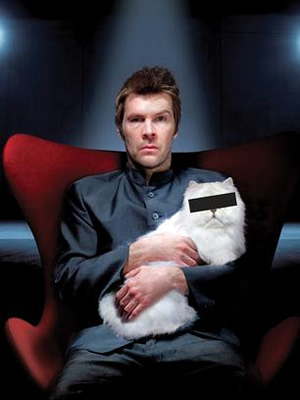 If you feel that Mark Watson has compromised every idea you had of him and you can't trust a word he says, then don't go and see him live. Who is gonna go, realistically, and sit there going "oh I cant listen to this"? It's just bullshit isn't it.
Faux-Welsh comedy is quite popular with advertisers now - Watson's accent is exaggerated, and there's Paul Whitehouse's odd goth character selling insurance…
I imagine some accents fit some personalities. I mean I do this myself. If I do a piece of material where I'm very much the underdog, which I tend to be really, then my Welsh accent comes out more. Mark Watson's original stance was 'underdog' on stage, and very much the Welsh accent suited that, the same way that the Welsh accent doesn't suit 'wide-boy'. That's Cockney or Liverpool or whatever. It's a tool.
Back to the tour then - after a month in Edinburgh, is the show now a well-oiled machine?
It just sort of grows really. Last year I was regularly doing two hours, two and a half, which I think is too long. I think I made a bit of a rod for my own back doing these very long shows. I actually had someone in Warrington once put their hand up - how genteel is that as a heckle? - and say "excuse me, will you be long?" One of the most undermining heckles I've ever had.
For details of Rhod on the road, visit www.myspace.com/rhodgilbertcomedian