Paul Provenza interview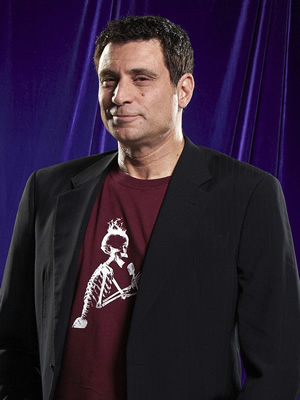 There are aren't too many comics who've come through the Manhattan Improv then the Royal Academy of Dramatic Arts - possibly just Paul Provenza. The Bronx-born comic made his stand-up debut as a teenager at the famous New York institution, came here for a year to polish his acting chops, then headed back for a high-profile (if rather fraught) stint on the beloved US dramady Northern Exposure.
He's probably best known in the UK for the splendidly scatological documentary The Aristocrats, made with Penn & Teller's Penn Jillette, and has continued the chatting-to-comics success back home with revealing Showtime gabfest The Green Room. Right now, though, he's returning to London with live sensation Set List, which is taking improv to nut-shrivelling new levels...
Set List was one of the most talked about shows at this year's Edinburgh Fringe - how did it come about?
It's the brainchild of writer/performer/evil genius Troy Conrad. He started doing the live show in Los Angeles and asked me to be part of a lineup one evening, and as soon as I heard the concept I knew it was going to be something extraordinary. I immediately fell in love with the challenge of flying by the seat of my pants, having only my talents, instinct and experience to rely on.
After that first time doing Set List I begged Troy to allow myself and my producing partner [former Universal Comedy VP] Barbara Romen to team up to develop the concept further. In 2012 we're bringing it to the San Francisco, Chicago, Montreal and Melbourne Comedy Festivals and back to the Fringe, to a larger venue at The Caves.
London next though. What makes it so exciting?
For comedians, it's like an Olympic event, some kind of life-and-death challenge for their comic minds. These experienced, successful professionals are out of their comfort zones every second onstage, in front of a live audience. The fear and tension is palpable as even the most solid pros can't be sure they can survive the challenge.
So how does it work exactly?
Comedy pros are handed an original, never-before-seen set list of topics just as they walk on stage, to instantly improvise a spontaneous ten-minute stand-up set. The items on each list are carefully crafted by Troy Conrad, with contributions from other pros who just can't help thinking up ideas after doing the show themselves.
They're designed to be full of comic possibilities, but with few if any obvious entry points, or with so many different entry points it's impossible to predict which way any comedian will go with it. Comedians instinctively feel 'there's comedy in there - somewhere' but have to figure out how to mine it, polish it and carve it into a work of comic art, all at the same time, and on the spot.
Each new set list is projected onscreen so the audience can follow along as the comics squirm and sweat and hope to come up with something inspired.
[This video shows the likes of Jimmy Carr and Richard Herring performing at a Set List gig...]

Onto your own career: were you surprised how big an impact The Aristrocrats made?
Actually, we weren't at all surprised. Penn Jillette and I both knew that people always have and always will love a good, dirty joke. It's just a fact. And the Aristocrats joke is far from the best or dirtiest joke we've ever heard. So unlike some of the press or industry insiders who talked about how outrageous the movie is, we kinda felt like it was not that big a deal, and people aren't as pure-as-the-driven-snow as some would like us to believe. We always felt that there was a big audience that would enjoy the movie and the more subtle ideas behind it.
What surprised us was that it got distributed in the first place, let alone by a major company. We expected we'd have a small, cultish little word-of-mouth audience that would grow over time as people told each other about it. We had no idea we'd end up on the cover of Entertainment Weekly or being described in the New York Times as "a painstaking work of penetrating scholarship" and ending up being discussed at film schools. We were very surprised that our dopey little dirty joke movie was actually being taken seriously.
Did any comics take offence that you revealed that in-joke to the world?
I can say proudly that no comics were harmed during the making of that movie. It's an 'inside joke', sure, but the joke and its place in the comedy world was never anything precious to anybody. We shone a very bright light on a tiny little piece of sub-cultural minutia, so it seems like it's something bigger than it is in reality in that world. We didn't violate any Comedian's Code of Ethics or anything. "Comedian's Code of Ethics" - remind me to use that in a Set List some time.
It's not like there's some 'Comedy Illuminati' that's going to hunt us down because we revealed some great secret. So far. But every single comedian in the film has said they were really proud to be a part of it-even though, as Paul Reiser said after a screening, "If I ever thought for a second this stupid movie would actually be seen by anybody, I might have combed my hair."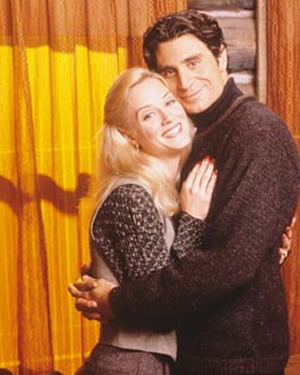 How do you look back on your Northern Exposure experience now? Was it a bit of a poisoned chalice?
Before I shot a single foot of film on Northern Exposure I was already almost universally despised by the show's hardcore fans. There was such affection for the show and the characters, and I was this... intruder. And it seemed that many fans were under the bizarre impression that I must somehow be responsible for Rob Morrow [who played lead character Joel Fleischman] leaving the show in first place.
I had just gotten onto the internet and joined the 21st century at the time, and I made the mistake of rooting around and seeing all this unprovoked ire directed towards me. And not having yet learned that anything one reads on the internet must be immediately ignored, I actually started writing to some of those people and explaining that I was just an actor who got hired for a job, and the only reason it was this particular job was because Rob Morrow, who they loved so much, apparently didn't give a shit about them at all and left the show, so go get mad at him, not me!
So do you regret doing it?
After all is said and done, I enjoyed every second of my time on that show. It was a great cast - I still hang with John Corbett [aka DJ/dude Chris Stevens], who I actually got onstage to do stand-up one night (that's a whole 'nother story) - terrific writing, and a job I looked forward to going to every day. It was pretty much in its last season and the series had run its course by the time I came on, but still to this day I am apparently the official 'cancellation scapegoat' for one of American TV's all time landmark programmes. But hey, the cheques cleared.
Do you prefer interviewing to acting these days - chatting with buddies rather than being ordered around?
I actually don't believe I'm ever interviewing anybody. I really do approach it all as a kind of jam session with other comics more than any kind of interview. I don't generally care where the conversation goes as long as it's interesting, and I rarely have any agenda. I prefer the chaos and the surprising places that always takes me.
Acting, when done well, is really that too at its core. Transcendent acting moments are ones where you find yourself just behaving rather than executing some idea or thinking about what you're doing. So free-forming with different comedians is really a great acting exercise as much as it is a hilarious night of spontaneous comedy.
Are UK and US comics very different, having worked with both over the years?
I've been blown away seeing how the British comedy artists have taken the uniquely American form of stand-up comedy - it's as uniquely American in origins as jazz is, borne of the immigrant experience and then transformed by Lenny Bruce into something other than escapist entertainment - and run with it to outpace its origins in so many ways.
I love the sense of artistry that's prominent here among comedians - something that remains only in a small percentage of the best of working comedians in the States. I have many theories as to why that's so, but a wide swath of the UK comedy scene has a passion for the artistry of comedy - and original, unique voices. UK comedians far more regularly push themselves farther and challenge themselves more creatively and fearlessly than tends to happen in the States.
I'd love to see The Green Room on UK TV - what's the most interesting revelation you've prised out of a comic on there?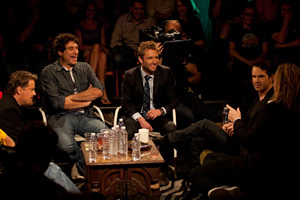 Cajoling - or was it badgering - Garry Shandling to open up about his Buddhist view of life and finally getting him to share a very private thought or two, just as we were wrapping it all up. Eddie Izzard talking about how his comedy chops could help him in his political aspirations, and Jimmy Carr demonstrating which comedy tools might be a bad idea to use in parliament. Patrice O'Neal talking about how badly he thinks his career has gone, and Roseanne Barr and Bob Saget practically turning into his therapists.
Jim Jeffries pushing Paul Mooney on racial issues in a way no American comic would have the balls to do. Doug Stanhope attempting to take Janeane Garofalo to task for some material she'd done, only to discover Janeane is a much tougher cookie than he thought. Tim Minchin improvising a music score to a conversation between the rest of us, the refrain being about how comedy is 'brain cum'. The list could go on and on.
Would a TV version of Set List work, or is it a bit risky for broadcasters and comics?
It's absolutely risky for comedians - but that's exactly why so many can't wait to do it. They became comedians precisely because it's a risky thing to do in life! As for broadcasters, well, networks generally believe the audience doesn't like surprises or can't understand the unfamiliar, which is a big part of why we get so little true innovation in comedy on TV.
Of course, they'd probably like to play it safe and give out the topics in advance, but if that is a prerequisite, we'll simply walk away; no further questions. We're not interested in playing it safe just to get Set List on TV. The essence of Set List is that no one gets anything in advance, period.
It's about how comedians get to the funny, so it's essential that we're with them from the moment they start that process, not hours of comedy writing after that moment. And while it seems like you'd get more guaranteed funny by giving them their set lists in advance, you sacrifice the far more powerfully funny, lightning-in-a-bottle moments that only come from true surprise-surprise for the comic as much as for the audience.
There's more than enough polished stand-up on TV already.
Since I started doing The Green Room I've experienced first hand how far viewers enjoy delving beyond written material into the nitty gritty of what makes comics tick. None of Green Room is scripted or planned, there's no agenda to the conversations, yet the laughs loom large because it's fast and furious minds working in the moment.
With Set List, the audience is on the edge of their seats, cheering the comics on to flashes of comic brilliance. They know the degree of difficulty involved as soon as the set list items are projected for them, and they really do prefer to see the tightrope walker succeed rather than watch a gruesome death. Their energy spurs comics on to one sort of unpredictable success or another. Not to mention the fact that, since its inception, the wide range of talent the show has attracted reads like a broadcaster's wish-list.
So what are the most memorable Set List performances you've seen?
In the UK, it's rare to see a bad performance what with the astute wordsmithery and improv skills that run rampant amongst British comics. Dave Gorman directed an entire set at a camera-snapping heckler in the audience - using every ludicrous premise on the list as he put the guy in his place. As always with Set List the audience was rooting for the comic and, clearly, the heckler wished he'd never said a word.
Greg Proops (pictured) has made me believe in alchemy watching him make his way through countless Set Lists. He takes each one on a journey that whiplashes from brilliant moment to brilliant moment every time he does the show. One night Phill Jupitus decided out of nowhere to build his entire Set List around Greg Proops as the main character in every bit he created from his list - even weaving in some of the bits Proops had created earlier on in his own set. It was a stroke of brilliance no comic had ever thought of before.
We'll have a piano on hand at The Soho Theatre on December 9, when Tim Minchin makes his Set List debut...
Set List is on at London's Soho Theatre on the 1-2, 8-10 December at 11.30pm. Visit www.sohotheatre.com for details.