Looking For Eric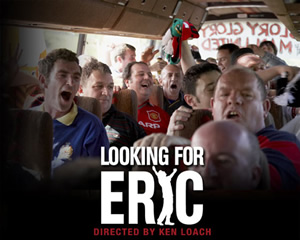 There's been a lot of talk over the last few weeks about Eric Cantona's new film and how it's going to make us all take him seriously as an actor. What hasn't caused quite such a stir - perfectly understandably - is the impact Looking for Eric is set to have on a couple of slightly random Mancunian comedians. Or on one of them, at least.
Justin Moorhouse and Smug Roberts aren't the most obvious candidates for roles in a Ken Loach film, when you think of recent worthy Loach efforts like The Wind that Shakes the Barley (Irish republicans fight English oppressors) or Riff Raff (Scottish bloke comes to England, gets oppressed). But then this one is a little different, as there's a good dose of laughter amid the downtrodden tragedy.
The two stand-ups have worked together before, indirectly - on Phoenix Nights. Moorhouse had a recurring role as Young Kenny, who spent most of the second series sporting tiger face-paint, while Roberts popped up as bouncer Max's haplessly wounded brother. The latter comic is actually a fairly successful thespian in between gigs, having also appeared in Twenty-Four Hour Party People, Cutting It and that recent Peter Kay thing with the unwieldy title, but this was a particularly memorable job of work.
"Working with Ken Loach, it's unbelievable," agreed Roberts, when we chatted a few months back. "I did the audition in the afternoon and he turned up and watched my gig that night, I thought 'bloody hell' - I was just dead chuffed that I'd met him."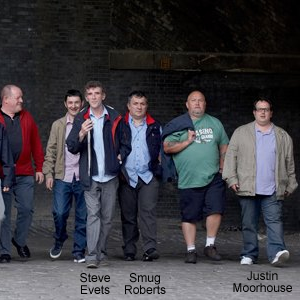 While Roberts will be pleased enough with the classy new entry on his acting resume, it's Moorhouse who's likely to receive a major career boost from the film. He was even more shocked to get a part given that "I've not had any training and I don't really know what I'm doing," he says. "I've basically just been myself in things."
Thankfully hiring virtual-nobodies is Loach's preferred casting approach: tales abound of well-established actors pretending to be non-thesps in order to get aboard one of his projects. For this one he was looking for some characterful Mancs to play the colleagues of Eric Bishop (portrayed by the suitably unknown Steve Evets), a postman who goes off the rails and starts seeing visions of his idol, Eric Cantona.
Cantona's involvement just added to the euphoria for Moorhouse, as the enigmatic Frenchman is his idol too. He was one of the first to find out, in fact, as Eric's involvement was kept secret from most of the cast. But Loach had early need for Moorhouse.
"I was driving down to the Comedy Store and this voice goes 'Hi Justin, it's Ken Loach: can you keep a secret?' and I went 'yeah?' and he said 'we've got Eric Cantona in the film,' and I went 'riiiiight' - because you know I'm a big United fan. And he said 'do you think you can come along one day next week and do some improv with Eric?' So I said 'Ooh, let me check me diary...'"
Moorhouse was in for a surprise after filming too, regarding the (ahem) size of his part - and it was yours truly who informed him of its impressiveness. I'd been to an early screening in order to interview Cantona the next day (check out the July issue of footy mag FourFourTwo for a fine story about Eric, Justin and some Jammy Dodgers), and sent Moorhouse a congratulatory message afterwards. To which he replied "Am I in it?"
Well, you never can tell until you've seen the final cut. Few of Smug's lines make the finished film, for instance, whereas Moorhouse's splendidly belicose character Spleen pretty much steals the show in the first half, with some cracking gags and one memorable set-piece before Cantona takes over. It'll be interesting to see what opportunities present themselves during the post-film period then, although his career path has been impressively diverse over the last decade anyway, however many Phoenix fans still cling to the ghost of Young Kenny ("It's ten years ago now!" he says, with mock indignation.)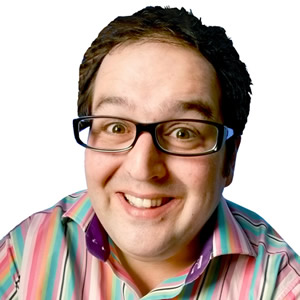 In marked contrast to some of that show's alumni, Moorhouse has built an increasingly well-received stand-up reputation, hosts a daily show on big Manchester radio station Key 103 and has "been a bit of a Radio 4 darling recently," he admits, "I've done a couple of Just a Minutes and a pilot called The Big Am I. The idea is that every week I ask myself questions: am I a good dad, a good friend, a good environmentalist, and we're waiting to find out if that goes to series. So I'm in a bit of a state of flux really, I don't know what's going to happen next."
We do. First up he's doing an Edinburgh show, which also has a Cantona link - it's called Seven, Eric's old United number. "It's all about the idea that there are seven basic stories in the world, so my routine's about comedy and tragedy and all that," he says. And it turns out he's milking the Loach factor already. "Yeah, it's on the Edinburgh poster: '...from Channel 4's Phoenix Nights and Ken Loach's Looking for Eric!'"
Well, if you've done it, flaunt it!