Joseph Morpurgo interview
Rocking a 100% record when it comes to brilliantly-realised high-concept comic productions, Joseph Morpurgo brings his fourth mini masterpiece to a suitably highbrow setting on Thursday evening.
Hammerhead takes us into the interactive aftermath of a vanity project that's spiralled spectacularly out of control, with Morpurgo playing a sort of Dr Frankenstein-like version of himself, while the audience play the audience. And this time they'll all be doing it at the South Bank Centre's Purcell Room, on London's South Bank, which is an excellent place to be at this time of year. Or at any time of year, to be perfectly honest (TBPH).
This is a sizeable event for the talented comic/actor then. And so Circuit Training sent over a few questions about Hammerhead, this Purcell Room version, and whatever the next major project may be.
Beware, for he is fearless and therefore powerful.
How did the idea for this show come about?
The main aim was always to create an impossible show - something so convoluted / ambitious / unwieldy that you could never actually make it - which the audience then got to explore from the margins [via the mock post-show Q&A], through merchandise, photos, ephemera, discarded scripts, etc. And Frankenstein's monster, being a mish-mash aggregate, felt like a natural - or unnatural - fit.
It must be a significant moment, taking a show to the South Bank?
Thank you. You are the first interviewer to recognise that me playing at the South Bank Centre's Purcell Rooms is a landmark cultural moment on a par with The Beatles on The Ed Sullivan Show, the birth of the internet, or when Bubble ran into the table in Big Brother Series 2.
Your favourite South Bank moment, before this?
I saw Reggie Watts there a few years ago. It was really good.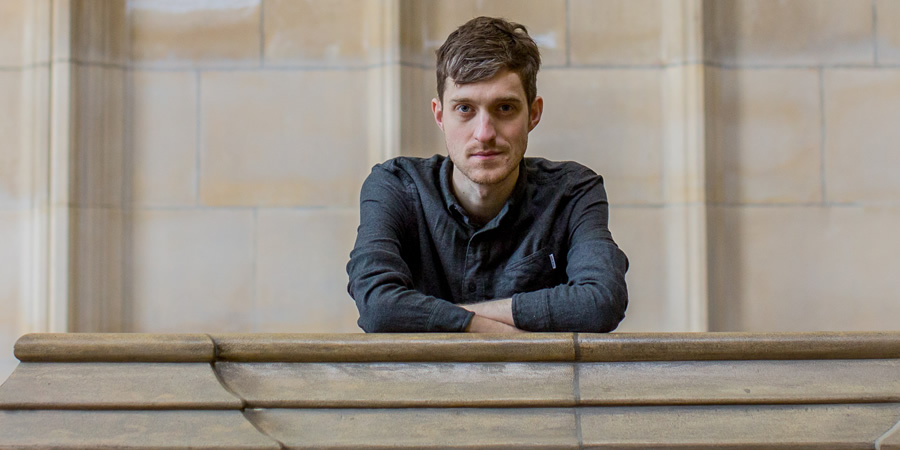 How do you prep for playing a venue like the Purcell Room?
I've done a few 3am recces dressed as a janitor. In fact, as I type these answers at my desk, I'm surrounded by hand-drawn blueprints and spreadsheets of shift patterns. To my left, a pair of rust-sheathed boxcutters; and to my right, a meticulously-rendered papier-mâchè diorama, populated by 250 matchstick men, crude grins carefully scratched into their tips, frozen in a standing ovation, without sound, without end.
There were some great Edinburgh-specific gags in the original Fringe version. How have you gone about changing them?
The Edinburgh-to-London port was actually pretty straightforward. There's one line for the Edinburgh contingent that I've left intact, but everything else seems to have survived the trip without too much damage.
It's a tremendous show - what's your favourite bit?
Thank you very much. The poster bit? Everyone likes that bit.
There's some novel audience involvement in Hammerhead too. Has it ever gone wrong?
One guy once went way off-piste with his question and managed to vandalise the entire show premise by the third minute. It did not recover.
Or go weird?
My old French teacher came along once and asked a question. As soon as I heard his voice, I had a Proustian moment of such blinding intensity that I had to have a lie-down afterwards.
I imagine you're probably working on the next elaborate project already. Can you give us a hint what it might involve?
The answer to that is actually, using a complex encryption process, hidden in my previous answers in the interview. Go0d LuCk CODECRACKERS!!!!!
Will you be heading up to the Edinburgh Fringe next month anyway: with Austentatious? General mooching?
Yes, I'm up there for the second half with Austentatious, and playing at Show And Tell's mixed bill night on August 20th. Otherwise on a hard mooch.