Doug Stanhope interview
Well, he couldn't do any worse. Arguably America's finest comedian - even before a bunch of his rivals took a #MeToo-inspired sabbatical - Doug Stanhope is embarking on another ambassadorial trip to Europe, while also sorting his next eBay yard sale.
The hard-gigging comic now resides at a Graceland-like fun-ranch in Bisbee, Arizona, where he records a remarkable podcast with a revolving cast of locals. But he's probably best known to many UK viewers for his wickedly short segments on Charlie Brooker's various Wipe shows over the years. We'll get to his old bit about how our royal weddings - and the royals generally - are more ludicrous than any US head of state. Times have changed.
Speaking of TV, this enjoyably sweary chat took place the day before Roseanne Barr lost her mind and lost her series - which Doug had appeared on - hence we don't get into that. But we do talk Trump material (or the lack of it), some dramatic podcasts, extreme crowd policing, and a spectacular Edinburgh Fringe story from his new book: This is Not Fame.
So, does Doug want to be more famous? What exactly happens to his royalty cheques? And why do I start telling him about former Republic of Ireland football manager Jack Charlton?
Calling Bisbee...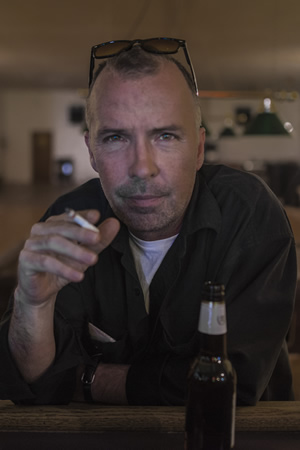 I was kind of amazed you answered the phone - you flew back pretty late last night?
I just got home from Canada, long enough to do my laundry. I'm still hungover. So I'm here for two days then I head over to the UK.
Can you remember the first time you ever came?
2002, the Edinburgh Festival. I think I did eight shows, then in 2006 I did pretty much the full run. Never again.
We've just had a royal wedding - on one of Brooker's yearly Wipes you talked about the previous one, how Brits mocked Bush while staging this crazy pageant: 'How dare you make fun of any democratically elected official...' So, how do you feel now?
Yeah, that's come back into play. I don't want to burn material here, but I talk about how I just did a South East Asia tour and in Bangkok they have lèse-majesté laws, where if you offend the king or the royal family you do hard prison time; even if you insult the institution of monarchy. People have gone to prison for liking Facebook comments that were deemed offensive to the king.
So I go, in the bit, 'I have a special where I did 15 minutes on monarchies, it's running on Netflix now, and on Charlie Brooker...' It's a long story about how I cancelled and uncancelled that gig because I didn't want to go to a Bangkok prison.
Understandable. How did the Brooker slots come about?
They got hold of my manager, he tells me as little as possible. The first one was Screenwipe, so I just showed up in the afternoon at the theatre I was playing, they asked me a bunch of questions about shit, edited it down to whatever is deemed funny, then from there it's Newswipe and Weekly Wipe: it was fun to do.
It must have introduced a lot of Brits to your stuff?
Yeah, because you only have, like, three channels over there.
Do you talk about Trump in this latest live show?
Not at all. No, its one of those things that everybody else is talking about and I have nothing to add, I don't follow, I don't care.
Every US comic seems to be doing a bit on him now - it's actually starting to get old.
Yeah, it's completely old. It's ruined the news, I can't watch cable news anymore because that's the only story, all the time.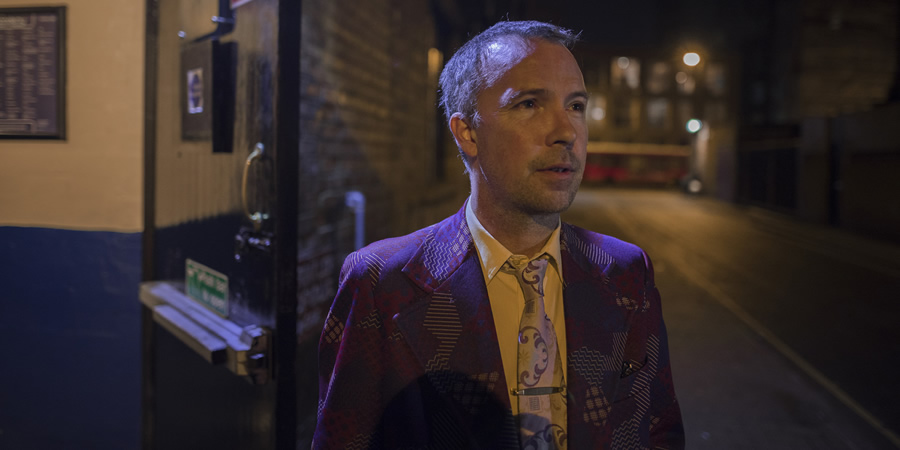 People must want to go to comedy to get away from it.
It's stunning that people act surprised that he's full of shit, or says one thing then says the complete opposite the next week, and they act shocked still. But that's all he does. I don't think anyone actually supports him, they just like the other people losing.
Will politics be like this now, people voting in nutters for a laugh, whatever the consequences?
Well that's the country they've built, they couldn't get enough of fucking arseholes and shit-talkers and blowhard fucking rappers and Kardashian arseholes, people we only know because they're unlikeable, and they're celebrated for being shitheads. Fucking Jersey Shore. All that shit led to a Trump presidency, and I love the people that are mad at it, because they created it.
How did you wind up doing comedy, originally?
I was living in Vegas when I started, and I just started the same way someone sings karaoke for the first time - to see if he could do it. And then 28 years later here I am, with a bagful of dirty laundry again. Heh.
The podcast presumably changed things quite a bit - have the rest of the cast become quasi-celebs?
Yeah, Chad Shank gets recognised just from his voice, he'll go into a store and they'll go 'are you Chad Shank?' just from hearing him talk. He's got a very distinctive booming voice: he gets voiceover work now.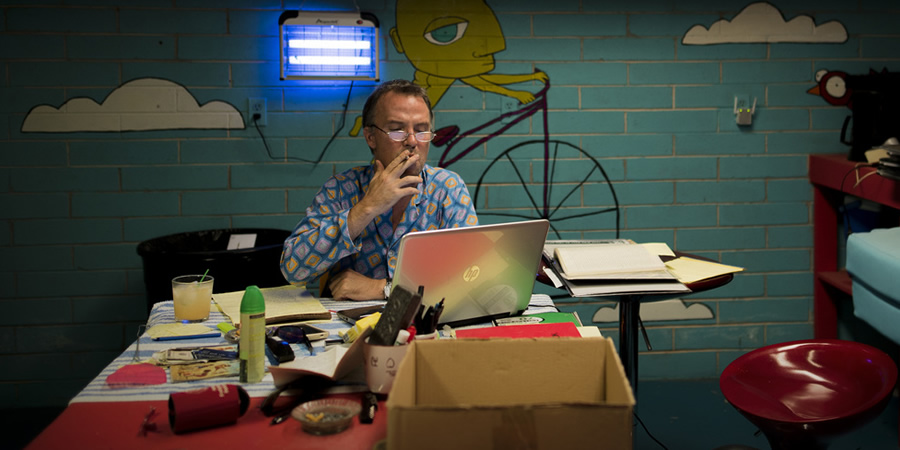 You're not someone I'd guessed would do a podcast: what made you start?
I don't remember whose idea it was, but it's good because there's no comedy where I live, and if there was I wouldn't do it in a town this size - you don't want to see people who saw you suck, in the fucking grocery store every day. So the podcast is a good way to stay in the mood of talking, and being vaguely entertaining.
The difference with your one is that you podcast everything, even stressful life stuff. Was that always the plan?
Actually when we started out, the theme was steering towards 'blottobiography', which is a book I want to write. We run into so many comics on the road, and you start sharing stories that I completely forgot, stuff you did when you were hammered and drinking shots of Jagermeister: 'do you remember the time with the chick and we egged the cop car?' - oh shit, I forgot all about that.
So we were trying to gear towards those stories, but once we started doing it regularly at home, you don't have all those comics around, so it morphed into whatever it is.
The one where you and Bingo [Doug's girlfriend] broke up, after the cruise, was one of the most amazing things I've ever heard.
And when she disappeared. I don't think we'd ever be able to top the cliffhanger podcasts one and two, when Whisky Girl died and then Nowhere Man killed himself.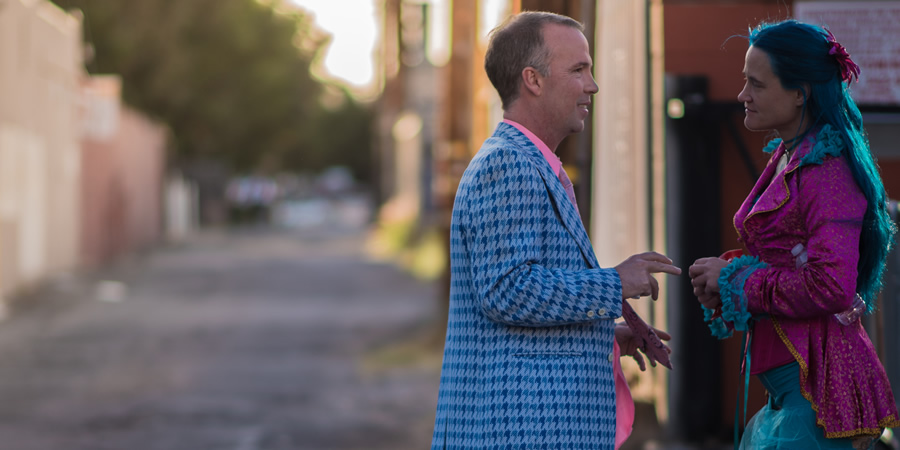 And the one with Chad and the shoot-out. Has anyone suggested you do a Bisbee-based reality show?
It's been talked about, but I don't think it would be even close to happening - the truth is, it's not that much fun, I'm a pretty boring guy. When people show up here, they think it's going to be like a Hunter S Thompson compound of craziness going on, but most of it is just us staring at a fucking TV watching hockey play-offs or something.
There's plenty of drinking going on, but it's more of a lifestyle, not a party. We've had a few [journalist] people over, and it's funny to watch the write-ups, because usually they're just getting hammered trying to keep up with us, and they don't remember much. There's a lot of creative writing going on when they get home.
What's the most dramatic incident you ever had onstage then?
There's the one I wrote about in the book, I was in Edinburgh hosting a late-night show: I'm a fucking terrible host, it's a mixed bill and they're not there to see me. I was doing some random bit about Ecstasy, and some girl screams out 'that's not funny, my sister fucking died from Ecstasy!'
And I was already in a mood, so I went off at her saying that you don't die from Ecstasy, you die from shit they call Ecstasy that isn't, that they made in their bathtub, and if she fucking drank water while she danced all night at a rave she wouldn't be dead.
Hang on, I'm just opening my mail here - I got a residual cheque for nine dollars and 30 cents. So I'm in the fucking money!
Handy.
She left drunk and crying and went upstairs to where her fucking knot-headed friends or family were - so I introduce the next comic, who's Scott Capurro, this burning gay American comic, and I went outside to smoke a cigarette by the fire exit. She had her hooligan friends come down, 'he's making fun of my dead sister on stage' - they see Scott Capurro and assume he's the American who's making fun of the dead sister, and get on either side of the stage.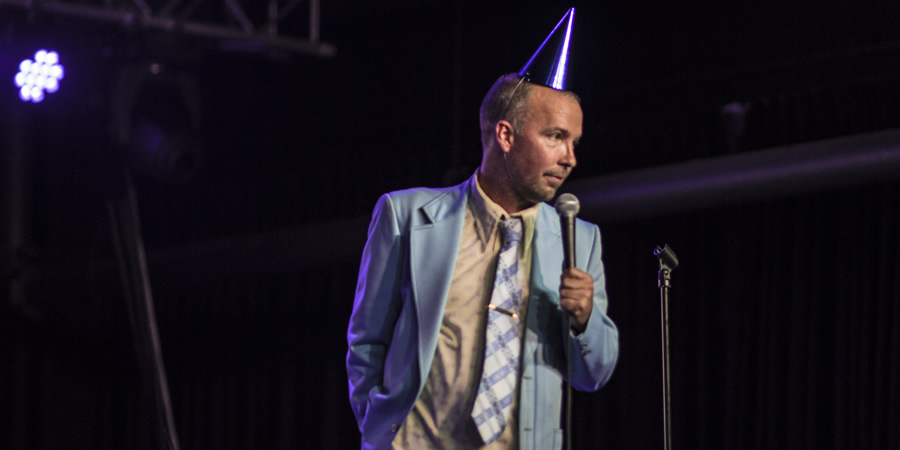 Oh crap
I guess then someone ran out and said 'you need to get the fuck out of here' - they secreted me off to some other bar and dealt with it. But yeah, they were gonna stove my head in.
Did Scott escape too?
I think they talked them off the ledge, but there was no security, just two women, it was a small venue. They literally came up either side of the stage and Scott just looked at them and said 'Who are YOU?' Hehehe.
Back to today then - what was that royalty cheque for?
Let me take a look: Tosh.0, I don't know if you have that show over there.
I do these eBay yard sales and we've got another one coming up, every year or two I'll take all this shit that I hoard - posters from gigs, these '70s vintage suits that I have way too much of in my closet, and residual cheques for, like, 62 cents. Who's gonna go to the fucking bank for 62 cents? - so I sell them in the eBay yard sale, autographed on the back. I made as much as a-hundred-and-something dollars for a nine cents cheque.
Ireland's old soccer manager, Jack Charlton, always paid by cheque in restaurants, because he knew they'd put them on the wall and never cash them.
That's great! Yeah, I used to carry a $100 bill to places where I know they're not gonna be able to break it - 'sorry, if you can't break it, I already ate the thing.'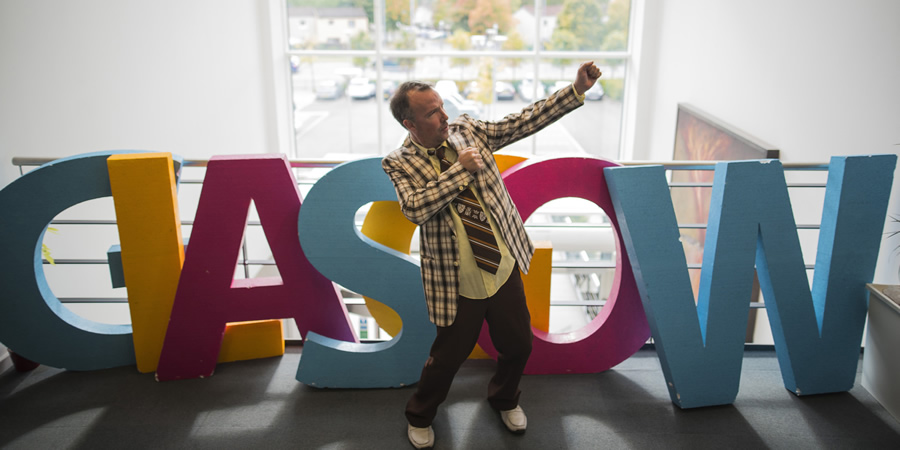 Is that Edinburgh/Ecstasy story in the new book?
That's from the new one: the previous book was pitched as being about my relationship with my mother, but the book you want is the war stories. It's got the through line of me being at this level of infamy. Or unfamy.
Are you happy with how famous you are, or would a little extra be useful?
I love it, yeah, I wouldn't want any more. I'm uncomfortable with it - I've said before, I'm only famous within 100 yards of the gig an hour before and after it, otherwise I'm completely unknown, which is perfect. If someone does recognise me in an airport, I'm thrilled. Every now and then I'll be on a service call, with an airline, or the cable company, and at the end they'll say 'hey by the way I'm a huge fan,' and that's great.
I suppose when you're at the level that the tabloids know you, life is just paranoia...
I'm so paranoid about cameras at shows now, that I understand how cops feel. You know, I screamed at someone for filming my set, then leaned in past the lights to yell even more and realised it's just the reflection off their beer label that looked like a red light filming me - I threw a tantrum at some poor guy who wasn't doing anything - hehehe. That's how cops are with shooting unarmed fucking victims: 'oh I'm sorry, it's only a gun, I thought it was a camera...'
Filming must be tough for touring comics - if someone uploads a routine, it's hard to keep doing it.
Right - we're pretty good at policing the crowd, and YouTube. But once I've filmed something, I encourage people to steal it. Once I've put it out I'm not doing it again so go ahead, fucking steal it, share it, it's good for everyone. But don't film the shit I'm doing tonight.
Presumably that's about quality control too - you don't want a shitty version out there that people can't hear properly?
Yeah, you filmed something and you put it on YouTube, but you cut out the set-up for it, then you ran out of batteries before the punchline, so you just put up the middle, and then it seems like I suck because you're shit at editing.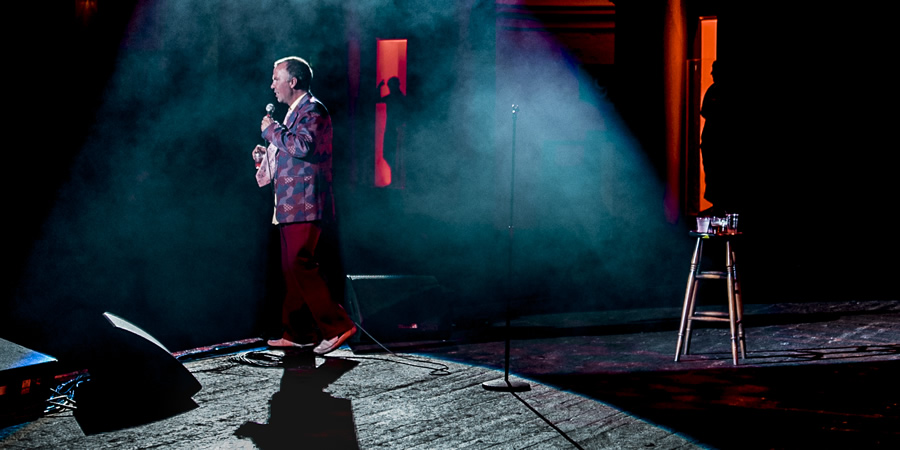 With longer sets, you'll be doing callbacks to stuff that's not on their tape...
Actually, that helps me: I'll have a bit that runs 16 minutes, and no-one's watching that, no one has that attention span on YouTube. And that's a long time to hold up a phone - your arm gets tired!
Posting up random bits can give a weird impression too: when stuff gets taken out of context it looks like you're just ranting about people.
The problem is, I've noticed a lot of pro-Trump people follow me on Twitter, and if you just went by the buzzwords, I can see why people might think that. Unfortunately, the same way people can get offended by buzzwords without listening to context, they can also become a fan without listening to context: 'You're taking this all the wrong way!'
You've an interesting theory on one of the Wipes about Britain's lack of guns - it's why we have more random street violence.
Yeah, in Manchester I saw the sign saying 'don't beat up ambulance drivers' - you have no guns and free healthcare, so you can fight and afford to lose.
Comedians are great at making points that stick with you.
Yeah, it's not a really heavy one, but Louis CK did a bit about how he's such a fat fuck, he'll eat a Cinnabon at the airport where he lands - I can't see a Cinnabon without remembering that. I love bits where you go 'alright, people will think of this every time that this comes up.'
Mitch Hedberg had a bit - "I hate when someone hands me a flyer, it's like they're saying 'here, you throw this away.'" Every time someone hands me a flyer for something, that's the first thing that comes into my head.
Especially in Edinburgh - people wear pointless lanyards just so they don't get flyered. Would you ever do the Fringe again?
Nope! All the wrong people making all the money. That's how I met the Scotsman [Doug's manager], he booked me for those eight shows in Edinburgh that actually made money, gave me a guaranteed rate, while everyone else is losing money hand over fist. So I thought, alright, this is a fucking honest dude.
The free fringe has changed things - now people can get venues for free and take donations afterwards.
Ha! That's how vulgar it is - they've progressed to where you can work for free!
I hadn't thought of it that way... so do you do anything UK-related in this tour show?
No, I don't know shit about Brexit, nor do I care to learn just to have some fucking quirky bit. I've got an act that's working and its already going too long most nights, ready to film, so now I'm adding new stuff because I'm bored with the old stuff, but I should be saving that.
You're playing London twice: Brixton on the 7th June, round the country, then Hammersmith. Any reason?
I have no idea - there's a lot of trains involved. Which I don't mind. I like trains. When I get back I'm going on vacation and I think it's 11 days on a train, not going anywhere, just ride around the country on a train. I love it: fucking sleeper cars, stack of books, notebook.
Nice. And then the eBay sale?
It's ready to go, when I get home we'll probably pull the trigger on it, around August. 'Be on the mailing list!' - put that in the goddamn article. We do about zero advertising apart from the mailing list, Twitter and the podcast. I'm not waking up at 7am to do morning radio.