Alan Carr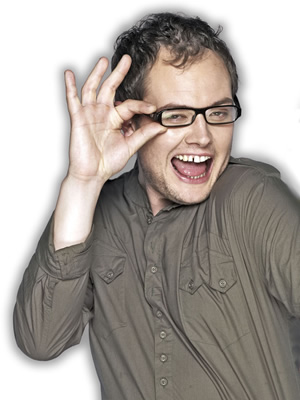 One recurring problem with interviewing comedians is the compulsion to work in a few gags of your own along the way. It doesn't happen with, say, musicians - I can't imagine some hack interrupting Lady GaGa mid-sentence to sing her a few of their own compositions - but get talking to a comic and a sort of cheesy-pun Tourettes kicks in.
The bigger-name acts face this curse every time they leave the house, no doubt, like famous boxers getting picked on by drunken blokes in nightclubs. And right now it's a fair bet that most would prefer a smack in the mouth than hear another bloody Michael Jackson joke.
Stand-ups aren't the most secure individuals so even if you do come up with a cracker, it's liable to make them feel all the worse ("God, even this fool is funnier than I am"). Hence, slightly tragically, I still revel in the one occasion on which I got a comic to corpse. It was during a chat with Alan Carr, shortly before the launch of his first solo TV vehicle, Celebrity Ding Dong, and while he drove between lucrative tour dates. All was going swimmingly.
He was clearly still slightly giddy at the unexpected stardom and came up with an interesting theory about his breakthrough appearance at the Royal Variety Performance: Prince Phillip may well have "put a good word forward," apparently, as he's a big fan of camp stand-ups. "Well," I agreed, "he does love a Queen!" at which point Carr let out a shriek of such high-pitched intensity that it registered on the dictaphone as pure sibilance and probably left his poor tour manager with severe tinnitus.
Carr's broadcasting career is at an intriguing junction right now, following a rapid rise up the career ladder - he took over from namesake Jimmy on The Friday Night Project in early 2006 having made his television debut only a few months earlier. The budding presenter had "done a few other things, but they were on after the national anthem, at 3am on UK Living + 4."
The 'Project was his big break but there were a few ups and downs behind the scenes. When we spoke they'd recently had Kanye West on as guest host, but Carr admitted that a number of other hip-hop artists had turned down the show, chiefly because of his less-than-macho presence ("I'd always thought the homophobia was just hype.")
Channel Four had also given him a dressing-down for admitting during another press interview that he wanted to "glass" the various Big Brother contestants who regularly sullied that show, but he remained unrepentant. His Sunday Night Project highlight? When BB8 villainess Charley appeared and "got her hair extensions pulled out in Coat of Cash. It was funny that people actually bypassed a coat of money to pull her hair."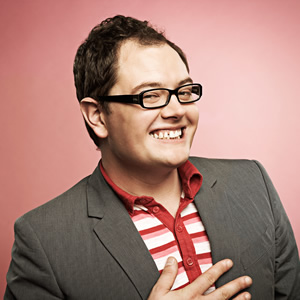 Big Brother also occupies a regular chunk of his current Sunday night project, Alan Carr: Chatty Man, in a manner similar to Israel occupying a big chunk of Palestine. The curiously-titled talk show has come in for a good deal of tabloid stick since launching in mid-June, although the host evidently remains popular enough to deflect most of the blame elsewhere. Take a look at our review round-up and the general consensus is that Channel 4 have stitched up one of their prime assets, with News of the World reviewer and perennial rent-a-quote Ian Hyland admitting that "I've never felt as sorry for another human being as I feel for poor Alan Carr right now." Which is quite a statement. (The bloke who's been assigned the Jackson autopsies - that's who I feel sorry for.)
It'll be interesting to see if Chatty Man does end up in the same sofa-heavy graveyard already graced by the likes of The Russell Brand Show, Richard and Judy's New Position and Davina, as Channel 4 are preparing a mighty slash of their talent budget over the coming months. Chat shows may seem cheap telly but include the hosts' salaries and things start to get a bit pricey, as revealed in a recent Media Guardian feature on Paul O'Grady. His Channel 4 colleague could well be looking at either a big pay-cut or a cancelled show in the near future.
How would the Carr pride deal with such a mighty prick? Well, he always had a healthy perspective on the broadcasting business. "I know it doesn't last forever," he mused, having admitted to being "over the moon" with the deal he'd recently signed when we spoke. "I'm not desperate to do TV, I won't be on QVC with a jewellery range. There's no plan. I'm just drifting along - it just keeps me in fags."
Television then: a danger to both unborn babies and the lungs.