Cariad Lloyd interview
Here's a poser: who in 2015 appeared in QI, Have I Got News for You, Peep Show, Inside No. 9, Murder In Successville, Crims, and a huge sell-out Edinburgh show? Clearly it's not the hardest quiz in the world given the massive clue above, but that list might still come as a surprise to those who weren't totally down with Cariad Lloyd's career.
The (half) Welsh actor/comic has quietly become one of the first names on the TV comedy team-sheet, with previous credits including Toast Of London and Cardinal Burns, plus a new BBC One sitcom in the can too. But while she's pretty stoked about all of that - particularly Peep Show, which we'll wallow happily in below - what really stirs this (half) Celtic soul is tossing away scripts altogether.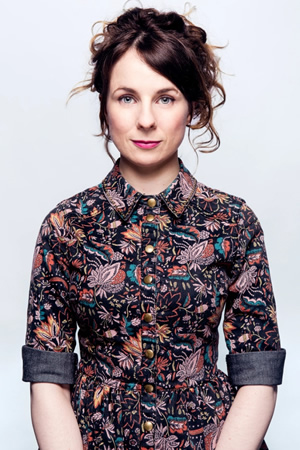 Lloyd's first love is live improv, notably her work with the increasingly omnipresent Austentatious - The Improvised Jane Austen Novel - who've sold out hefty venues at the last two Edinburgh Fringes. Not that Cariad is getting carried away, and was in fine form during our festive pre-Christmas chat; well, apart from the bit where I quoted someone as saying that improv is cushy. Never do that.
We kick off with Austentatious' charity gig, which is heartily recommended if you're in London on the Saturday January 9th. Hey, it's probably pretty much the only thing on.
Tell us about this special show: Crosstentatious
It's basically a cross-dressing version of Austentatious, the first time we've done it in London, raising money for the Pancreatic Cancer Research Fund. It's done really well in Edinburgh for the past four years, for Waverley Care, so I decided to try to organise a London one, as we're in Leicester Square every month; getting people to come out in the depths of January! But we'll do an amazing raffle for it as well. Andy from Austentatious works for QI, so we've got two tickets to see a QI recording...
Which are presumably like gold dust?
Yeah, I've been pulling in favours everywhere.
I remember first hearing about Austentatious when it was a free Edinburgh show a few years back, big queues outside. Now you're selling out massive 'proper' venues.
It's been really crazy - we started that show for 12 people in a pub, so it's come a long way. This'll be our fifth year, and we're doing a big tour in 2016 too. It's a juggernaut these days! We're just trying to steer it in the right direction.
On the Austentatious DVD someone mentioned that the group were originally going to do various subjects, not just Jane Austen?
Initially we did Austen, 'let's see how it goes,' and about six months in there was chat like 'oh, maybe we should do something else.' But we all do other things too - this is where we come to for dressing up.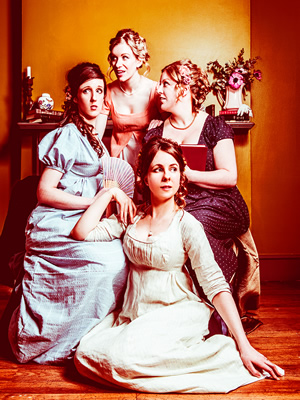 I presume you get Austen fans coming along who've never seen improv?
It's definitely changed as our reputation has grown. Now people are coming to see us, but there was a big period where you'd speak to people, 'have you ever seen improv before?' and they'd say 'no, I don't even know what you're doing.' I found that amazing, as I've been doing improv for 10 years and done plenty of shows that you can't get an audience to. And what I love about that even more is that hopefully they'll go to see other improv, if they've enjoyed it.
Someone told me that improvs have it easier, once you've trained how to do it; while other comics are learning lines you just turn up and see what happens...
[Slightly peeved] I would disagree with that! I think there's a real myth with improv, that you can just walk up and do anything - that's not true, it's just not. It's like if you said to a stand-up, 'oh you just turn up and do your set' - that's not how any artform works.
With improv, yes, we don't have to learn lines, but we meet and rehearse, which is what people find confusing. We're practising improvising with each other, or the staging, or costume, plus you have to meet and warm-up and show you're all in the same frame of mind. So there's a real myth that anyone can just turn up and do it.
I think it was an improv guy who said it...
Don't worry, I'm not really cross!
Maybe they were just talking about Edinburgh shows, once you're up there and in the groove.
Yeah, that's the one good thing that I love compared to my solo shows: before a solo show I'm so uptight and tense and going over the lines. In improv, you don't have that, you want to be relaxed.
I don't know much about your background. Where are you from originally?
I'm from North London - I'm half Welsh. I went to university with Sara Pascoe, we were both trying to be actors. I used to do serious stuff, Shakespeare and Chekhov, then she started to do stand-up, got into that show NewsRevue, then from that we did an improv night at the Cow Café. Then I met Pippa Evans and she said 'you should do character' - but it was mainly improv.
You qualified for BBC Wales sketch show Here Be Dragons...
Yeah, I'm definitely the least Welsh in that group - my dad's from there, and Cariad is obviously a very Welsh name - but it's quite nice when they're doing extreme Welsh references. Me and the English producer can go 'er, we don't understand that.'
Will you do more?
We did two series then everyone got very busy, Nadia (Kamil) moved to LA - but we might do another one. There's quite a big team, so the difficulty is getting everyone in the room. But it went down really well, in Wales especially, so I think they'd like more.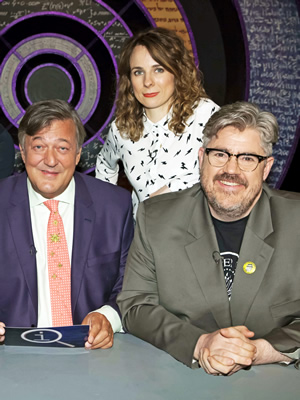 I haven't seen your QI yet - how did you get on?
It was great - you should watch it! I did a good bit about the clitoris. I was very privileged to be asked to do it. I suppose QI isn't a traditional stand-uppy show, so that's quite nice; the panel shows I've done, you haven't necessarily had to be a stand-up, and I'm not.
QI and Have I Got News for You - did you watch them, worrying about whether your good bits made the edit?
Yeah, but it's like a gig - you could do a great bit at a gig and no one would remember it. I treat it like I've just won a competition. 'Ooh, this is exciting, Have I Got News for You...'
It must be surreal being on a show you grew up with?
The only time I got really nervous was when I saw the set. You suddenly think, 'that's my telly. I'm in my telly!'
Peep Show too - it's like the Game Of Thrones of comedy - everyone I knew seemed to be talking about the last series.
It's so exciting, I've watched Peep Show since the beginning, I'm a comedy geek - Sam and Jessie [Bain & Armstrong], it's some of the best writing of my generation. That old stuff we watch on repeat on BBC Two? Well, our children will watch Peep Show: 'Oh there's this old series that's really funny...'
I was over the moon to even be in one episode, let alone the series. Amazing. It's funny, often people won't see the things you do, 'did anyone watch that?', but Peep Show is the one thing where I've had texts from school friends going 'oh my god!' My cousin, who's much younger than me and much cooler than me, was like 'What? I just saw you on Peep Show!' I don't think she's ever seen anything I've done.
I think this series is amazing, and because it's the last one, they've really... the scripts are some of the funniest things I've ever read. The read-throughs, everyone was just crying with laughter.
So what's the plan for 2016?
I don't think you can have a master plan in this business - I didn't get anywhere until I was 27, 28, and I was knocking at the door for a long time. I'd love to do a sketch show - we haven't had a new one for a while. Cardinal Burns did well but then they cancelled that, I loved Anna & Katy, and People Time was a great pilot, and they're not making that.
It's a sad time for sketch, but it'll come round again. With YouTube, I just find now that I'll do it myself. But I'm writing, I'm developing stuff, I keep knocking on the door.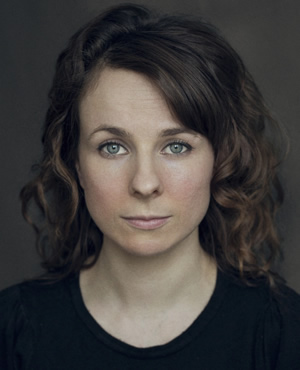 You've got your eggs in various baskets...
Exactly - if I didn't have improv I'd go crazy. I'm lucky, after Peep Show I did a BBC One sitcom called I Want My Wife Back, with Ben Miller, which I think is coming out in 2016, the people who did The Worst Week Of My Life. But when you get a gap, ok, book some more improv and character gigs. There's always something to do.
I don't think there's anybody in comedy who just waits for anything - that's not how comedians think. We just get on and try stuff, and sometimes the things you try become a career. But running Austentatious is a really busy job, there's so much admin. We don't have an agent or a manager, we do it all ourselves.
We get a lot of comedy writers visiting BCG - would you recommend that they try improv?
Oh my god, 100 percent yes - it's for everybody. I really love American comedy, and half of them come from improv. It's about freeing up your creativity, and I find a lot of writers work on their own, so the best thing you can do is come to a class which is all about people saying yes to your ideas and building on them. So many writers come in who go 'wow, that was fun - I did an idea and there wasn't anyone shooting it down.' It's a really positive place, it's about saying yes to every single idea.
You get people who don't have confidence in their writing, but people are encouraged to support, not criticise. That isn't a traditional English thing to do, and it can feel cheesy and American, but it's not when it's done in an English way. I was never confident enough to write stuff down, I genuinely thought the stuff was so bad. But when I started improv, I don't have to write it down, and from that I got more confident: 'maybe I could write a show.'
It sounds like it should be on the NHS.
There is therapeutic improv: I've done weekend workshops with teachers from America, and at the end of it you're hugging each other and crying, and I just think, why not live in that space? It's a really nice place to be. With really nice people. Having been in all the communities - acting, stand-up - improv is the friendliest. They welcome everybody. It's full of crazy weirdos.
Peep Show Series 9 is out now on DVD. The Austentatious charity special, Crosstentatious, is at the Leicester Square Theatre on January 9th, visit austentatiousimpro.com for details.