The Malcolm Hardee Awards
Founded in 2005 by John Fleming - a long-time friend of Hardee - the awards originated with just one prize presented for "comic originality" (the name it now bears), and are all for comic performer(s) themselves rather than (and sometimes despite) their shows. The inaugural prize was awarded just under seven months after Hardee's untimely death. Fleming explains the award: "Basically, the judges have no idea what they are looking for. If we did know what we were looking for, we would be able to define it and it would not be original."
From 2009 the awards expanded to include the Cunning Stunt prize, recognising the most gutsy attention-seeking moves. The word "cunning" is key. Fleming said: "Riding an elephant painted pink down Princes Street and inviting the press to see it is a stunt, but it is not a cunning stunt."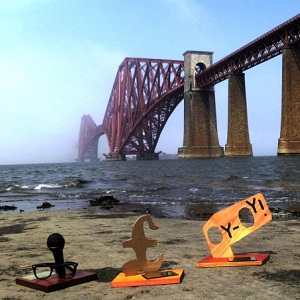 The most recent addition is the Act Most Likely to Make a Million Quid title. Created in 2010, Fleming says: "The judges have to take a wild punt on who may survive the vagaries of - and triumph over the good and bad luck inherent in - a comedy career to attain seldom-attained financial success."
The awards ended in 2017. However, having been much missed in 2018, British Comedy Guide took up Fleming's mantle as primary organiser of the awards in 2019, continuing to work in conjunction with Malcolm's family to remember his anarchic comic spirit.
The trophies are designed and produced by John Ward, who has been hailed by Time Life as "possibly the best English eccentric inventor living today".
Judging
Each year's judging panel see shows across the Fringe period, looking out for performers who could win any of the three prizes. A shortlist for each category is revealed in the final week of the festival with winners announced at the live ceremony. The current juding panel is Marissa Burgess, Kate Copstick, Bruce Dessau, Jay Richardson, Claire Smith and Ian Wolf.
Past winners
Comic Originality