Westdal & Hayward
Westdal And Hayward Need Work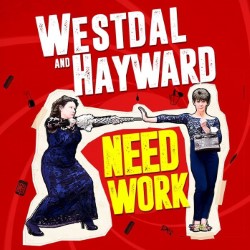 Show details
Stand-up show / music performed on the following days in August 2019...
Mon
Tue
Wed
Thu
Fri
Sat
Sun
31
1
2
3
4
5
6
7
8
9
10
11
12
13
14
15
16
17
18
19
20
21
22
23
24
25
26
27
28
29
30
31
A couple of middle-aged women, who between them have three dogs, two kids but only one fully functioning pelvic floor. They're a tiny bit cross and they're not going to take it anymore, so they're dishing it out instead. Sharing their pearls of wisdom through the mediums of chatter and song, like an unholy pairing of Mary Poppins and Eartha Kitt, Westdal and Hayward, Agony Aunts at large, dispense advice to the grammatically challenged, consolation to the martyrs of menopause and confess to being more than a little mad about the Mogg!
Share this show
Reviews
---
WESTDAL AND HAYWARD NEED WORK
https://www.youtube.com/watch?v=XITrkc2xlNI
Overlooked, Overwrought and Under-lit:
Two Older Women Snatch Back the Limelight at the 2019 EdFringe
We present
Westdal & Hayward Need Work
Freyja Westdal and Beth Hayward are a couple of middle-aged women, who have 3 dogs, 2 kids but only 1 functioning pelvic floor between them. Now in their 50's, they've only just noticed that the limelight they used to bathe in has been abruptly switched off.
Why? Could it be that the world has the temerity to think that they don't have anything of value to offer? Well the world had better sit up straight, get its elbows off the table and tuck into the brunchtime brilliance these two are dishing out in Westdal and Hayward Need Work, their Edinburgh Fringe Debut!
It's a satirical, biting, sometimes rude, and always funny look at the world, from the people who brought you The 2017 Funny Women Best Show Award-Nominated show, Annus Horribilis. Ageing as disgracefully as they possibly can, their mantra is "Do it! NOW! Because while it's never too late to start something new, it might be too late to finish it!"
The fast friends noticed with alarm that no-one sees women as relevant when they're middle-aged. Freyja Westdal gives an example of when they were at a restaurant one lunchtime and at the table next to them some businessmen were talking about a VERY sensitive matter. She says, "They didn't look at us for a moment and yet they shut up when the waiter appeared.". Beth adds "It was bizarre, but honestly, we could have pinched their chips and they wouldn't have noticed."
After that they decided that something needed to be done and so they began to write this show.
Beth Hayward says, "We've come to Edinburgh to remind the world that we're still here. We may not be maidens or mothers, but we are not ready to solve crimes in the village just yet! We still have an awful lot of things to say."
In Westdal & Hayward Need Work they throw all caution, false modesty and dignity to the wind to offer their opinions on subjects like Festival Going in your 50's -"If God had meant for us to camp he would never have invented the Savoy!" - to the reason why women don't like dick pics; and why men should obviously be grateful for that! They are shamelessly unafraid to chat about chocolate and chafing, sing about sex and social media and thoroughly wash their dirty linen in public.
About Beth Hayward & Freyja Westdal
This year is their 4th as Westdal & Hayward and together they have performed at comedy venues and festivals, supported Dean Friedman on a UK tour and written songs for the fabulous 4 Poofs and a Piano.
Beth and Freyja met a lifetime ago as two aspiring young actresses on a tour where Beth was Freyja's understudy - a fact that has never been forgotten, in a friendship lasting over 25 years. Beth is unapologetically happy that her children have finally flown the nest so she can now rent out their rooms and Freyja's hobby is Flying Trapeze. That's right. Flying. Trapeze.
"Westdal & Hayward are incredibly funny, bitingly so. These two are comedy assassins who will make you guffaw and very probably even leak with laughter." (Sanjit Chudha-Marketing and Communications Manager, Talawa Theatre)
Listings Information
Venue: PQA Venues, (Venue 277) Riddles Court, Lawnmarket, EH12PG
Previews 17th & 18th August-Tickets: £8
19thto the 26th August- Tickets £10 (Concessions £8)
Time: 11:30am (1hour)
Twitter: @Westdal_Hayward
Facebook: Westdal and Hayward
Instagram: @westdal_hayward
For further information, images, or to request a media ticket please contact Freyja Westdal on info@westdalandhayward.co.uk or on 07773079475
---
Tweets by Westdal_Hayward
Review this show
Have something to say about this show? You will be able to give this show a star rating (and write a short review if you want) from the 17 August.