Comedic actor William Hartley is best known as one quarter of sketch comedy troupe Clever Peter. Gun is his debut solo theatre show - a pastiche-cum-homage to the spaghetti Western that is 'more cowboy than Clint himself'.
Favourite Clint Eastwood moment?
It's probably that film where he hangs around with an orangutan solving crime or whatever it is they do. I think a lot of Western films are pretty boring (man squints, music plays, wind rustles, other man squints, hands hover over guns, someone spits, music, go and get a cup of tea, they're still there, squinting, spitting, meaningful lingering looks...) So, I actually prefer Clint when he's not doing Westerns, like in Million Dollar Baby or Gran Torino.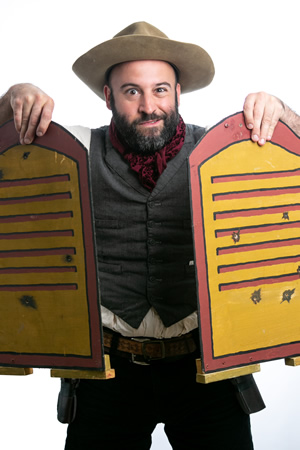 What's it like performing 25 characters in 60 minutes? Do you ever mix up the accents?
I am way too professional and talented to mix up the accents*. It's mainly just good fun. I love knowing that there's a new silly character coming along and seeing how the audience reacts to them. I get bored quite easily I think, so in rehearsals if I'm one character for too long I kind of think "Wait; this is just a man chatting isn't it? BORING. Next."
*Yes, all the time.
Have you ever worried what might happen if you accidentally brought a real gun onto stage instead of a prop?
I went clay pigeon shooting recently, and it turns out I'm actually a crack shot. Really deadly. Can't miss. So, either the audience would be completely safe, because of my iron control and laser eyed accuracy. Or they would all find themselves with bullets in the brain faster than you can say "wait, health and safety, have you checked that those guns don't actually fire real bullets mate, because this could be dangerous and the venue don't really have the kind of insurance to cover accidental audience murder..."
Tell us about that sex scene - is it less awkward since you're by yourself??
I was creating this in a community space in Plymouth, and it was very awkward with the old ladies who ran the cafe passing to and fro while I rehearsed this particular bit... Weirdly, the scene is awkward if I try and play it for laughs. If I try and actually perform it, as two people having sex, weirdly it's easier and funnier! I mean, at the same time, if you find yourself easily aroused probably best you sit this one out.
On that note, this is your first solo show after Clever Peter. Do you miss the gang?
I do miss them, but we're still in touch; they are all very funny and we had a lot of laughs over the years and created a lot of good stuff we can be proud of. Not to mention the vast riches and wealth we accumulated through sketch comedy. Organising rehearsals was always like herding cats, so in that sense it's much easier. But Rich and Dom are both happily running a reiki healing dojo-cum-sexual health clinic in East Timor (I think that's what they said, I don't really listen) and Ed is doing his show Who is Daniel King at the Fringe this year (go and see it, it's good) so I'm sure we'll hang out.