If you fancy a one-chap insight into the Edinburgh Fringe's vast array of ideas, Thom Tuck is a good one to follow about, should you be able to find him. Tuck's Edinburgh exploits are sometimes fairly high-profile, and often intriguingly off-piste, spread by word of mouth like excellent gossip or a determined infection.
This year he's teamed up with his long-time This Is Your Trial courtmate Tim Fitzhigham for a bold attempt at the bard's most worrying-for-actors work: their audacious two-person Macbeth also features a guest director every night, and runs until August 11 at Heroes @ Black Medicine.
Catch it before the curse strikes. Meanwhile, as Thom suggests below, he'll almost certainly be doing some red-hot not-in-the-guide action too, such as in-shed indie-folk tributes and an entirely-Tom comedy night.
Thom's most celebrated Fringe show was actually his first solo outing (he'd previously done several with the fine sketch troupe The Penny Dreadfuls), back in 2014: a splendid hour called Thom Tuck Goes Straight To DVD, which was about Disney sequels, and so much more. It wound up on Radio 4, and after 'nuff years has now emerged on DVD, due to the fine folks at Go Faster Stripe. But could it be their last physical DVD, ever? If so, it's a fitting one.
Time, then, to tackle Tuck.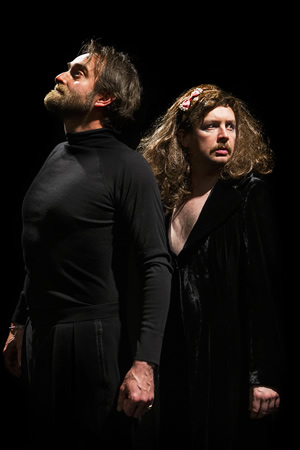 How did the idea to take on Macbeth come about - did one particular conversation inspire it?
It actually came about during another show: specifically, Mark Watson's marathon show. Tim was preparing a speech for an audition to play Henry V and I played the horse. Tim got the part. I did not.
But the way we worked together, along with a live director who had no idea what we were going to do, seemed like something we should preserve and then destroy beneath a coffee shop every day at seven.
What unique qualities does your version have - i.e. why should people see it rather than staying in and streaming the overrated Fassbender one?
Well, the fact that there are only two of us does lend a certain frisson to the multi-character scenes and the battles. Necessity being the mother of invention, though, the paucity of lighting, costume and castmates does bode very well for how inventive it will be.
I quite like the Fassbender one... so maybe you'll hate ours?
Any memorable moments so far - were any guest directors nervous at attempting The Scottish Play?
All the guest directors have been amazing: fearless, silly and playful. I think my favourite thing that has happened so far is John Hastings making me play the incorporeal dagger.
But Alice Fraser making us do lightsabres was pretty ridiculous too. And Deborah Frances-White's innovative cutting style left us dizzy.
I was at last year's enjoyable taping of Thom Tuck Goes Straight To DVD - how long did it take you to relearn it? Did you have a full script to work with, etc?
I did not have a full script. I had the full radio script and notes from the original stage show but it took me ages to remember all of the jokes. I did a run-through in my living room to some friends the week before the taping and it was 45 minutes.
In fact, I did miss one joke out definitely, but I recorded it backstage so it is on the DVD. Just not in the show.
It might be Go Faster Stripe's last DVD ever - what's your view on the whole streaming-and-download takeover? Were you always keen to get this show in a proper physical format?
I am generally all about streaming with music but not film and TV. I miss director's commentaries: the special edition of Se7en with four commentaries, Phillip Noyce's inexplicable commentary on The Saint with Val Kilmer.
I should have done a commentary on my show... but I was always very keen to have the show actually come out on the format named in the title. Just glad I didn't call it Thom Tuck Etches Himself onto a Laserdisc.
Disney remakes are everywhere at the moment - so will you ever do a TTGSTD sequel?
I did the radio series, which is not a sequel per se, but is an extension of the processes of the original show. I can't imagine what a real sequel to that show would even look like - it was such a singular accident of a show and I feel like it wraps itself all up and ties a bow on itself. But, if the right story or set of stories present themselves to me then... maybe.
I also saw you sing The Mountain Goats in a shed last year. Any other off-menu Fringe plans this year?
This I am doing again. And again. And again. In the shed, on the bus, in the underpass. If you love the band or if you have never heard of them come see me do their songs! Slightly better than last year!
Also, we should have a Thom:foolery at some point. Possibly the 13th. I think Toms Ballard, Burgess, Little, Lenk, Mayhew and Parry is quite the show.