Acid-tongued character comic Myra DuBois talks about having the last word and an ideal Edinburgh night out.
Your show is called Dead Funny. Any last words?
"Oh shit."
The funeral is finished and the party's over - what happens next? Fiery inferno or pearly gates?
It depends on your tastes, doesn't it? I know 'Heaven' is the goal but Sky Blue and Cloud White with a golden accent isn't the most flattering of colour schemes. I think I'd be much more comfortable in something black and sequinned with a red trim myself, don't you?
But of course, these decisions shouldn't be made solely on the uniform. Alas, I think I'm destined for Heaven once my mortal coil has been shed. Fortunately, coming from Yorkshire, I quite like Brass Bands so the angelic trumpets will go down a treat with me.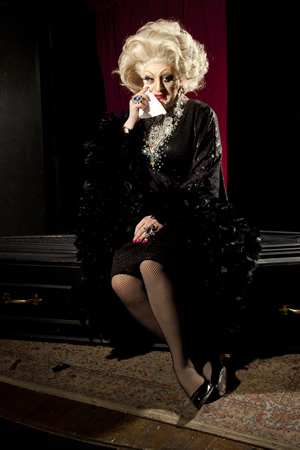 Who makes the best waterproof mascara and do you have any other tips for getting the funeral look on fleek?
I always think 'On-Fleek' sounds like a small fishing village, don't you? "Berwick-On-Fleek". That would mean that the Fleek was a sea or at the very least, a river with a large mouth. 'The Fleek Estuary'. I wonder what the Fleek Estuary accent would sound like?
Anyway, I digress, if you really want a solid mascara that won't budge even during the heaviest downpour of salty tears, may I recommend Sharpie?
You're renowned for your acid-tongue. Has an audience member ever come back with a retort that was so good you pocketed it for your repertoire?
Ah! The old "What's your best heckle?" question in disguise! People rarely heckle me because I'm incredibly warm and approachable (the aforementioned 'acid tongue' probably contributes a little also) and no audience member has ever dared come back with any retort. My say on any subject is usually the last word...
Finally, a regular in the bright lights and burlesque clubs of Soho, describe your dream night out in Edinburgh...
Oh, wonderful! I love a night out! In no particular order, my dream night out in Edinburgh would include cocktails at the Voodoo Rooms. The mixologists there can whip you up almost anything and in such decadent surroundings too!
Once those drinks have started to take effect I might shuffle off to a discotheque although, I must confess, I don't enjoy dancing. I prefer a booth where I'm able to sit and chat with my friends and fans.
No trip to Auld Reekie is complete without sticking my head in CC Blooms to give my regards to the gays and, finally, you might see me in the Disco Chippy ordering myself a battered Haggis Supper. Plenty of salt 'n' soss, please!