Joe Sutherland - who appeared in our top 10 best reviewed Fringe shows of 2018 list - returns to the festival in 2019 with a show looking back at things we once loved which have now gone 'wrong'.
Sour looks back at things we once loved, what were you most fond of growing up?
The regular things that boys are into: riding bikes, throwing things, choreographing dance routines and wrapping towels around your head to recreate popstars' hairstyles.
What keeps you motivated to keep looking forward and not look back?
The relentless need to pay rent and consume food means I occasionally wrench myself out of sweet reminiscence and focus on getting something done. Thankfully I've found a job where I can actually milk the nostalgia flower to turn it into work.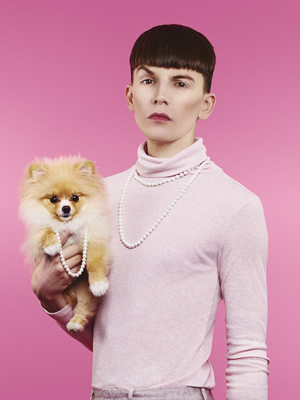 Favourite spice girl?
How can you choose a favourite? I keep them ranked on a 5-step podium that rotates monthly. Current Gold medallist is Mel C, because she led a 3-million strong Pride parade in Brazil. In a country with a nincompoop like Bolsanaro in the top seat, that's pretty damn cool and I'll fight anyone who says otherwise.
You talk about the transition between being working class to being somewhat middle class. What was the defining moment when you realised this had happened?
Truth be told, I was always the middle class one among friends and classmates. My parents had been to university and we'd been to see plays that weren't pantos (hence they were really boring)... and I used words like 'hence'.
The shock came when moving to London and realising that, by comparison, to most people there I was complete scum. So I thought I had to fake it to make it, until I became properly smug middle class. Now, honestly I'm insufferable, I've got a National Trust card and a fetish for Le Creuset pans.
Last year's show was one of the best reviewed at the whole Fringe, think you can reclaim that title this year?
God only knows. I'm off to have a panic attack.