Did you know that Annie McGrath was once in Isis? Actually we may have misremembered that slightly, as it was early in the show, but she definitely knew a lot of people in Isis, years ago. One of the main thrusts of Shepherd is her recent reunion with them, which proved to be a bit of a challenge.
Actually that Isis business is not nearly as dramatic as it sounds, but there are numerous other moments of genuine, shocking drama in this hugely confident comeback hour. McGrath has endured some seriously not-fun experiences over the years, and - just from the quick straw poll she holds in this bar - it's clear that a lot of other women have too.
The talented actor/comic was in a BAFTA-nominated short film this year - The Blue Door - but that award-night experience was soured by an unsavoury incident while traveling; the sort of exposure you really don't want on a big night. Still, there's a twist in that tale, partly involving a memorable painting of a dishonourable member. More below.
McGrath is having a crack at the free fringe this year, and on the evening we visited she kept a packed and very mixed crowd at Sneaky Pete's firmly onside, despite the sometimes not-fun subject matter; an impassioned, impressive performance. Let's find out how it came about.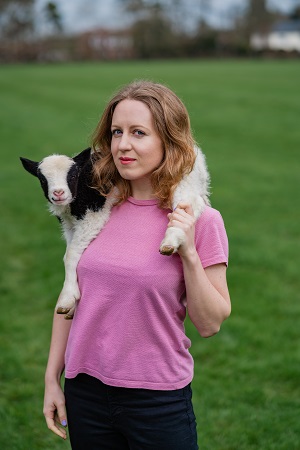 Could you give us a little background to this show - what made you want to come to the Fringe with it?
The show is an amalgamation of good and bad things which have happened to me over the past year. It's about expectation, achievement, and creepy men. After eight consecutive fringes, I had a year off last year, which was so nice. I did the Camden Fringe instead, where I pushed myself to do a work in progress, talking about more personal stories than I was used to doing on stage.
It's really impressive how fun you keep the tone despite heavy themes - was that a tricky balance to achieve?
Thank you! Getting the balance in tone was something I was really keen to get right. Main aim was always to be funny, even with the heavier themes. I think it probably helps that I struggle with sincerity (I have one of those voices). That's what I've had to work hardest on - allowing the 'serious' bits to be serious and not undermine the 'message'.
Steve Hall has been directing my show, so we've been working together on it since January, and his help has been invaluable. He would come to my gigs, give me notes and reassure me that I wasn't shit. It's great having someone to bounce ideas off. Steve is a very funny, intelligent man and our sense of humour aligns which always helps.
That epic painting in the show - could you give readers a hint what it is, how long it took, your artistic inspirations..?
I got flashed recently (one of the creepy men stories in the show) and the police asked me if I got a photo... I didn't get a photo, so I thought - what's the next best thing?
The painting probably took a couple of days (spread out over a month). Comedy producer Charlie Perkins, my friend and London landlord, was very patient having a huge painting of a man with his penis out in our sitting room. Especially as she's been trying to sell the house... It has now sold (the house, not the painting). I can only imagine the dick pic helped.
Have you had any particularly interesting feedback from people afterwards, about the issues in it?
I've had lots of nice feedback from women, especially younger women, who relate to the themes and have shared their experiences with me during and after the show. One man said it was "fantastically surreal" and I wondered what he meant, given that I'm talking about the reality of predatory men... Maybe he was talking about me saying I'm a shepherd? I guess that's surreal?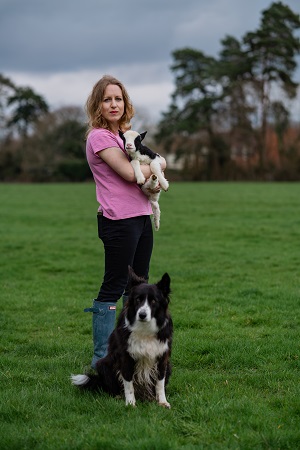 How are you finding the free fringe this year - is there a different energy in those rooms?
I love the free fringe. It can be a bit more chaotic, with drunk people wandering in, but generally the vibe is fun. With paid venues the expectation is often higher, whereas on the free fringe people don't necessarily know what to expect.
I think it can be more exciting for audiences to discover a good show on the free fringe. Sneaky Pete's is a great venue too. The bar staff have been brilliant - they work so hard and have been nothing but positive and helpful.
Your pay-gap bucket speech is one of our favourites at this Fringe - do comedians compare notes on good/bad bucket methods?
Ah, thanks! Pointing out that men earn more than women has meant a few men do actually put £12 in, as opposed to £10, which a fun bonus! It can feel very demoralising asking people for money at the end of the show but unfortunately it has to be done.
And yes, comedians compare notes on absolutely everything- bucket speeches, audiences, reviews, who they've slept with.
And how are you finding the Fringe generally - any interesting new experiences?
I've been enjoying it this year! I'm living in student halls with Lou Sanders, Lucy Pearman and Ray Badran, who are all very funny. Lucy eats biscuits for breakfast and takes a coffee to bed with her at night. Lou and I have been swimming and doing yoga, when she's not on the phone to her spiritual healer, Jill in the Pyrenees.
Ray hid in a cupboard and jumped out to scare us all when we came home but it turned out it wasn't us, it was the cleaners who screamed and started yelling at him in another language. There's a trampoline park near where we live so we've spent a few mornings bouncing around with a load of five year-olds on their school holidays.
Do you have any recommendations for other shows, comedy or otherwise?
Of course - Lou Sanders! Lucy Pearman! Ray Badran! James McNicholas' show, The Boxer, is brilliant. So well-written, so many jokes, and genuinely moving. Ed MacArthur is an incredibly talented musician and his show Humoresque is so good I've seen it twice. Stuart Laws is very funny - his show is stupid and ridiculously clever. I've heard brilliant things about Jess Fostekew's show - desperate to see that too.