Phil Kay
Phil Kay: Lighter Hour
Stand-Up
4pm (1 hour)
2-12 Aug 2018
Boteco do Brasil (Basement)
10 (or Pay What You Want)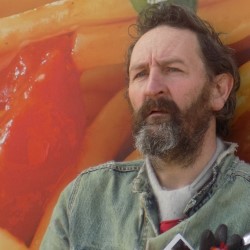 Show details
Stand-up show starring Phil Kay that was performed at Boteco do Brasil at 4pm for 1 hour, on the following days in August 2018.
Mon
Tue
Wed
Thu
Fri
Sat
Sun
1
2
3
4
5
6
7
8
9
10
11
12
13
14
15
16
17
18
19
20
21
22
23
24
25
26
27
28
29
30
31
Venue details
Tickets
This show operates under the Pay What You Want (PWYW) model. To guarantee entry, buy a ticket in advance. Tickets holders will be seated first. Then, if there is still space, the free queue will be let in. At the end, anyone who didn't pay will be asked to leave a donation in a bucket.
See Phil nails all today's major issues in play in his fast not furious, voiced-based show... Master of mirth and energy, skipping from one thing to the next: a wheelbarrow display team, dog bites in Bangkok, being a swineherd. Relax, yet be riveted, as Phil speedily sums up his year with all things that come to mind, some of which have not happened yet: discovering swans in Norwich, oranges in Guernsey, screaming Stephen Hawking, watching Olympic curling on MDMA, fortified wine-o, Tesla drag-races. 'A comic in touch with the deepest well-springs of his humanity.' (Fest).
Share this page
Reviews
Press coverage