Lucy Pearman
Lucy Pearman: Fruit Loop
Clown
6:30pm (1 hour)
2-13, 16-27 Aug 2018
Monkey Barrel (Monkey Barrel 2)
6 (or Pay What You Want)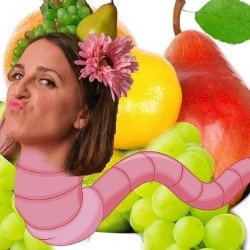 Show details
Clown starring Lucy Pearman that was performed at Monkey Barrel at 6:30pm for 1 hour, on the following days in August 2018.
Mon
Tue
Wed
Thu
Fri
Sat
Sun
1
2
3
4
5
6
7
8
9
10
11
12
13
14
15
16
17
18
19
20
21
22
23
24
25
26
27
28
29
30
31
Venue details
Tickets
This show operates under the Pay What You Want (PWYW) model. To guarantee entry, buy a ticket in advance. Tickets holders will be seated first. Then, if there is still space, the free queue will be let in. At the end, anyone who didn't pay will be asked to leave a donation in a bucket.
2017 Edinburgh Comedy Award Best Newcomer nominee Lucy Pearman returns with a new show. Pearman brings the story of a worm who has misunderstood her existence. As seen on Spencer Jones' The Mind Of Herbert Clunkerdunk on BBC and heard on Tim Key's Late Night Poetry Programme BBC Radio 4. 'First steps on the road to household name' **** (Sunday Times). 'Silent marvelling at the sheer cleverness... Blooming marvellous' **** (Fest). 'Almost impossible not to laugh' **** (Scotsman). 'Pearman is excellent' (Bruce Dessau, Evening Standard).
A brilliantly barmy follow up to last year's Newcomer nominated show, Maid of Cabbage. In Fruit Loop, Lucy Pearman brings the room to life again with her ludicrous costumes and ridiculous characters. It's an hour of wonderfully crafted nonsense which is almost impossible not to go along with.
Share this page
Reviews
Press coverage
@Lucypearman
Loading tweets...