'Werewolf: Live' charity gig
The one-off Edinburgh Fringe show Werewolf: Live - Charity Spectacular! is set to feature a number of top comedians.
The charity special on the 21st August will be a spin-off from Werewolf: Live, the immersive comedy game show format starring Jon Gracey. A theatrical reimagining of the classic game of deception, it sees audience members brought on stage to 'hunt down the werewolves'.
Whilst the main show (which runs late-night at Underbelly during the festival) stars people plucked from the audience, the Charity Spectacular! will involve comedian guests.
BCG can reveal those confirmed to be taking part include Marcus Brigstocke, Nish Kumar, Alex Edelman, Laura Lexx, Alice Fraser and Luisa Omielan.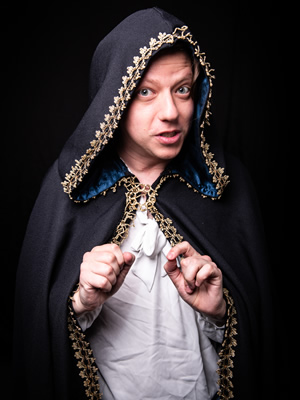 The show will also see a sort-of reunion, as Tom Houghton is on the guest list, as is The Noise Next Door, the improv group he left to pursue a solo stand-up career.
Further names are set to be announced, and the show will also feature a famous comedian who isn't being named in the publicity.
Talking about the show, the producers explain: "For one night only, Werewolf: Live - Charity Spectacular! will be taking over Udderbelly for a special show featuring comedians playing the comedy game show Werewolf: Live. It's an hour of intrigue, backstabbing and mob rule in which the innocent villagers must fend off the two-faced werewolves before they get torn limb from limb."
The charity special is raising funds for Kidney Research UK, a cause close to host Jon Gracey's heart. He says: "My dad has had two kidney transplants, so Kidney Research UK is an important cause for my family.
"My brother ran the London marathon for the charity a few years ago, but I can't run for shit so I prance about on stage in a cape instead. Kidney disease can strike anyone at any age and there's no cure yet, so we're hoping to raise a big chunk of cash."
Talking about adapting the format for the special, Gracey adds: "Introducing comedians will put a special spin on the show. Think The Wrestling, but with less physical prowess and more petty grudges."