My wife informs me she used to be able to tell when July had begun without ever checking a calendar. She'd know because every 1st of July she'd be rudely awoken by me screaming next to her in bed. With the Edinburgh Fringe festival a mere month away I would habitually wake myself up, doubtless from some poorly constructed anxiety dream, with a series of short screams. Every morning. For a month.
As a young performer with everything to lose, the Edinburgh Fringe can be a terribly intimidating beast. Months, if not years, of planning, thousands of pounds (no matter which way you attempt to budget for it) and the chance to irreparably damage your reputation if your carefully incubated jokes end up being kicked to death by rabid critics out for fresh blood.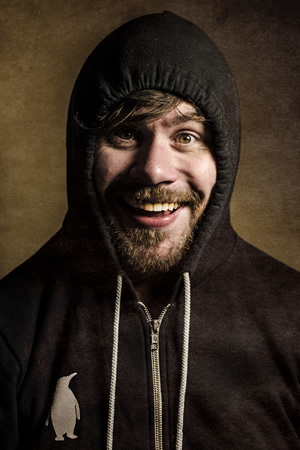 The rehearsals, the endless admin, print design, technical questions, extortionate accommodation, the regrettable flyering technique, inevitable bank loans, dealing with the venue's press office and what the hell even is a PRS form!? The complexity, expense and potential career-stunting peril associated with the Fringe (any Fringe) make it terrifying.
I still wake up screaming sometimes.
These days things have changed for myself and the work I produce. I'm not a famous comic or well-known writer. Instead I'm the mostly anonymous chap behind Shit-faced Shakespeare. Accordingly, please don't feel bad if you've never heard of me.
You may have heard of the show however. The premise behind Shit-faced Shakespeare is very complex and highbrow. We take a Shakespeare play and we get one of the cast Shit-faced beforehand. Like all very stupid ideas this one only works if we take it very seriously, so we do.
Our shows are condensed 60 minute splats of Shakespeare with a truncated cast and script attempting to deliver the entirety of a Shakespearian tale in a fashion that a modern audience would willingly watch, even without a drunk. Then, we throw our 'confounding element' into the works and ask our team of classically trained actors to fight to keep the show on the rails. They usually lose and through this carnage the real delight of Shit-faced Shakespeare manifests.
Watch as Lysander and Demetrius duel with a double-ended dildo and a prosthetic arm borrowed from an audience member. Witness poor Romeo struggle to keep a thrashing Juliet even partially clothed whilst improvising an Elizabethan couplet which rhymes with YOLO. See Hamlet decide to forgive his uncle while passionately administering the kiss of life to poor, dead Ophelia. We started performing Shit-faced back in 2010 and it's the most fun I have ever had in a theatre.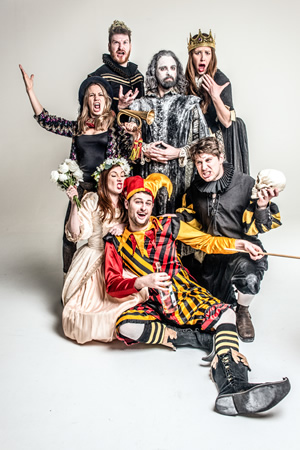 We took the show to the Edinburgh Fringe for the first time 7 years ago with all the aforementioned nerves, fear and 8am screaming sessions during the run-up. Within 4 nights we were selling out our intimidating 160 seat space and I am still, to this day, unsure exactly how we did it.
Shit-faced Shakespeare has grown hugely in the proceeding years and we're now considered one of the "established acts" - if there even is such a thing - of the Fringe. The show has expanded to the Brighton and York Fringes and runs for six months each year in London's Leicester Square Theatre, where you can currently see our production of Romeo and Juliet. We took the show to America three years ago and it now runs multiple shows every week in Boston, Austin and Atlanta with touring ventures to other major cities. We took on a 4 city tour of Australia this year and will be back next year for another month of shows. We're actively planning touring the wider parts of the UK in 2019 and this August we'll be taking on our largest ever Fringe venue with the newly refurbished McEwan Hall, bringing our new adaptation of Hamlet to Underbelly.
I did a rough tally of Shit-faced Shakespeare shows performed in 2017 and came to a figure of 537 for that year alone. That number doesn't even include performances of our musical theatre version Shit-faced Showtime. That's almost an average of one and a half shows every single day and we estimate that over 350,000 people have seen the show to date.
How the hell did we get here? Honestly I'm a little unsure of exactly how we did it but I believe it's got something to do with taking a very stupid idea, very seriously.
Despite appearances we work exceptionally hard at what we do. We care, we rehearse and we craft the underlying show. Most importantly, we look after our large, international team of occasionally inebriated performers.
I still wake up screaming sometimes but my wife tells me it's less frequent these days. I don't believe it's possible to ever conquer the Fringe but perhaps it is manageable to co-exist with it and all its glorious dread.