Here's some news and trivia the BCG has collected up whilst at the Edinburgh Festival.
Luke McQueen signals the future
Luke McQueen raised a laugh before the festival had even started with his somewhat anarchic programme entry. He submitted the following: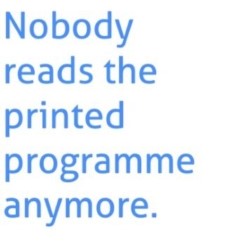 "Everything is online these days. Do you think the editor of this printed programme will get annoyed when he/she has to type out the following? Agshdjfnrbdbsnfldmabahxbchxjanqkdnjjsk avdhxhxbajaispllgncjakqpdjdj"-$$820*;####$9#+*!*9 #9#+*7*8#9#0@;*-*+#91+3-$7*9?0?zbzvsjejdksoso dhzksisksbsjsjsisosososndvscwgshzijaqvwcwgs yzuahscwcwgssuisshwvwcw cafsfagwgwgsgsvwcsvaka ozoajagava bahiPapapapsssp spszshsgsfewggw;*:$7$829$99#: *:*:#+#819#99#9$9$9#9$9# 99#9#9#9##-shshsusozhshs hssßssddddddd"
The website and app have since been updated with a more formal description, but if you are a digital dinosaur still using a printed copy of the programme you can see a version of this gibberish in there.
Kate Copstick versus motorbikes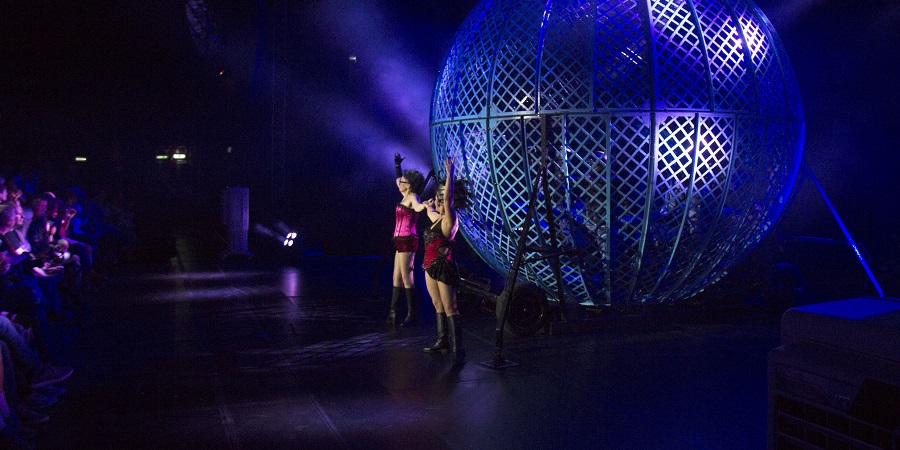 At the Pleasance press launch, Kate Copstick - The Scotsman's reviewer with a formidable reputation - entered Cirque Berserk's Globe of Death for a stunt which saw four motorbikes circling inside the sphere whilst she stood in the middle. It was an incredible spectacle which elicited gasps and screams of concern from the audience... however BCG imagines some of the comedians lurking at the back of the venue might have been wishing the riders hadn't been quite so skilful in their manoeuvres.
Mat Ricardo endangers his fingers
Talking about scaring audiences with audacious stunts, many people have been watching Mat Ricardo through their fingers. Which is perhaps a bit insensitive, given the entertainer is risking his digits in a quest to entertain. In one section of Mat Ricardo Vs The World , he tapes his eyes up and jabs a knife fast between each of his fingers - it's terrifying, as he's always just one slip away from A&E. Do not try this at home!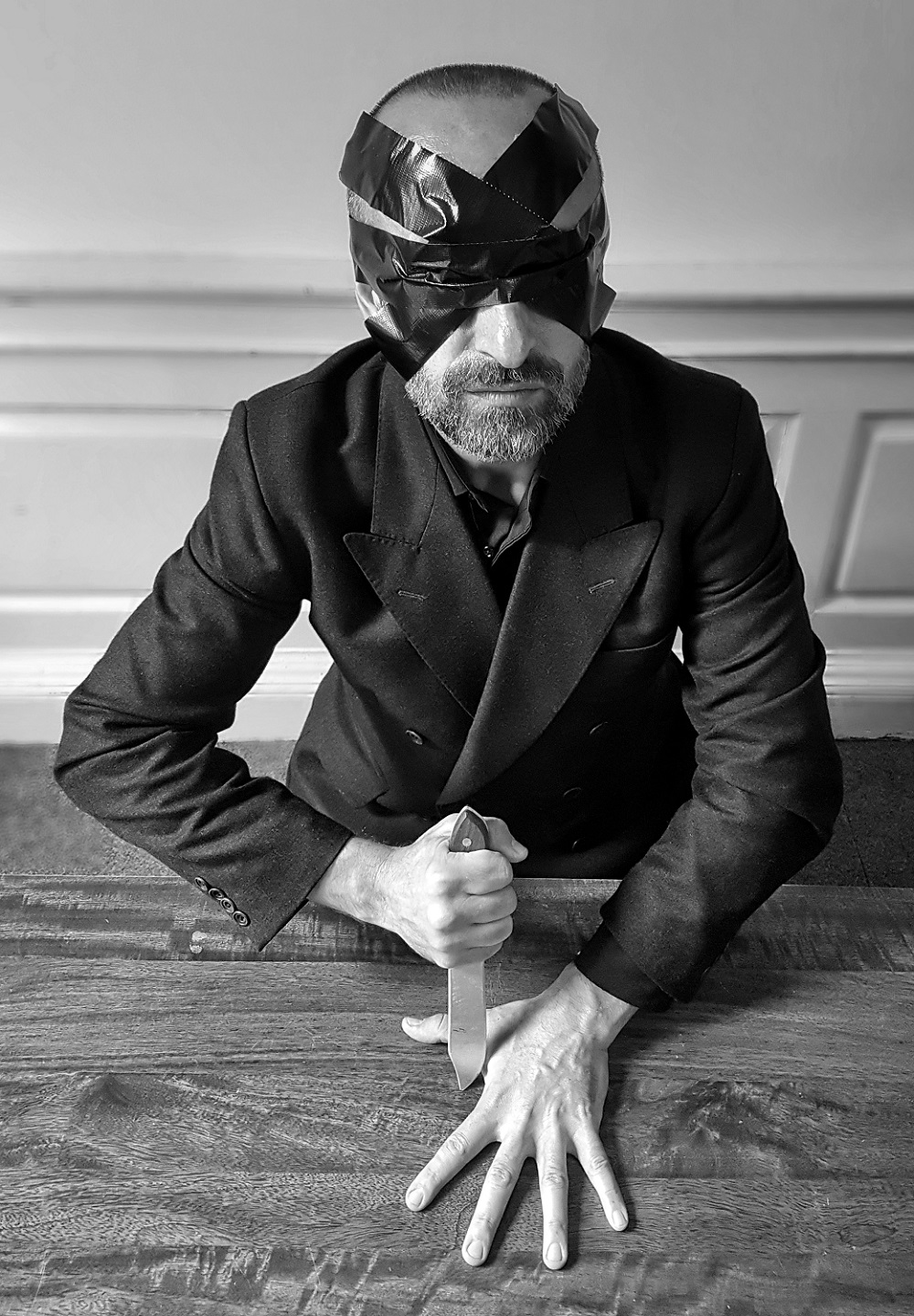 The free fringe goes contactless
BCG has noticed a large number of free shows this year have now armed themselves with contactless card readers. Ahir Shah notably used one last year to ensure the "sorry I don't have any change" excuse is no longer a way of getting out of giving a donation. It seems most of the free shows movement has now adopted the idea. The result is that the phrase "or I accept credit and debit cards" is now as prevalent in the end-of-show 'bucket speeches' as that joke we've all heard 100 times about folding up your cash.
An honest jester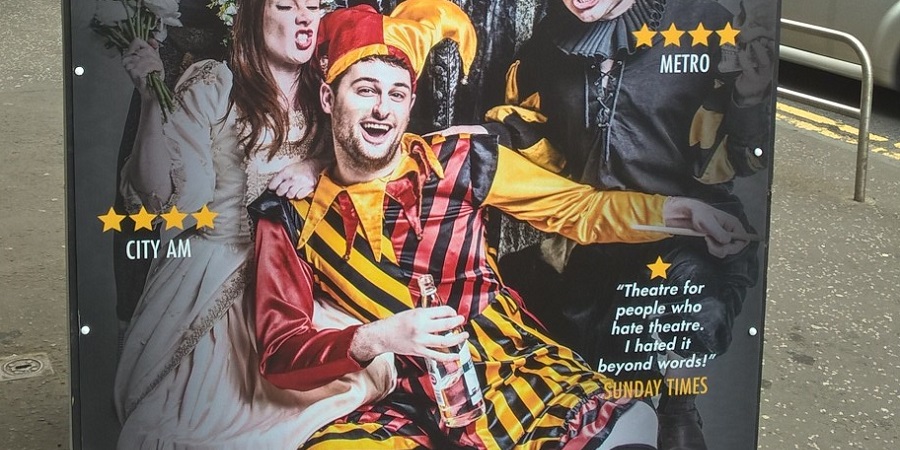 Top marks to Shitfaced Shakespeare for printing not just positive reviews on their poster. Their one star mauling from The Sunday Times - which proclaims "I hated it beyond words!" - has been given a spot on their marketing too.
Bold flyering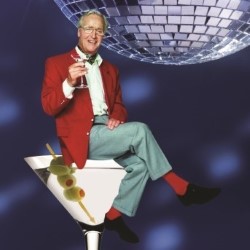 If you can't afford to see the Tattoo at the castle, a much cheaper but almost as grand spectacle this year is to head to the Pleasance Courtyard in late afternoon as the legendary Nicholas Parsons makes his regal procession from the venue to wherever it is Nicholas Parsons would go afterwards: a Radio 4-funded throne perhaps?
We chanced upon it last Monday afternoon: heads turned, snap-selfies occurred, and one bold young flyer-wielder thrust one of his bits of paper in Parsons' direction, presumably blissfully unaware of who he is. The official protocol for addressing the venerable panel-show host is of course: "Mr Parsons, just a minute..."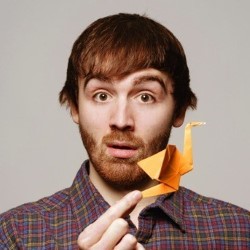 BCG has also witnessed a flyerer in action in the audience of a show. 10 minutes into Ian Smith's hour, a man went to leave. When pressed by Smith, he said he'd been texted that he had to go distribute flyers for Foil, Arms & Hog's show. He then attempted to give Ian and several audience members one of the flyers from his stack. In good hearted and foul mouthed fashion, Smith asked him to get out.
However, the flyerer returned 10 minutes later saying he had got someone to cover for him as he really wanted to see the end of the show. While initially reticent, Smith let him come back in... and, come the end, helped him spread the word.
Is that Patrick Monahan?
Patrick Monahan is is in a relationship with Lily Lovett (daughter of Red Dwarf star Norman Lovett)... and it looks like she's changing him. In his show #Goals at the Gilded Balloon, Patrick describes himself as 'Irish-Iranian Smoggy Teesider' whilst Lily, who was born in Edinburgh, is privately educated and middle class.
Lily decided they would celebrate the start of their shows at the Fringe in the aspirational and beautiful setting of Edinburgh's Waldorf Astoria, where she attempted to introduce Patrick into the art of the afternoon tea. As can be seen in the picture below, Patrick spruced himself up for the occasion (although - not shown in the image - he did keep on the white trainers). Patrick says: "Before meeting Lily, grabbing a cup of tea at a 'cafe' in the afternoon was a treat! Now that l'm married up, it's having tea and sandwiches set for a king and wondering how much electricity the 3m long chandelier will use up!"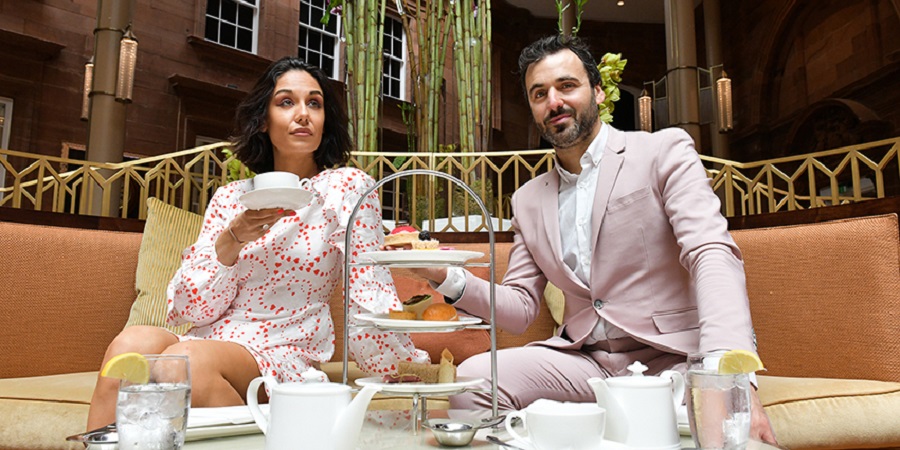 Red Carpet
There was also a lot of glamour on display at the 'premiere' of the new show from Richard Soames, Let's Make a Movie. As can be witnessed in the video below, various comedians turned out for his "red carpet" event. Not everything went smoothly though, with some complaints heard that the show belongs at The Edinburgh Film Festival rather than in the Fringe programme. A spokesperson for Soames defended its placement in the comedy section, saying it only features "some films... for a bit."
Tech and sound issues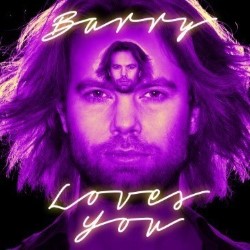 Early casualties of buggy business were sketch duo Sisters, whose On Demand show needed a rejig when a couple of their tech-based bits didn't work, and Barry Ferns' new I Love Barry hour went on hold for a few days while sections of that were sorted - frustrating for a chap who manages to do a show on an actual mountain every Fringe.
Less calamitous: Nick Elleray had to redo a thoughtful routine midweek when a bunch of disco lights suddenly sparked into life at the Grasshouse, while on Friday Ken Cheng found himself battling one of those Silent Disco-type groups loudly singing outside the Bedlam Theatre.
Meanwhile over at The Liquid Rooms on Saturday, Stuart Goldsmith was joined by a backing band. He didn't organise it though - they were in the room next door warming up. Sometimes their bass notes fitted his material neatly, but the ComComPod host did find one of his routines scuppered by some badly timed drum thuds.
It's raining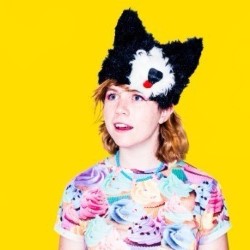 It wouldn't be the Edinburgh Festival without some rain, and this year's variable weather has resulted in raincoats one minute, sunglasses the next.
Sadly, Saturday's downpour caused the inaugural Unofficial Edinburgh Fringe Comedy Dog Show to be cancelled.
The good news is that the organiser, Australian comedian Claire Sullivan, has re-scheduled it for Saturday 18th August. Dog-owners, dog-walkers and dog-lovers are encouraged to head to The Meadows (between Jawbone Walk and Middle Meadow Walk) at 2pm.