The charity Barnardo's is putting on a big gig at the Edinburgh Fringe on the 8th August.
The two-hour show, which will take place at the Edinburgh International Conference Centre's Venue 150 on Wednesday 8th August from 8.30pm, will aim to raise much needed funds for the UK children's charity.
Lee Ridley - also known as Lost Voice Guy, the winner of this year's Britain's Got Talent, is amongst those taking to the stage for the Barnardo's Big Comedy Benefit. Since it started in 2012, the annual gig has raised over £44,000 to help the charity's UK-wide services support vulnerable children.
Lee Ridley says: "I'm really excited to be performing at Barnardo's annual comedy benefit. As a charity, they give a voice to kids who don't have one and boy do I know that feeling. Please come along, it's going to be a fantastic night!"
Also on the bill is comedy superstar Russell Howard. He comments: "I adore Barnardo's and everything that they do - especially this comedy benefit. I've been working with them for a few years now and I really can't wait to come back and play this show again in an even bigger venue!"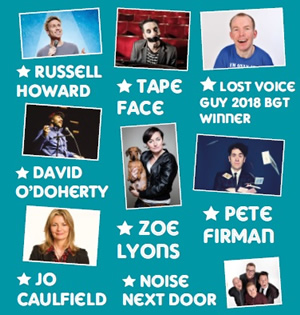 Jo Caulfield, who has been a great supporter of the Big Comedy Benefit since it began, hopes to get the audience roaring with laughter with her quick wit and razor sharp observations, and comedic mime act Tape Face will be bringing his unique brand of humour to the stage as well. Sam Wills - the man behind the tape - says: "It's such an honour to be asked to perform at this event again for Barnardo's. They're a fantastic charity doing fantastic things for vulnerable children and young people. Please get your tickets and I'll see you there!"
Improv group The Noise Next Door are set to perform too. They comment: "We honestly can't wait to play this gig. It's a cracking line up and it's going to be a cracking night - get your tickets!"
David O'Doherty is also on the bill, as is Mock The Week star Zoe Lyons. She comments: "This show has such an amazing line up year on year so I was really excited when they asked me to be a part of it. Get your tickets and we'll see you at the EICC!"
There'll also be magic in the air on the 8th August, thanks to comic magician Pete Firman. He says: "I've heard such great things about this show over the years and I'm honoured that they've asked me to be a part of it. Two hours of back to back comedy for an incredible cause. See you there!"
Barnardo's Chief Executive Javed Khan says: "This is always a really fun event and this year's line-up looks fantastic. It is a great opportunity to see some of the best acts from this year's Fringe and the money which is raised really will make a difference to the lives of thousands of vulnerable children, young people, parents and carers we support across the UK."
For more information and tickets visit barnardos.org.uk/comedybenefit