I caught up with Alex at a recent gig - an amazing show in which he played one of my favourite characters, the spoof psychic Clinton Baptiste ("I'm getting the word nonce"). Great writing, and well-executed mannerisms.
How was Clinton Baptiste created?
Well, Clinton is a character I first played in Peter Kay's Phoenix Nights, way back in 2001 for Channel 4. It's the creation of Peter Kay and Neil Fitzmaurice. Luckily, they are both happy for me to play him out and about on the comedy circuit. For Phoenix Nights Live in 2015, Peter and I wrote a little 12 minute routine for Clinton and now I've extended it.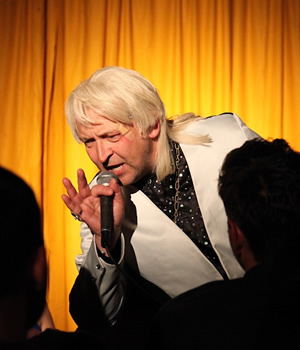 Are there any scripts in the pipeline for a Clinton Baptiste series?
That would be nice, but I suppose there could be copyright problems with Peter, or Channel 4, if I just started touting a TV script about. Maybe one day, if anyone's interested, then I will ask Peter if he's happy for me to do that - but to be honest I'm happy for the time being just doing the live stuff.
How did you get to work/collaborate with Peter Kay?
In 1998 I did my solo show - The Wrestling - based on Simon Garfield's amazing book about British wrestling, at The Pleasance for Edinburgh. Peter came to review it for BBC2. He was with 'Bomber' Pat Roach, the actor from Auf Wiedersehen, Pet who - among other things - had been a wrestler. Anyway, Peter and I hit it off and spent a bit of time at the festival together and then a little later he asked me to be in That Peter Kay Thing and then Phoenix Nights.
And how was your time working with Steve Wright and Noel Edmonds?
I always feel very lucky to work with Steve Wright on Radio 2. One of my radio heroes - genuinely. I honestly pinch myself when I go in there to his studio to do his show [as Barry]. I guess the youngsters have no idea how famous he was - a household name. He still is really, I suppose, but entertainment has become so fractured that it's hard to imagine that the whole country was at one time listening to exactly the same stuff simultaneously and Steve was at the forefront of that period.
I felt the same about Noel Edmonds last year, when we filmed Cheap Cheap Cheap for Channel 4. I am still licking my wounds about that show - if only we'd been given a second series, I have no doubt we would be absolutely flying by now. Noel was great and, I kid you not, phones me from time to time to do a GOTCHA down the line. Actually, he fooled me the first time... but not now... Oh no.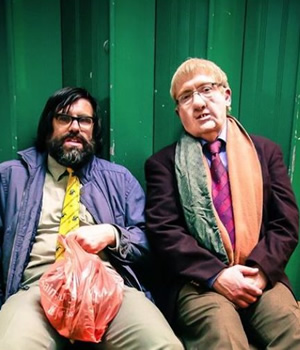 You have written a sitcom that you are pitching at present. Can you tell us about this project?
As well as Clinton, I play my 82 year-old Barry from Watford character, in a double act with my lovely pal Dan Skinner, as Angelos Epithemiou. We have been doing a podcast for 4 years (The Angelos and Barry Show) and touring live for two years.
So we wrote a sitcom pilot script. We really went back-to-basics when putting it together, which now seems the obvious and very necessary thing to do. We wrote a 'bible' for the characters and for the overall concept, so we had a nice solid foundation and built it up from there, so we were watertight with character motivations and scene development. That was time consuming, but we are very proud of what we arrived at.
Angelos and Barry are heading up to Edinburgh Festival 2018. How are you and Dan feeling about this?
We are doing our double act Angelos and Barry: A Matter of Life and Death at 3pm at Le Monde from 2nd to 12th August. It's an entirely new show and, unlike our last one that we toured for two years, this feels like a nod to the sort of vibe you get in a quaint old double act.
We discovered people liked the banter between the two of us, rather than too many surreal flights of fancy, so we're concentrating on that. It's such a funny show - I hope people turn up.
In the show, Angelos wants to branch off to explore his 'art', whilst Barry is off to entertain the troops in Iraq. Are they going to split up?! Surely not! You'll have to come and see.
Any new characters / acting roles/ scripts in the pipeline?
I have a film coming out at the Edinburgh Film Festival called The Devil Outside, which I'm hoping will do well..
I have always got my thinking cap on for new avenues. Actually I'd love to try stand-up as me and not dolled up in character with wigs and prosthetics, which I have been doing for years. I would love to just get up in jeans and t-shirt and talk about stuff that interests me as a middle aged bloke. God knows if people will want to hear that, or if I can stand going out there, bricking it all day before a gig and starting from the bottom again.