Jojo Bellini
Jojo Bellini: Crash-Bang Cabaret!
Cabaret
10:05pm (1 hour)
2, 4-13 & 15-27 Aug 2017
8
This is a 2017 show that has now finished.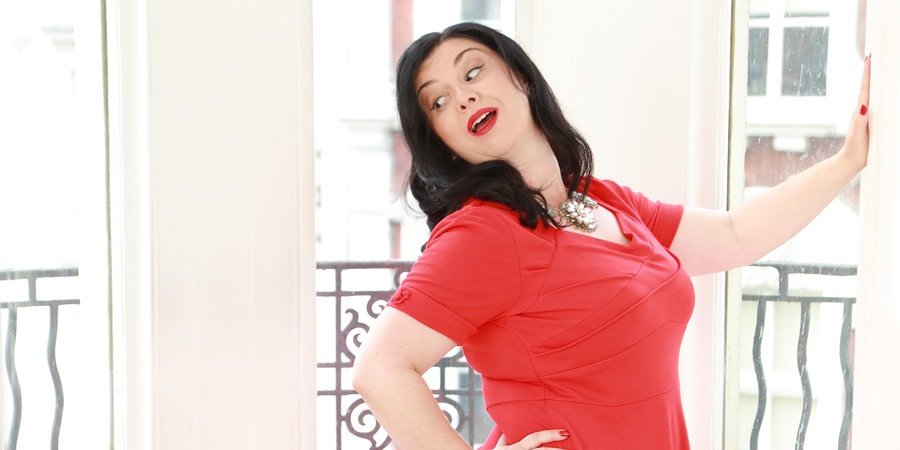 Show details
Cabaret starring Jo Marsh performed on the following days in August 2017...
Mon
Tue
Wed
Thu
Fri
Sat
Sun
29
30
31
1
2
3
4
5
6
7
8
9
10
11
12
13
14
15
16
17
18
19
20
21
22
23
24
25
26
27
28
29
30
31
Venue details
A hilariously naughty cabaret about car accidents, kink and cucumbers. Take a look into the life of cabaret queen JoJo Bellini. Who is this woman? Where has she come from? How did she recover from such a crippling car accident? Why is she touching me? Why isn't she touching me? Is this love? Yes. Yes it is. Sit back and indulge in the unbridled naughtiness, clowning and comedy that is JoJo Bellini. 'This is the first hit I've had of genuine belly laughs this festival' (ThisisCabaret.com). **** (ThreeWeeks). **** (BroadwayBaby.com).
Share this show
Reviews
Press coverage
---
Interview
Three questions with saucy cabaret queen JoJo Bellini.
Where did your fabulous name come from?
Why thank you! I do love it myself. When I was at university I was having a prosecco at the tavern and met the most awesome woman, Amber Royle. (I know another fabulous name!) She asked my name and I said JoJo. And she said, "Well, hello Miss JoJo Bellini. Let's drink!" I didn't correct her. JoJo Bellini was born that day. We were both studying Theatre and Drama and became a performative team to be reckoned with. So when I came to the UK and started my cabaret career two years ago, of course JoJo Bellini was the only name that was perfect enough to encapsulate my naughty, silly cabaret style.
Tell us about this cucumber...
Ah, yes, the cucumber. This isn't some ploy to get more people eating their five-a-day. Oh no. Although they are a fabulous vegetable which is 95% water and filled with all the vitamins and a great way to eliminate bad breath, that is not their role in my show. What I do with said cucumber has to be seen to be believed! I certainly don't want to spoil the surprise...
What's the biggest life lesson you learnt from surviving your car accident?
That life is far too short to not be doing what you love. Many people get caught up in worrying what others think about what we do. Others get too caught up in career ambition or are so money focussed that they forget how to live. Life should be filled with fun, kink and prosecco! We should sing when we want, dress up, and really enjoy our time we have here. After a year in a wheelchair and painful rehabilitation, trust me, the ability to walk every day is a gift. So let's get silly. Let's get naughty. Let's sing and dance the night away. Fun times are for the living.
---
Tweets by jojobellini