Franks & Skinner
Franks And Skinner Present: MindfulMess
Sketch show / Cabaret
11am (1 hour)
3-13, 15-19 Aug 2017
5 (or Pay What You Want) / £6
This is a 2017 show that has now finished.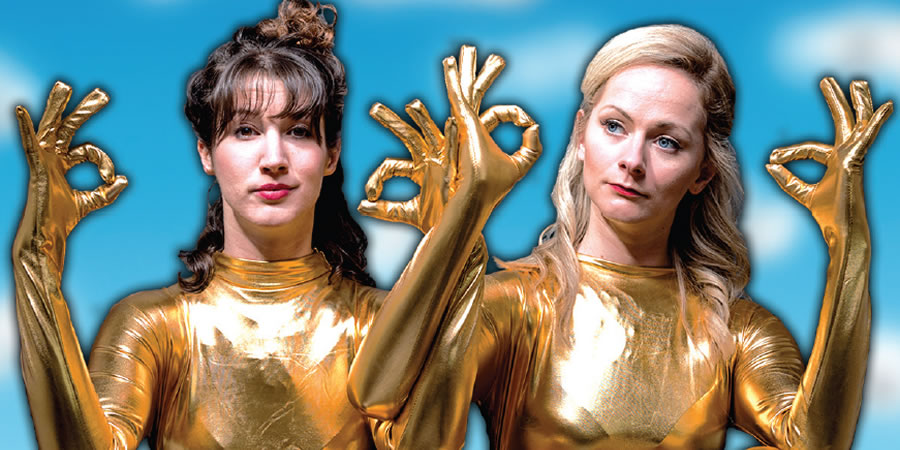 Show details
Sketch show / Cabaret that will be performed at Just the Tonic at The Tron at 11am for 1 hour, on the following days in August 2017.
Mon
Tue
Wed
Thu
Fri
Sat
Sun
1
2
3
4
5
6
7
8
9
10
11
12
13
14
15
16
17
18
19
20
21
22
23
24
25
26
27
28
29
30
31
Venue details
Grab a morning coffee and start your (Fringe) day with a life-changing symposium (terms and conditions apply). Franks and Skinner are super trendy (they're not trendy) and ridiculously healthy (really?) and they want to be zen, mindful, in the moment - which moment? This mome... ooh I need more loo roll. Shut up brain. They need some help. Welcome to MindfulMess! There'll be inspirational singing monks, tap dancing unicorns and a plethora of life coaches including guest speakers Fat and Slimmer. 'The Fred and Ginger of sketch comedy' (Chortle.co.uk). 'Completely exhilarating' ***** (TVBomb.co.uk).
Share this page
Reviews
---
Female comedy duo, Franks and Skinner (not Frank Skinner!) are back in Edinburgh. This year they're at Just The Tonic, Downstairs at The Tron at 11am. They will be mixing a unique blend of therapy, comedy and madness to bring you: Franks and Skinner Present: MindfulMess. Complete with complimentary tea and biscuits.
This show will endeavour to ask many questions. It will explore the unexplorable, energise the unenergised, massage the unmassaged, and confuse the unconfused.....Welcome to the new craze that is MindfulMess!
There'll be inspirational jazz singing monks, tap dancing unicorns, extreme interpretations of MindfulMess, Flamenco-Disco-Yoga (aka FLADOGA), Bootcamp 'Insanity' Instructors, Meditation classes, and back by popular demand the hugely successful Etonian Vampires, who will be sharing all of Franks and Skinner's sordid secrets. There are songs, dances and too many costume changes.
Franks and Skinner's debut show Myself and Myself was performed back in 2015. From there they received awesome reviews, interest from a BBC producer, and have since been asked to write material for radio.
Video
Reviews
***** : 'Unpredictable and completely exhilarating' TV BOMB
**** : 'Genuine Skill...Great jokes...Fantastic Characters...Consistently hit the mark'
FRINGE GURU
'A sketch comedy version of Fred Astaire and Ginger Rogers... their enthusiasm is infectious' CHORTLE
---
@franksskinner
Loading tweets...