Natalie Read: Man, Boy and Wife
The best thing about being married to a comedian is when a new friend asks you what they do for a living and you get to say, "He's a comedian." And they are totally amazed and in awe and want to be your friend even more. "Is he really funny at home?" is always the next question. My smile tightens, "No" I reply as I stare into the middle distance, "No" and everybody sort of laughs.
The worst bits about being in a relationship with a comedian are intensified in the run up to the Edinburgh Festival, the pinnacle of the comedy calendar. Once Christmas is out of the way everything starts to be about the show, getting the right venue at the right time, having a brilliant idea, booking in previews - it all starts so well. Then preview season begins, friends get pestered into being a trial audience to the bare bones of a show, props start to arrive and your living room is suddenly home to 200 frying pans and a massive bee. Next the anxiety dreams start - and let's face it, if he's awake I'm awake (and if I'm not awake, shouting "My hands have gone numb and I can't breathe" brings me out of REM with a barely concealed swear word). This all coincides with the start of the summer holidays but who wants to go to Tuscany when you've still got that tartan umbrella from last year?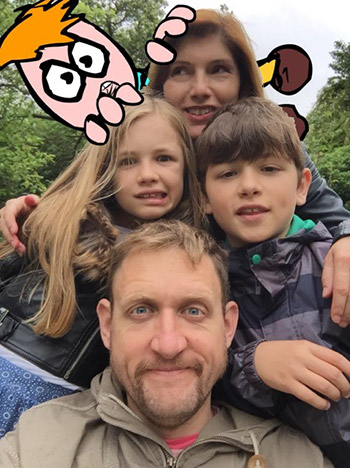 In the early days, when I first shacked up with Big Howard (Howard Read, the human half of the world's first and only human/cartoon double act) one of the most fun things was the buzz of going to comedy clubs every weekend. I loved sitting at the back of the room with the other acts and a beer. Watching my then boyfriend work the crowd and storm the gig was an aphrodisiac that kept us warm on the night bus home to our little damp flat. Yes, I was going out with an award winning comedian and was now the step mother of his animated creation, Little Howard. The best thing was none of us had to get up in the morning.
Ten years have passed, Howard has grown a moustache, we own a Ford Galaxy and a house with 'potential'. Samson and Mabel, our real children, are at primary school and the only clubs I go to at the weekend are swimming and taekwondo. Little Howard, our animated child is still going strong and gets exclusive access to daddy at weekends. Every weekend. Comedians work EVERY weekend so you get pretty used to Malbec and a movie or going to social engagements solo, "You're so brave to come on your own!" exclaimed one mummy friend. "Especially when your husband keeps hitting on me," I reply. We both laugh.
As the family of Big Howard we do have some wonderful perks. We've enjoyed free skiing in Meribel, countless weekend festivals (camping in the artist's area which has nicer toilets) plus trips to New York, Iceland, Australia and New Zealand all courtesy of the funny man. And, when his show is coming together, well, he's at his happiest and most fun.
Being married to a comedian is a constant source of pride and shame at the same time. Our children have developed an unnatural ability to use puns that sets them apart from their primary aged peers. They also know that they'll get screamed at if they make a noise when daddy is recording a song about a haberdasher. I have the most wonderful glow when he raises money for the school by running a charity comedy night coupled with the mortifying shame that the material about our inadequate sex life went down a storm (yes, he mimed me giving a blow job in front of the headmaster; yes Mr Parry is at the gates every morning when I do the drop off).
Embarrassment is something you have to get used to when you're the other half of a comedy couple, not because of their 'madcap ways', it's just that even the well brought up ones don't have any manners when they think of something funny. They will unashamedly wander off mid-conversation with someone and just start tweeting, leaving you smiling and nodding for two.
Our marriage guidance counsellor says there's not much point seeing us again until September. She wished him "Good luck with the show" and patted me on the arm as if I had something terminal. So, I want to raise a toast to all the men and women supporting their comedy loved ones at the Edinburgh Festival Fringe this year. Whether you're hands on giving out their flyers and checking ticket sales or bringing them Berocca at the start of week three and hiding that three star review - I salute you and I'll see you in the bar.