Twelve months ago Mark Row had never stepped on stage to perform stand-up comedy... at this year's Edinburgh Festival he did the full run. He is currently working on a documentary about his experiences. In the meantime, he talks more below about the ups and downs of the month and what he has learnt in the process...
In August 2016, when I first had the idea to make a documentary following the road to becoming a stand-up comedian, I spent 24 hours running around Edinburgh, filming shows and interviewing comedians. One of those comedians was Masai Graham, a man who had, about 48 hours earlier, won Best Joke at The Fringe. Masai gave me a fairly detailed, very honest, and sometimes bleak account of what to expect. When I explained to him, on camera, mid-interview, exactly what my plan for the documentary was, his response was "I'm quite worried about you now." And I could see from the look on his face that he meant it.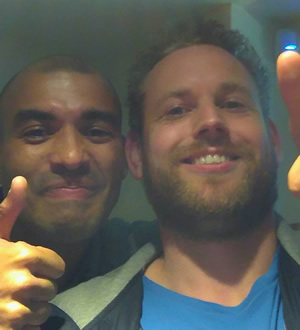 This summer, almost a year to the day later, I gigged for him at the festival, on one of the five shows he is doing every day; it was only the first of three in the day for me. Just before the gig, Masai asked me if being at the Fringe was everything I expected. I half smiled and half sighed as I told him it was. "That's because you came and asked a load of comedians what it was like... and we told you!" Masai said, with a knowing grin.
Having to do several gigs a day was not something I had given a great deal of thought to prior to the beginning of the Festival. Lots of comedians make the Fringe more financially viable by doing more than one show. I think you might be hard pushed to find anyone running an amount equalling Masai, but certainly running two or even three shows is not uncommon. It makes perfect sense, as your living costs aren't going to get any higher, but you can double or treble your chances of making money. Don't get me wrong, with the limited experience I have, I was in no position to attempt running more than one show this year; but it was an insight into how comedians can make Edinburgh a success, as opposed to a financial disaster; something I will definitely bear in mind if I am able to return to the Festival in the future.
I also learned that venue is crucial; on some nights I struggled to get the audiences in to see the show at Moriarty's on Lothian Road, despite having what I considered to be an excellent start time of 19:30. The first night started off fantastically, with 20 people in the small basement bar. I was briefly fooled into believing that this was going to be the case every night, but reality soon kicked in on the 2nd day when we only attracted 4 in. The pub itself is lovely, and the venue in the basement bar offers the perfect set up for stand-up comedy, but it felt just a little too far out of the way for people to walk to, if they're in the thick of everything else going on at the Fringe.
Audiences fluctuated in size, with half the nights bringing in 20+, but the other half being less successful in terms of numbers. Interestingly, I learned that there is not necessarily a direct correlation between audience size and level of enthusiasm. Obviously having a packed room of people who are up for comedy is the ideal, and that happened more than once, but I have also had some brilliant gigs in front of 4 and 6 people, and some more tricky nights in front of larger audiences. It was one of those trickier nights on which I got reviewed...
I am trying to be careful to avoid the excuses that almost inevitably come with getting a less than glowing review. All I will say is that I already knew that it hadn't been a great night. I know that they can only write about what they see, and I actually thought that the reviewer made some fair points. I was just disappointed that he hadn't seen one of the better nights, which had been more enjoyable for everyone. I'm not even sure if it would have made any difference to the review, as it was more my choice to position myself as a newbie comedian that was criticised than my delivery, but I couldn't help but feel that it might have been more favourably looked on, if only they had seen one of the other nights, with a different atmosphere in the room. I'm assured this is a pretty common experience for a comedian.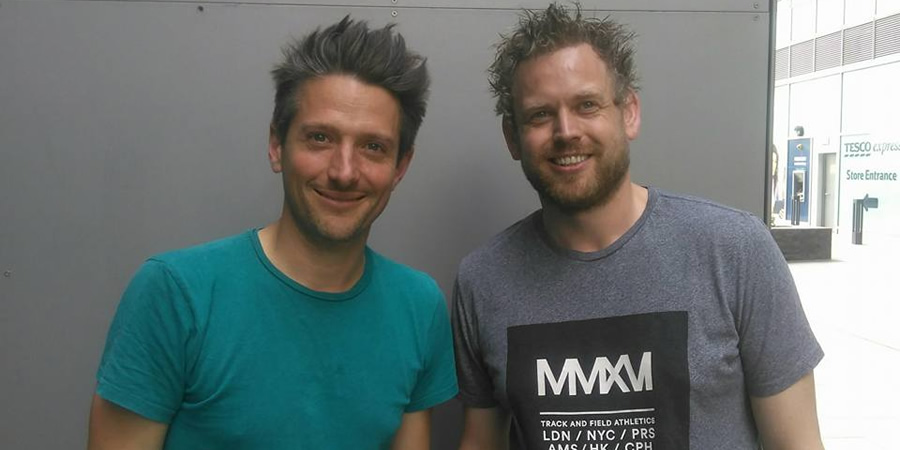 That wasn't the only low point either. I had a gut-wrenching experience when I discovered that both myself and Stuart Goldsmith had written about the same children's book as part of our sets. I had interviewed Stu during the year-long build up to coming up to Edinburgh. We had spoken at length about having kids and the impact that doing comedy has on your family, particularly with having younger children, but it was pure coincidence that we both found inspiration for our set in this particular book.
When I went to watch Goldsmith's show at The Liquid Rooms I, for the first time in my life, had a genuine jaw dropping moment, which may not have gone unnoticed by Stu given that I was in the very centre of the front row. I felt really uncomfortable and contacted him after the show. I may be new to this, but you don't have to be going long to know that you simply don't use other people's material, and I didn't want anyone to get the wrong idea. He was fantastic, telling me that he wasn't bothered by any similarity, and to not only keep the joke, but reference the common topic and try to find something funny in it. The next day I managed to do so, and feel like I probably improved the show in the process.
By the second weekend, about 10 days in, I reached crisis point. I had turned up in plenty of time to flyer for my gig but the street seemed unusually quiet, much quieter than in previous days. I have to admit I was disappointed when I went downstairs to the basement to find an audience of just 2, particularly given that they had arrived at the bar in a group of four and their friends were still upstairs, point blank refusing to come and watch the show!
Ironically, a separate table of three who I had chatted to when flyering had not wanted to see the show but had invited me to join them at their table instead of going downstairs; if I had done I would have increased my audience by 50%.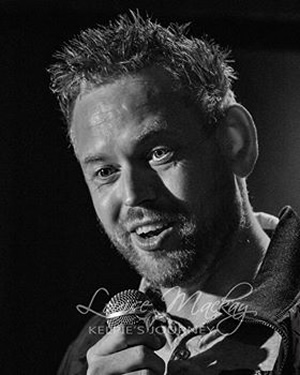 Following the lead of Olaf Falafel, the far more experienced comedian who was supporting me, and some whispered advice from my brother, I abandoned my set pretty quickly, and began chatting to the two in the audience. It was a completely relaxed opportunity to learn to be more comfortable just engaging with the audience. In a really odd way, I was quite glad this happened. It felt like even though I had reached rock bottom, I was still able to learn something good from it. This was a real benefit in subsequent shows as I began to gain more confidence to divert from my scripted routine. It was often these more spontaneous moments that got the best response from the audience.
As I passed the midway point, I took some advice from Zak Splijt (an experienced Fringe comedian who's show followed mine at Moriarty's), advice that would make a real difference to the rest of my Fringe experience. I had wrongly assumed that I would struggle to get people to travel from the busier Fringe areas to my venue, but this was wrong. I changed my strategy for flyering, spending a couple of hours on Grassmarket each afternoon, where it was much easier to chat to people and tell them about the show, as opposed to just waving a flyer in their face as they hurried past the venue.
People began to turn up at the venue with the intention of seeing the show, which was a fantastic feeling, although there was a real bittersweet moment when a family of four from Bristol turned up and introduced themselves, saying they had followed my journey and had been keen to come and support. It was a lovely moment, but it soon turned sour when they were told they had to leave the venue as their youngest son was only 17. It felt horrible watching people who had made such an effort being turned away, but they took it in their stride and promised to come and see me in the future instead.
There were some other special moments too. In the review I got, one of the more positive comments mentioned how '[he] happily engages with an amenable American artist'. The artist was a lovely guy, who I chatted to afterwards, and he told me that he had been inspired by the show to have a go at stand-up himself, having previously talked about doing it for a couple of years. The story of my year gave him the motivation to get on and do it.
Most memorable of all was my final night. If I could have scripted a story for the documentary, it would have shown the ups and downs along the way, a crisis point midway through, before things start to turn around ahead of a climax of a final night in front of a packed audience. I wasn't holding out much hope that this would be the reality, having been told that last year the final night's audiences were close to non-existent and that a number of shows had been pulled. By the time I went out to flyer on the final day I was exhausted and ready to go home. Cue the arrival of some friends who were determined that this was going to be a final night to remember. I watched them distribute flyers and chat to people with good humour and a real enthusiasm for the show. By the time I went downstairs to begin the show the room was full, giving me my biggest audience of the entire run, and a room full of people who were really up for hearing my story. The cheer I got as I finished the final show will stay with me for a very long time.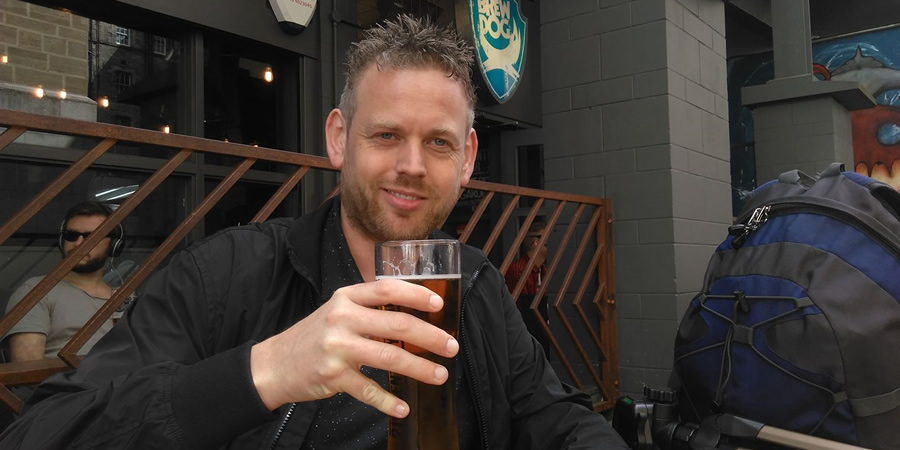 The 'Road to Edinburgh' has been an extremely long one over the last year and, like most journeys, the final bit was pretty exhausting and often frustrating, but I have learned a huge amount.
I'm going to take a couple of weeks to reflect and recover, before starting all over again, and trying to start writing and performing in preparation for next year; where I intend to do a shorter run of whatever the show is that I end up taking, coupled with an obscene amount of spots on compilation shows. The thinking behind this is that the thing I have learnt most of all is that constantly gigging is the best and only way to improve as a comedian. Edinburgh gives you the opportunity to gig more than any other time of the year... But then I really should have known that already, because it's exactly what I was told by every single comedian I spoke to when I came here at the beginning of my journey last year.