JoJo Bellini cooks food during her Edinburgh show... so who better to ask for some recipes that will keep us away from the kebab shops and yet still satisfy our late night cravings.
Regular meal times (in fact regular, everything!) tend to go out of the window at Fringe. You snack, binge, forage and eat whatever you can, when you can. That is okay! JoJo is here with three tasty recipes for those late night cravings that will keep you from the deep fried mars bars and cheesy chips until you get home. Remember everybody - your slow cooker is your best friend!
The stress involved in being a performer or being an audience member rushing from show to show can be quite intense during Fringe. No one has time to cook and by day 14 everyone is craving a bit of homemade goodness.
"BUT THERE IS NO TIME JOJO!" I hear you scream. "I wake up, shower, run out the door and I'm not home until 4am!"
That is where I, and the humble slow cooker, can most definitely help with your warm, delicious culinary needs.
"I'M TOO BUSY TO GO SHOPPING!!!!" you exclaim.
Darling we all are! I get my food delivered for my show and for my flat. Take a deep breath, get online and order the fixings for a warm, end of day cuddle for your mouth and tummy. After one too many Proseccos at the festival bar you will be so glad you did.
First things first. You will need an extra 10 - 15 minutes before you race out the door in order to make a coffee and throw the ingredients into the slow cooker. After that it is all done for you!
Recipe 1: JoJo Bellini's Beef Stroganoff of Awesome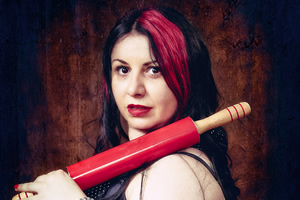 My personal favourite that I have also served at dinner parties and had people who don't like mushrooms go back for thirds!
You will need:
Cubed beef
Diced onion
Minced garlic (lots or to your taste but a minimum of 4 cloves please)
Half a bottle of Worcestershire sauce
One beef knor pod dissolved in a cup of water
One tin of cream of mushroom
I packet of mushrooms chopped
Parsley
Salt
Pepper
Sour cream (for serving)
Method:
Put all items except the sour cream in the slow cooker and give it a stir.
Place the lid on top and put it on low for 8-10 hours and come back to a hearty meal of awesome.
If you are only out for a bit put it on high for 3-4 hours
Pop some sour cream on the top with parsley to serve with pasta or rice
Recipe 2: JoJo Bellini's Balsamic Chicken That Tastes Too Good to be Low Calorie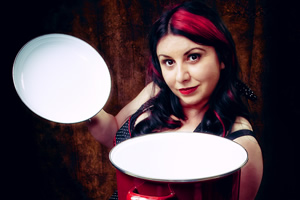 If you are a chicken lover and want to count your calories this Fringe you cannot go past this next one - only 299 calories per serve!!! Just keep in mind this one has a shorter cooking time of 5-6 hours.
You will need:
4 Chicken Breasts - cut into cubes
1 red onion diced
2 packets of mushrooms sliced
Minced garlic (lots or to your taste but a minimum of 4 cloves please)
2 cups of chicken broth
Half a cup of Balsamic vinegar
½ tsp Salt
½ tsp Pepper (or to taste)
1 cup of Greek Yoghurt (for serving)
Method:
Place all ingredients into the slow cooker except the Greek yoghurt. Give it a stir.
Now place the lid on top and let it cook for 5-6 hours.
Once cooked stir in the Greek yoghurt and cook for a further 10 minutes. Serve with brown rice.
Recipe 3: JoJo Bellini's No Cow Chili
If you are vegetarian do not despair! I have a recipe for a delicious Vege Chili that is second to none!
You will need:
2 tins of tomatoes
1 can of black beans rinsed
1 can of kidney beans rinsed
A medium sized sweet potato (around 500g) - chopped in sizable cubes
1 red onion - chopped
1 green bell pepper - chopped
2 stalks of celery
Minced garlic (lots or to your taste but a minimum of 4 cloves please)
1 tablespoon of Chili powder
1 tablespoon of Ground Cumin
½ tablespoon of paprika
2 teaspoons of unsweetened cocoa (trust me)
¼ teaspoon of cinnamon (again it really works)
Salt and pepper to taste!!! (I go heavy on the pepper)
1 tablespoon of dried parsley
1 tablespoon of dried oregano
1 tablespoon of dried basil
1 knor veg pod dissolved in a cup of water
Method:
Make a coffee so your brain is working properly for all the cutting of veggies.
Once all veggies have been cut, simply put all the ingredients in the slow cooker give it a good stir, place the lid on top and set on low for 7-8 hours.
Huzzah! No Cow Chili of deliciousness! Serve with sour cream and nachos.
---
So there you are festival goers. Three easy slow cooker recipes for your after-party needs. Enjoy!
Thanks to JoJo for the recipes. See her cook, sing and joke in 'Jojo Bellini's Kitchen Cabaret'. 1:20pm every day at The Stand until the 28th August. Listing